For back-to-school season, I asked my colleague Heather Vogel Frederick about her new Longyear Museum Press publication, "A Woman of Sound Education" – Mary Baker Eddy's School Years. Replete with photos and original research that help lend context to the subject and place the reader into early 19th-century schoolrooms, this book is available at our online store. And mark your calendars! Heather will be giving a live book talk during our next virtual event – The Bakers of Bow (October 23 and 24).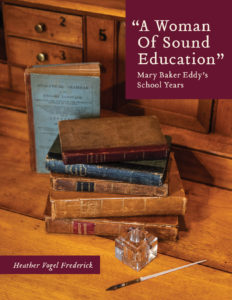 What inspired you to research Mary Baker Eddy's education?
Over the years, I'd read critical accounts disparaging Mrs. Eddy's education, and I was aware of confusion within the Christian Science movement on the subject as well. I wanted to do my part to help set the record straight.
Mrs. Eddy saw this as something important enough that she needed to correct it herself (you can find her reply to a January 1907 McClure's Magazine article disparaging her education on pages 309-310 of her book The First Church of Christ, Scientist, and Miscellany, for instance). It's also something she asked others to correct as well. Sadly, it's something that continues to need correction, as falsehoods and misinformation continue to be perpetuated. Disparaging her education is really an attempt to disparage her discovery of Christian Science.
Did you discover anything that surprised you?
Yes – the depth and breadth of her education. I've spent time at living history museums like Old Sturbridge Village here in Massachusetts, where I've seen what early New England schoolhouses looked like, and I've dipped into books like Murray's English Reader, so I was fairly familiar with what a district school (elementary level) education looked like. But when I took a closer look at the material Mrs. Eddy was introduced to in her secondary education – the complexity of the subject matter and the deep dives she would have done into everything from physics (called "natural philosophy" back then) and logic to moral reasoning, chemistry, literature, and more – it turns out her education was broader and deeper than I'd realized.
What resources did you tap as you explored this theme?
Longyear Museum's unique Baker Family collection, first and foremost.  We have a rich selection of letters, books, and artifacts all pertaining to the Bakers, and to Mrs. Eddy's early years.
Beyond that, The Mary Baker Eddy Library in Boston is always at the top of my list. My friends and colleagues there are so helpful! The New Hampshire Historical Society was a terrific resource, too. In fact, my most exciting discovery occurred there.
I noticed in their database that they had a diary in their collection kept by a farmer who occasionally taught at district schools around the same time period that I was researching. There was no mention of Bow or the Baker family, but I asked to see it anyway as I thought it would be interesting to read a first-hand account from a teacher of that era.
So I'm reading along in this handwritten diary from the 1820s, and the farmer is talking about mundane things like planting his potatoes and purchasing seed, and then I turn the page and all of a sudden there's a list of the students he taught in the winter of 1825 at Schoolhouse #3 in Bow! My heart started to beat faster, as that was the district school the Baker children attended. There on that list were the names of all of Mary's brothers and sisters. (Mary's name was not included because she was only three and a half at the time; she started school the following summer.)
I literally got goosebumps, seeing those familiar names. It was really amazing! I love those moments when history walks right off the page and comes to life.
What's a common misunderstanding about Mrs. Eddy's educational background that your book dispels?
The biggest one is that she had no education past the elementary level. That's simply not true.
There's abundant historical evidence to support the fact that Mary Baker Eddy had secondary schooling. For instance, Longyear's collection includes a copy of the Sanbornton Academy catalog for 1842, in which her name appears alongside the other students who attended that year. Additionally, there are secondary level schoolbooks that belonged to her. If you triangulate all of this with what she says about her education, documentation from that time, and eyewitness accounts, the evidence really stacks up.
I got a really nice note from a reader, a fellow Christian Scientist, who told me that the book  "totally changes the perception I'd been given that Mrs. Eddy received little education and was a marvel for overcoming this in order to be a superlative writer. . . . [It] is like finding and reincorporating a key chapter in a book that for all memory has been missing."
Ultimately, the historical evidence completely refutes criticisms that people have lobbed at Mary Baker Eddy for over 150 years – she really was "a woman of sound education"!1
Click here to order a copy of  "A Woman of Sound Education" – Mary Baker Eddy's School Years.
Click here to learn more about The Bakers of Bow, our upcoming virtual event.