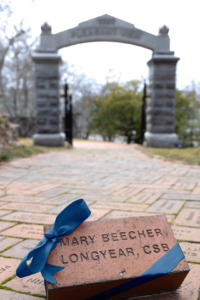 Pleasant View, where Mary Baker Eddy lived in Concord, New Hampshire, from 1892 to 1907, occupied a special place in her heart. A granite archway, engraved with the name Eddy, and an intricate wrought-iron gate welcomed visitors to the property. Across the lawn in one direction was an ornate fountain stocked with goldfish. A quaint summerhouse, painted mint-green and white, graced the yard in the other direction.
These artifacts from Mrs. Eddy's beloved home are now outdoor exhibits on the grounds of the Museum in Chestnut Hill, Massachusetts. Winding among them is a pathway of 5,000 engraved bricks—the Pleasant View Walk—where museum visitors regularly come to search out the names of individuals from the early days of the Christian Science movement through present day.
These "Living Stones" begin with the brick of Mary Beecher Longyear, the founder of the Museum, under the granite arch of the Pleasant View gate. There are names of Christian Science practitioners and teachers, Sunday school teachers, and beloved family members and friends. The Living Stones bear witness to lives touched by Christian Science.
They also offer a unique way for you to support Longyear Museum's mission, and at the same time honor a special individual. For a contribution of $300 per Living Stone, bricks can be engraved with your name, or the name of a family member, a fellow church member, a Christian Science practitioner or teacher, or others of your choosing.
Click here to place your order, or call us on 617.278.9000, ext. 231. Orders received by March 31, 2023, will be added to the walkway this spring.