Children and adults from across North America and as far away as the UK, Switzerland, and Japan tuned in this past weekend to participate in Longyear's members-only virtual event, The Bakers of Bow.
Over the course of two days, attendees enjoyed both live and on-demand offerings that introduced Mary Baker Eddy and her family and explored life in the Baker household. Live presentations included an 1820s style spelling bee, a deep dive into Mark Baker's ledger, and a book talk with the author of Longyear Museum's latest publication, "A Woman of Sound Education" – Mary Baker Eddy's School Years. Pre-recorded "on-demand" offerings added to the inspirational and educational theme with videos, a virtual gallery tour, and an opportunity to try transcribing excerpts from Baker family letters.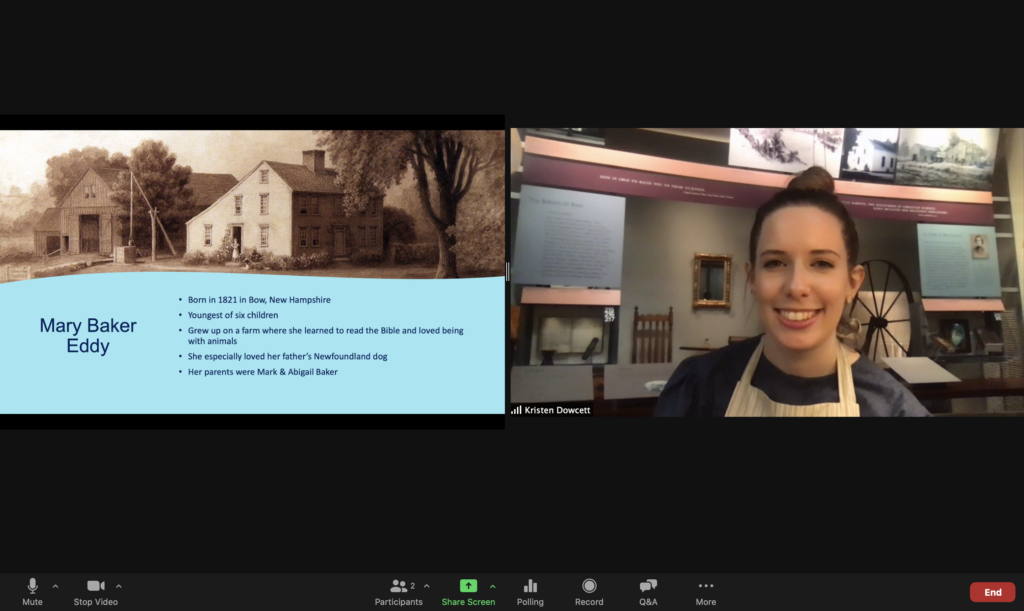 This event, together with the virtual celebration of the Mary Baker Eddy Historic Houses held over the summer, has given Longyear a way to open its doors wide to members and friends near and far. Both events have been warmly received – and the staff is already hard at work planning new ones for 2021!
Click here to view of one of the weekend's most popular on-demand offerings – a brand-new virtual tour of Longyear's Patzlaff Gallery, which features artifacts relating to the Baker family!
Image at top: Engraving of the Baker homestead at Bow, New Hampshire, by Rufus H. Baker, 1899. Longyear Museum collection.