This summer brought an abundance of visitors to Longyear Museum and to the Mary Baker Eddy Historic Houses. In addition to welcoming a steady stream of individuals and families who visited the Museum and Historic Houses, Longyear hosted a number of special programs.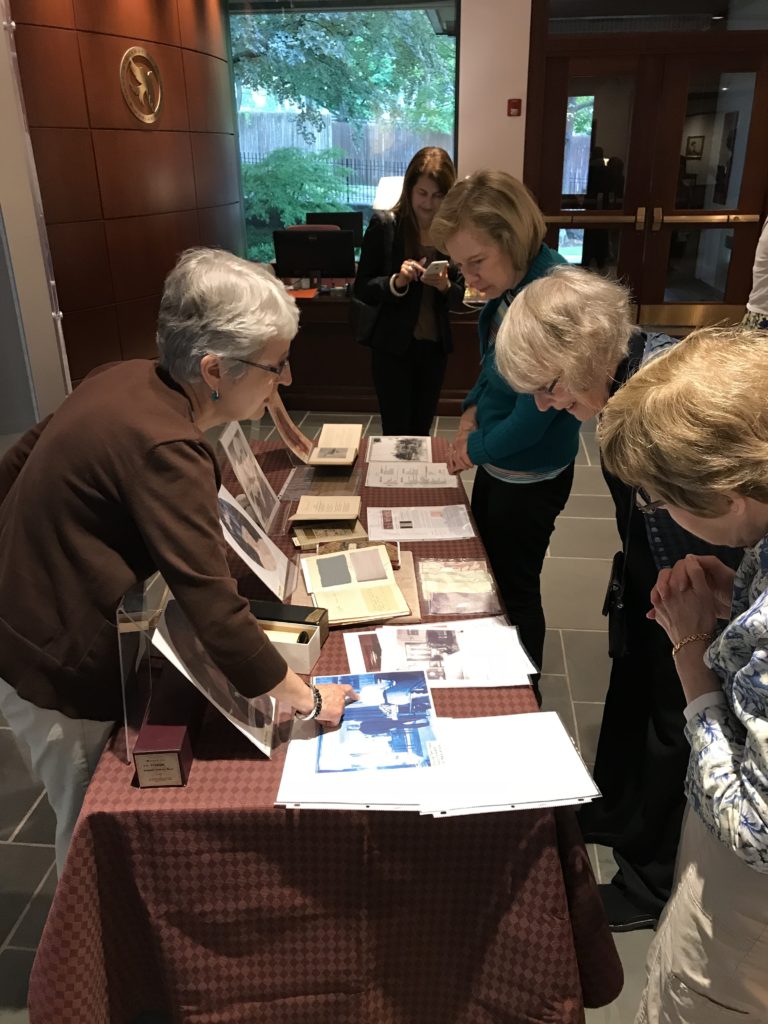 Over Annual Meeting weekend in June, visitors from around the world had the opportunity to view a number of rare artifacts from the Museum's collection, including a fabric swatchbook belonging to Nellie Eveleth, Mrs. Eddy's seamstress from 1907-1910. They also learned how ice cream (a favorite dessert of Mrs. Eddy's) was made in the 19th century – and enjoyed samples!
On July 12, Longyear held a special event for local members and friends. "Night at the Museum" offered stations with activities and artifacts throughout the galleries, and visitors had the opportunity to learn about the years that Mrs. Eddy spent in Chestnut Hill (1908-1910). One of the special artifacts on view was the desk at which she wrote the order to start The Christian Science Monitor. The station included an opportunity to learn about the challenges Mrs. Eddy faced in launching this daily newspaper. Guests were also invited to hear a special talk about life at 400 Beacon Street by Heather Vogel Frederick.
A week later, counselors-in-training from Camps Newfound and Owatonna in Maine came to visit Longyear Museum and participated in an activity that introduced them to some of the students in the last class that Mrs. Eddy taught in 1898.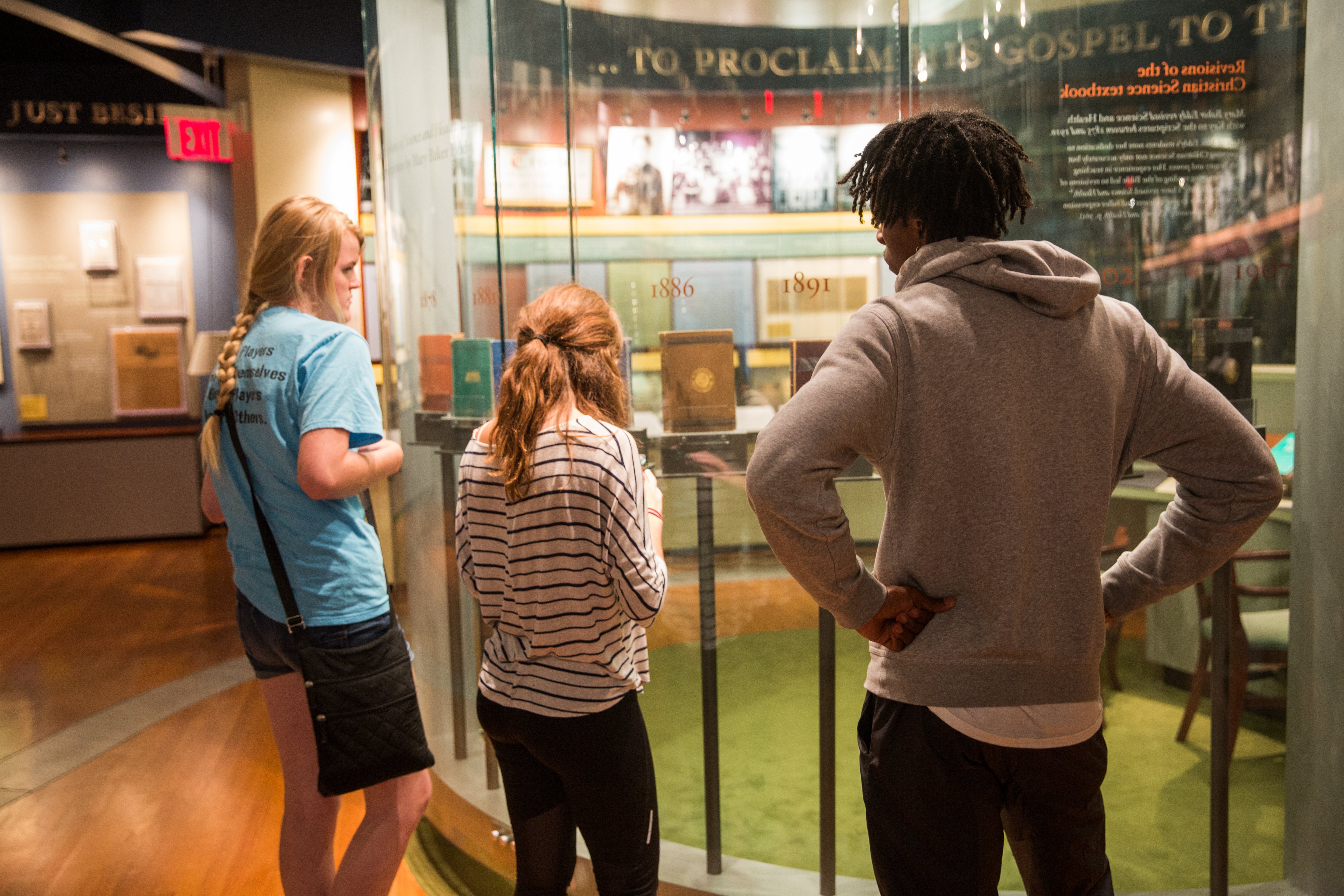 Also in July, interns working at The Mother Church visited the Mary Baker Eddy Historic Houses in Concord, New Hampshire, and Lynn and Swampscott, Massachusetts, among other historic sites relating to Mrs. Eddy. It was a special day-long field trip to introduce the group to the Discoverer and Founder of Christian Science.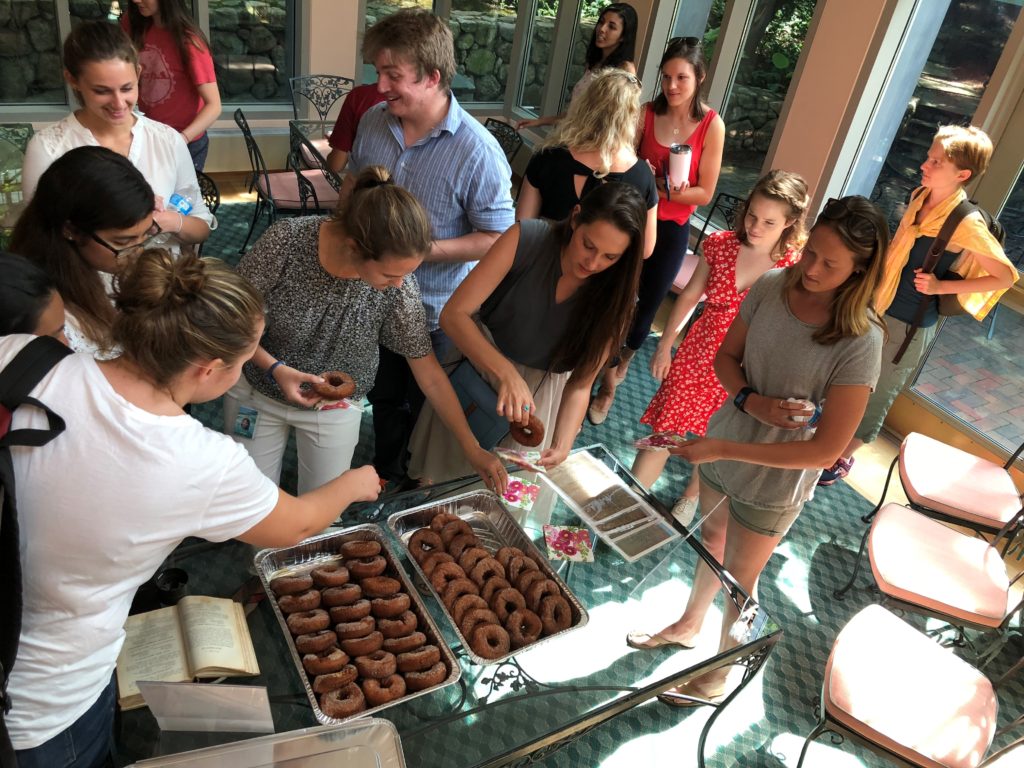 In August, DiscoveryBound teens and adults, interns from The Mother Church, and students from Principia College toured the Museum and 400 Beacon Street on a trio of outings. Among other things, the groups learned about what the breakfast table looked like at Mrs. Eddy's final home – a meal that always included fruit, hot and cold cereal, bread, milk (from the two cows on the property), and a main entree like bacon and eggs. Also on the menu were warm, homemade doughnuts. While munching on homemade doughnuts themselves, the visitors learned about Calvin Frye, one of Mrs. Eddy's secretaries, who in particular took great delight in this sweet treat!