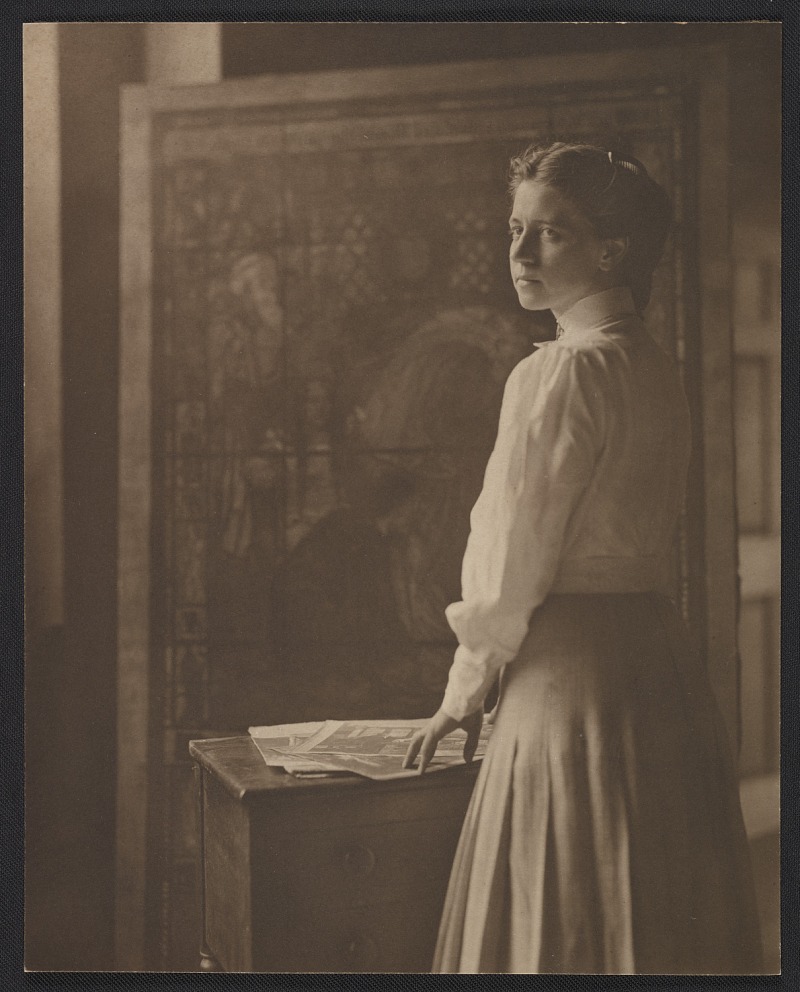 "Christ My Refuge"
In 1939, a small but beautiful book titled Christ My Refuge: One of the Seven Hymns by Mary Baker Eddy was published by the Trustees under the Will of Mary Baker Eddy. The text in this unique volume is embellished with vibrant, colorful illuminations. An "Appreciation" by the publishers notes that "The healing truths in the poems by Mary Baker Eddy used as hymns in the Christian Science Hymnal serve to uplift faith and to heal humanity," continuing:
With deep appreciation of the healing message in her hymns this volume presents in radiant vesture the words of the much-loved hymn, "Christ My Refuge," conjoining the Science expressed in the hymn with the richness of illuminative art.1
The artist who illuminated the text of Mrs. Eddy's poem was Violet Oakley, one of the most popular illustrators in the United States at that time, a talented stained glass designer, and the first major woman muralist in the country. She was also a Christian Scientist.
In 1902, Violet was commissioned to do the murals for the Governor's Grand Reception Room of the new Pennsylvania State Capitol at Harrisburg, Pennsylvania. As mural painting was a field traditionally dominated by men, it is all the more remarkable that she — a young woman still in her twenties — was selected for this demanding work.
Four years later, the murals were completed and unveiled in the new Capitol Building in November 1906, soon after the building was dedicated. When Edwin Austin Abbey, the artist who had been appointed to do the murals for the Senate and Supreme Court Chambers in Harrisburg, Pennsylvania, passed on in 1911, Miss Oakley was asked to complete the rest of the murals. This turned out to be a project of immense proportions — forty-three murals in all, at that time the largest mural commission ever given to a woman.
Spanning a quarter of a century, from 1902 to 1927 (during which time Violet was engaged in other artistic projects as well), work on the murals for the State Capitol required not only artistic expertise, but great physical endurance. Miss Oakley attributed her ability to meet the demands of this gigantic enterprise to Christian Science — the religion she had adopted when a young woman, and which had brought a healing that changed the course of her life.
Christian Science: Healing of Asthma and Hay Fever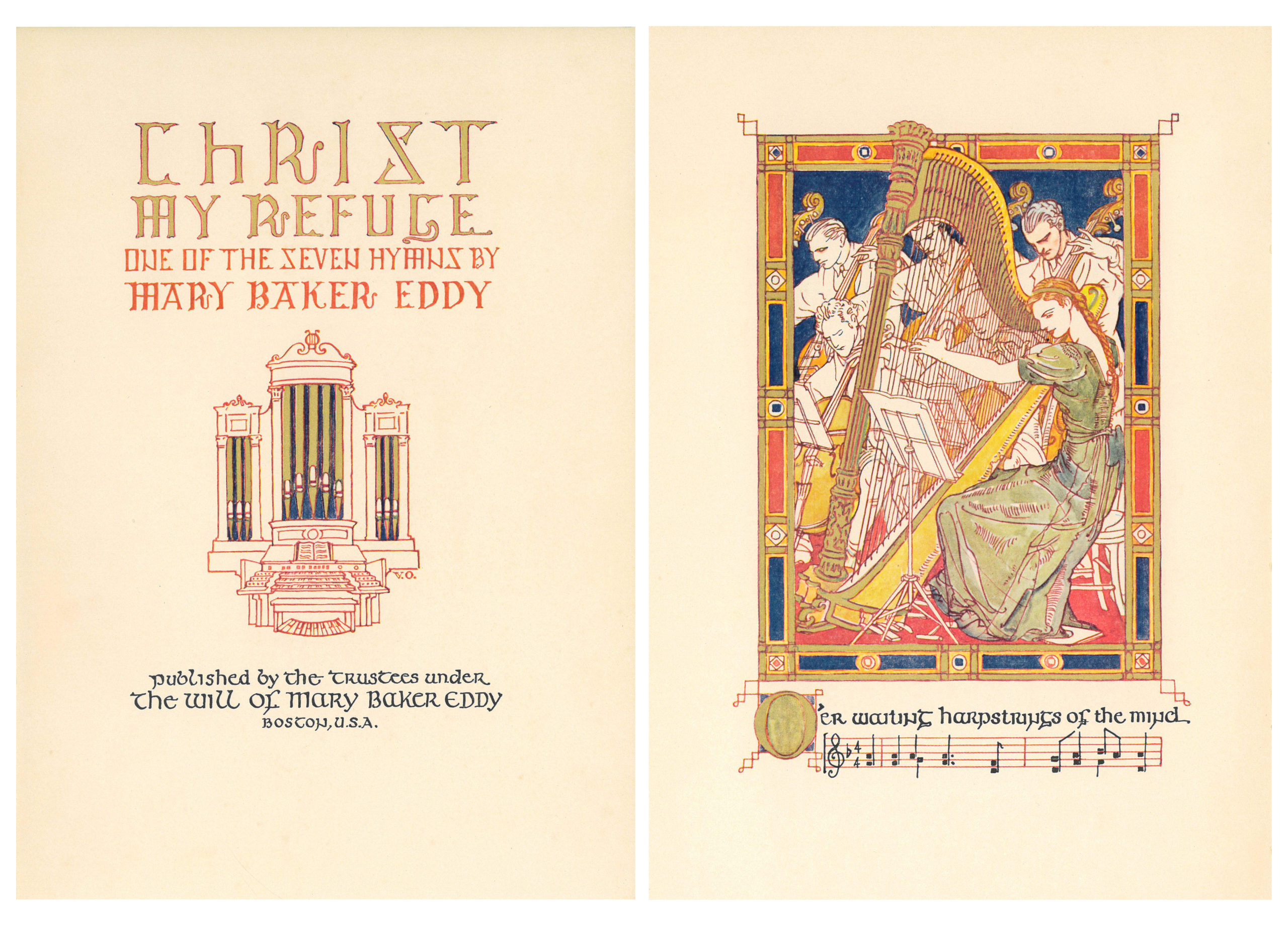 Violet was born on June 10, 1874, in Bergen Heights, New Jersey, into a family of artists. Both her grandfathers were painters and members of the National Academy of Design, and many of her other relatives also were involved in the arts. From the age of six she suffered from such severe asthma and hay fever that her family felt she would not be able to endure the rigors of college study. Although brought up in the Episcopal Church, she turned to Christian Science for healing and was completely healed through prayer.
In a testimony published in the Christian Science Sentinel in 1960, Miss Oakley describes her healing of asthma as instantaneous and permanent. It came about during her stay in Florence, Italy, in 1903, where she was doing preparatory study for the first set of Harrisburg murals. Needing help, she sought the aid of an American Christian Scientist living there and received temporary relief. However, this "dear new friend" soon left Florence, and there was no one else to turn to when she later experienced a particularly severe attack. Violet's mother offered her some patent medicine, but she turned it away and, instead, asked her mother to cable a Christian Science practitioner in the United States. "This she did at once," Violet relates, "and in a short time I was breathing more easily and soon fell asleep. When I awakened a few hours later, I was completely free. The trouble has never returned." She adds thankfully, "There are no words adequate to express my gratitude to God."2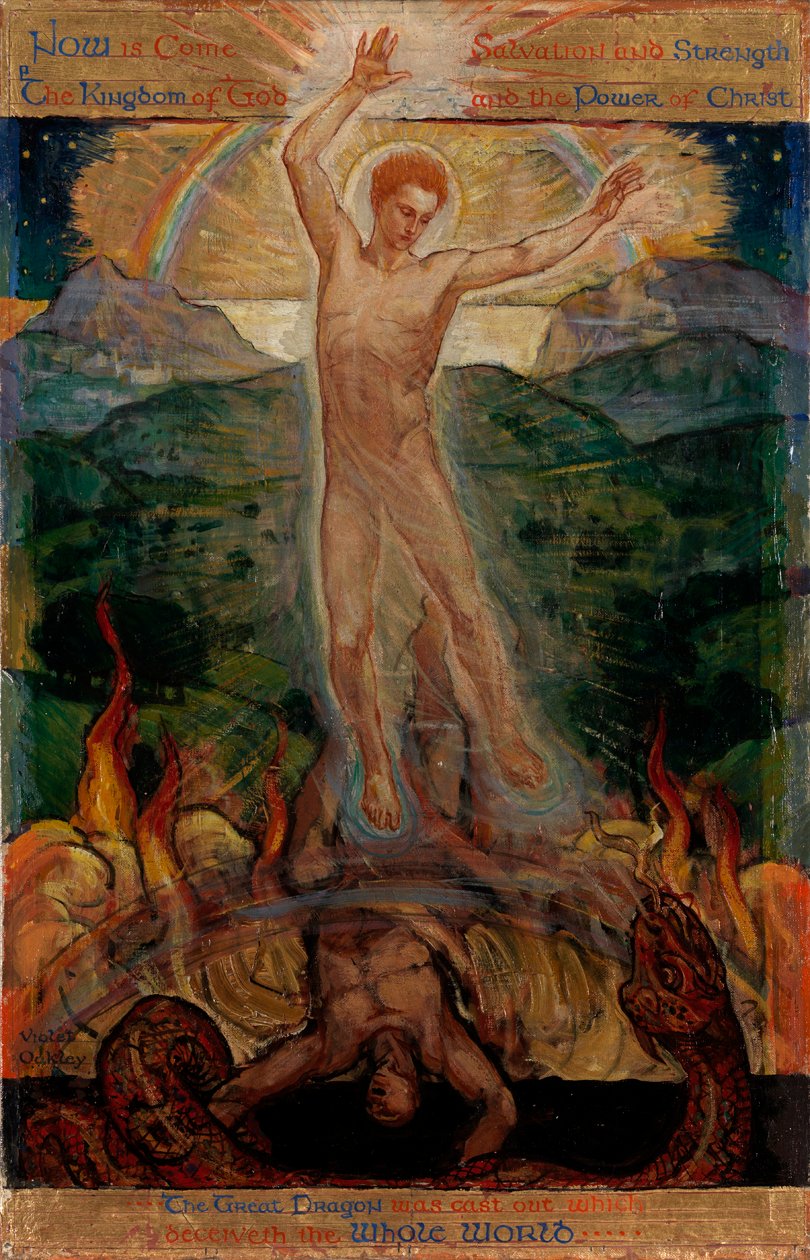 "Since that day great good has unfolded in my experience," Violet states in her testimony, specifying that "even pressing problems, which have come up in connection with my work as an artist, have all been solved by consecrated study of the Bible and the writings of Mrs. Eddy and from help received from practitioners."3
Soon after this healing, she expressed her gratitude for Christian Science directly to Mrs. Eddy in a letter that was printed one month later in the Sentinel:
The Red Rose, Villa Nova, Pa., November 23, 1903.
To Mrs. Mary Baker G. Eddy.
Reverend Leader:—Such a sweet experience came to me in the night a short time since that I feel that I may send it to you with a feeble expression of gratitude for the light of Christian Science. I awoke, as I thought, about midnight, and saw what seemed pale moonlight shining across the room, but realizing that it was past the time of month for the old moon, I arose and went to the window to find in the sky no moon, but instead a huge blazing star so palpitating with light and life as to seem almost within reach. Immediately I knew that "the night was far spent" and dawn at hand because of the brilliancy and power of the reflected light. And it seemed to be but the expression of your life,—the symbol of your loving, lifted thought, high above a sleeping world still wrapt in seeming midnight,—but to those awakened by the bright shining of your realization and sight of the Light of Good, "the Sun of Righteousness." "And I will give him the morning star."
With loving gratitude and thanksgiving,
VIOLET OAKLEY.4
When Second Church of Christ, Scientist, Philadelphia, was formally organized in 1912, Violet Oakley became a member of its first Board of Directors. From 1916 to 1919 she served as Second Reader, and remained a member of the Philadelphia church until her passing in 1961.
Art: Studies and Career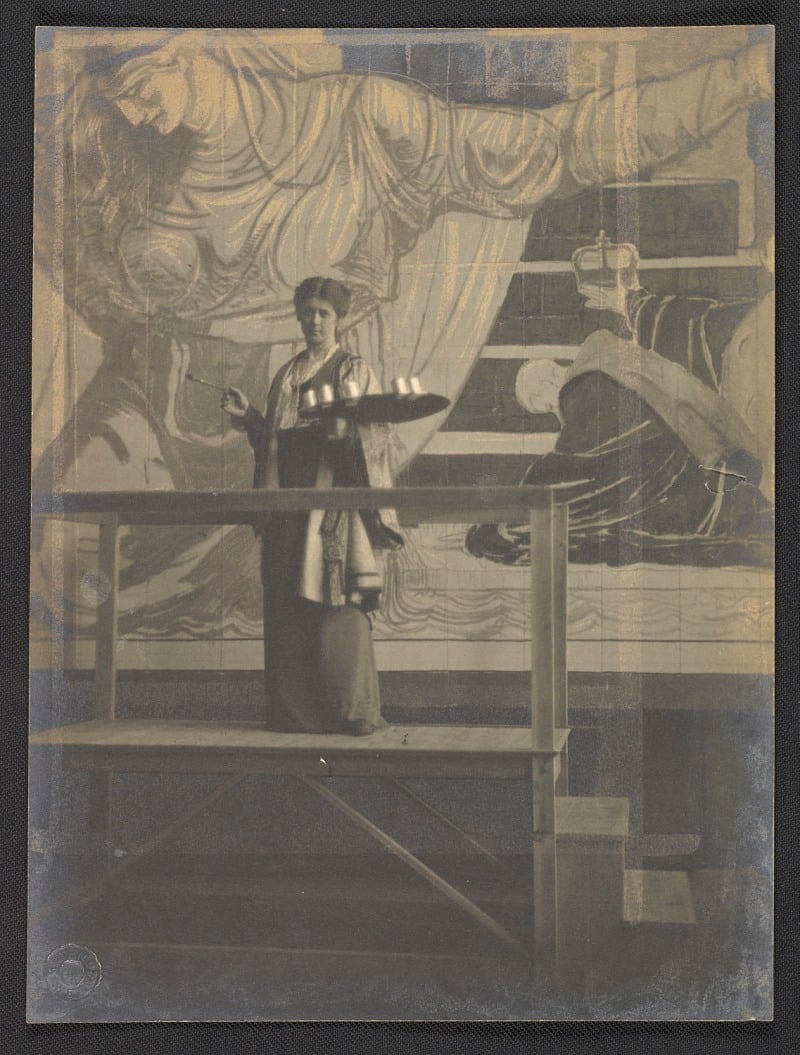 Violet studied art at several prominent institutions, including the Art Students League in New York, the Drexel Institute in Philadelphia, the Pennsylvania Academy of the Fine Arts (where she would later teach mural painting from 1912 to 1917), and the Académie Montparnasse in Paris.
In addition to her monumental achievement as muralist for the Pennsylvania State Capitol, Miss Oakley gained renown for her work in other areas of art as well. She had begun her career as a successful illustrator for several magazines, including The Century Magazine, Collier's Weekly, St. Nicholas Magazine, and Woman's Home Companion. She became accomplished also in portraiture, landscape painting, and illuminated manuscripts.
At the Drexel Institute she came under the influence of the famous illustrator Howard Pyle, who encouraged her to pursue a career in larger-scale works such as stained glass and murals. In addition to her murals for the Capitol and various colleges and libraries, she designed stained glass windows for a number of churches, including murals, mosaics, and stained glass windows for All Angels' Church in New York City in 1900, and windows depicting the parable of The Wise and Foolish Virgins for St. Peter's Church in Germantown, Pennsylvania, in 1908–1909. The luminosity, bright colors, and philosophical content of her murals and windows reveal her acknowledged debt to the Pre-Rafaelites, while her use of illuminated biblical and other texts on the murals shows the influence of the Italian Renaissance art she saw during her travels in Italy.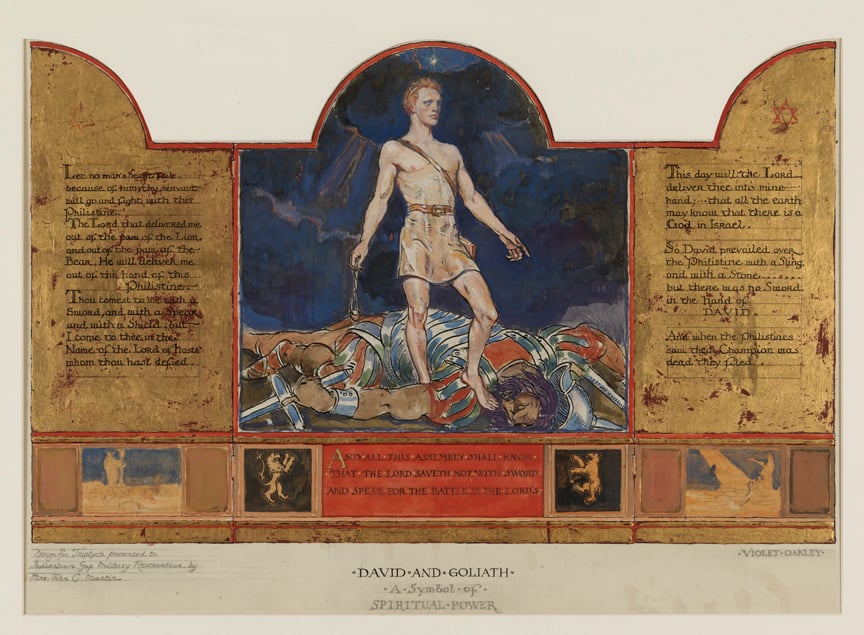 There were other commissions with religious themes as well, particularly in several murals depicting biblical scenes, such as her "Apocalypse Triptych" for the Vassar College Alumni House (1924), and her series titled "Great Women of the Bible" for First Presbyterian Church in Germantown, Pennsylvania (1945–1949). During World War II, she created portable altar pieces for the Armed Forces.
The murals Miss Oakley did for the State Capitol at Harrisburg also reveal a deeply spiritual approach to her work. For example, in the series of murals for the Governor's Grand Reception Room titled "The Founding of the State of Liberty Spiritual," which depicts the life story of William Penn, Quaker founder of Pennsylvania, she was obviously moved and influenced by the ideals of her subject. Before embarking on this project, she traveled to England to research Penn's life, from his youth in England to the founding of the colony in America. Included in this series of murals is the life and thought of George Fox, founder of the Quakers. Years later, in 1950, she published a book about the Penn murals, which were reproduced in 22 color plates, and named it after Penn's own term for his American venture — The Holy Experiment.
In her lifetime Violet Oakley was given many awards for her work. In 1905, she received a gold medal from the Pennsylvania Academy of the Fine Arts, and continued to receive awards throughout the 1930s and '40s. In 1948, the Drexel Institute awarded her an honorary doctorate of laws degree.