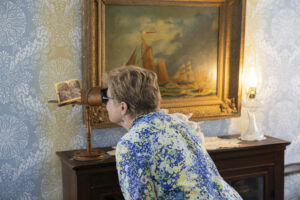 Enjoy the scenic landscapes of New Hampshire and Massachusetts as you tour Mary Baker Eddy's New England. This four-day, three-night bus trip will visit the Mary Baker Eddy Historic Houses, as well as other important sites in the history of the Christian Science movement. Throughout the tour, participants will have the opportunity to explore Retrospection and Introspection, Mrs. Eddy's own account of her life work, and to attend special curatorial sessions led by Longyear staff.
To view a photo gallery from the September 2022 tour, click here. 
This tour is currently full, but we are still accepting reservations for the wait list. To register, contact Laura Long by phone at 617.278.9000, ext. 275, or by email at llong@longyear.org.