Known for her generosity, Mary Baker Eddy frequently gave gifts to her students and friends. This oil lamp is an example of one of those unique gifts and was given to Rebecca Merritt White by Mrs. Eddy sometime after 1900. Though the lamp is small (about the size of the palm of your hand), its bright silver surface is richly ornamented, and Mrs. Eddy had her own name engraved on the top surface of it. Small but striking, the lamp remains today a testament to the kind friendship that existed between Mrs. Eddy and Rebecca, but perhaps even more so between Mrs. Eddy and Rebecca's parents.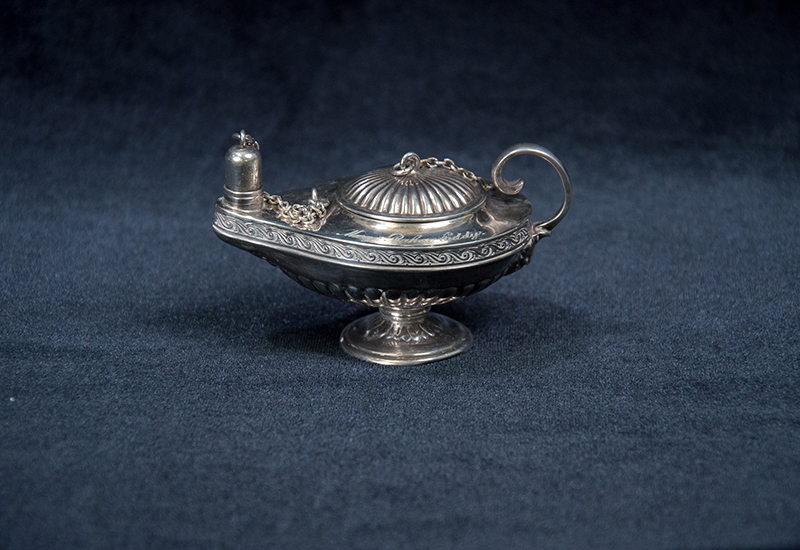 Rebecca Merritt White was the only child of Anna B. White, a widow. When Rebecca was 11, her mother married Dr. Alfred E. Baker, a former homeopathic physician. The couple, well read and highly educated, were both raised as Quakers, had a long Quaker heritage, and like many Quakers, abstained from drinking alcohol. Unfortunately, they both were well acquainted with tragedy, too.
Anna's mother passed away when she and her three siblings were very young, and she lost a brother while in her early twenties. Her father feared the same illness might take Anna's life as well, but Anna was determined not to be influenced by this. She took a teaching position at a Quaker private school in Philadelphia, and there she met her first husband. The couple moved to Omaha, Nebraska, to settle into a new home, but a few months later, Anna's husband was taken seriously ill and suddenly passed away. Anna returned to her father's home near Philadelphia to give birth to her daughter, Rebecca.1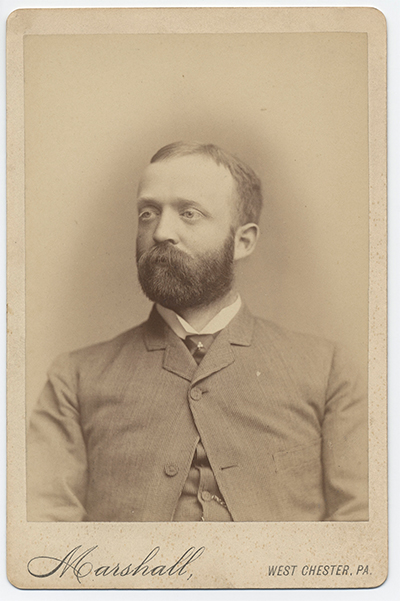 Alfred's family moved to Philadelphia when he was 12 to give him and his two siblings the best education possible. He and his brother Howard were preparing to study at Harvard when their sister Mary unexpectedly passed away. Due to this shock, Alfred became unwell and was discouraged from attending Harvard. He instead became interested in botany for a time, before entering Hahnemann Medical College several years later. He graduated in 1877, and was appointed visiting physician at the Homeopathic Hospital for Children in Philadelphia. But his medical career was short-lived – his brother Howard passed away not many years later, in the beginnings of a promising career, and Dr. Baker gave up his medical practice. He bought a farm in Chester County, Pennsylvania, and settled down to a much quieter life.2 He later met Anna, and when they were married in 1889, the new family lived on Alfred's farm.
An occasional visitor to the farm was Alfred's aunt, Dr. Rachel T. Speakman, an 1861 graduate of the Women's Medical College of Pennsylvania. She practiced medicine in numerous cities around the country before being called to Wellesley College to become a resident physician. By the late 1890s, she became interested in Christian Science, and left medicine to move to Boston and open a Christian Science healing practice.
Dr. Speakman shared her interest in Christian Science with Alfred and his family, and Alfred began reading Science and Health with Key to the Scriptures by Mary Baker Eddy. When his mother was healed of a long-standing illness through Christian Science, he was wholly convinced he had found the comfort and healing for which he had long been searching.
In 1896, Anna took Rebecca to Boston to attend Wellesley College, and while there, she met Flavia Knapp, which prompted Alfred and Anna to enroll in Mrs. Knapp's Primary class that same year. Shortly after the close of class, they packed up their belongings, sold their farm, and moved to Boston to practice Christian Science. Their healing work flourished, and when they left Boston several years later, Anna wrote that Alfred turned over a practice of some 50 patients to other Boston practitioners.3
The Bakers had further instruction in Christian Science – this time from Mrs. Eddy herself – in her class of 1898 (Alfred's aunt, Dr. Rachel Speakman, was also invited to attend this class); and later that year, Mrs. Eddy asked Alfred to teach the Obstetrics course at the Massachusetts Metaphysical College.4 In 1899, Mrs. Eddy asked the Bakers to come to Concord to serve there: "Hereby I send you a call, loving full of hope to 'come to Macedonia and help us,'" she said. "We need you."5
The Bakers then moved to Concord, into a small apartment in Christian Science Hall6 that they used for their living quarters, and performed various duties for Mrs. Eddy and the Cause of Christian Science. Alfred reopened his healing practice, and it was reported that he was well respected in town. Anna writes of her own activities, "home, the Reading Room, patients and calls to Pleasant View made busy days. Then strangers, who came to visit the home city of Mrs. Eddy, had to be looked after, with courtesy and consideration. All of this with the duty of my part of the Church work required constant thought and activity."7
Both Anna and Alfred enjoyed frequent contact with Mrs. Eddy during these years, and Mrs. Eddy continued to correspond with them after they moved back to Boston in 1902, and later, Philadelphia in 1904.8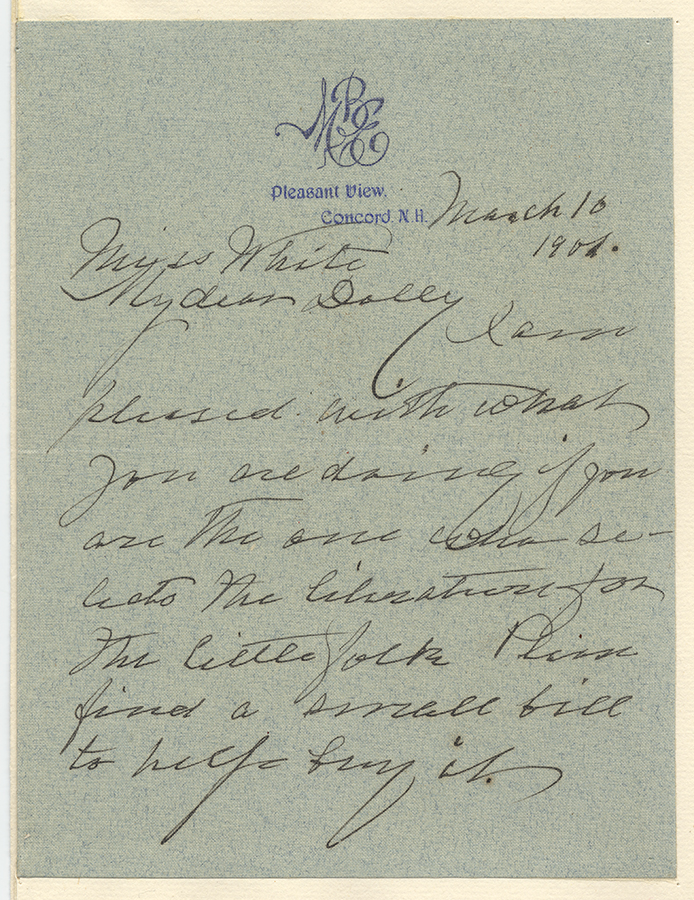 Thinking about the relationship, it may have been the Bakers' modest simplicity, gentle natures, and keen intellect that endeared them to her. All three members of the family were also teachers at one point or another. Rebecca graduated from Wellesley College in 1900, and afterwards became an English teacher.9 While a student at Wellesley in 1899, Rebecca and another student started a Christian Science worship group, later advised by Emma Shipman, who was also a member of Mrs. Eddy's 1898 class. This group eventually grew into First Church of Christ, Scientist, Wellesley, Massachusetts, founded in 1924.10
Rebecca, too, enjoyed an acquaintance with Mrs. Eddy, who often affectionately referred to her as Dolly. "Give my love to Dolly,"11 was a frequent postscript in her many letters to the Bakers. Though it is uncertain how much Rebecca saw of Mrs. Eddy in person, Mrs. Eddy did write to her at least once in 1901 [see letter pictured]. In a letter from 1899, Mrs. Eddy wrote to the Bakers, "Give my deep love and gratitude to Miss White and ask her if I can do her any new service, if so I will gladly. … At the midnight hour all our lamps should be trimmed and giving light. Watch, Watch said Jesus."12
Might this have been a clue as to why Mrs. Eddy gave Rebecca the little lamp? The scriptural ties to this type of lamp would have been natural for a family with a deep love of and familiarity with the Bible. Oil lamps, present when worshipping at the altar during biblical times, needed to be clean, with wicks trimmed, and fresh oil added each day for them to burn best. This lamp could signify the diligence needed daily in practicing Christian Science. Another tie lies in Mrs. Eddy's writings; when speaking of the qualities of a diligent teacher, Mrs. Eddy said, "He who sees most clearly and enlightens other minds most readily, keeps his own lamp trimmed and burning."13