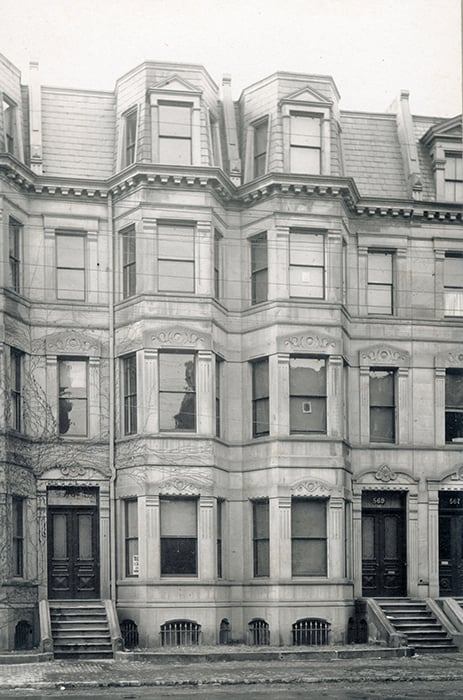 Before the College
Mary Baker Eddy began teaching Christian Science just months after the experience that had brought her to its discovery in 1866. At first she taught individual students, proving that her discovery could be taught to others, and in 1870 she began teaching classes. For this teaching she developed a teaching text that she titled The Science of Man.1 Seeing the need for a more complete statement of her discovery, though, she took a three-year hiatus from teaching (February 1872 to April 1875) to write Science and Health with Key to the Scriptures, which was published in October 1875.
She resumed teaching when her manuscript for Science and Health was essentially completed, and around that same time she began speaking publicly on Christian Science. The growing attention on her activity and seemingly radical theology brought both challenge from the traditional clerical establishment, and keen interest and following from many adherents of mainstream religious denominations of the day.
Eventually, the need for a recognized entity and authority for teaching others to heal according to her discovery led Mrs. Eddy to take the courageous step of founding her own teaching institution, the Massachusetts Metaphysical College.
Founding the College
Although many people today associate the Metaphysical College with Boston, it was actually chartered while Mrs. Eddy was living in Lynn, on January 31, 1881.2 It wasn't until May of the following year that Mrs. Eddy and her husband Asa Gilbert Eddy left Lynn for good and opened the College at 569 Columbus Avenue, in Boston's South End neighborhood.3 Then, in 1884, Mrs. Eddy and the College moved next door to 571 Columbus Avenue, where the College would remain until its closing in 1889. Mrs. Eddy, herself, moved to a home of her own on Commonwealth Avenue in Boston's Back Bay on Christmas Eve, December 1887, and commuted daily to the College.
On Columbus Avenue, within walking distance from the future site of The Mother Church, Mrs. Eddy taught her students metaphysical healing. As teacher, Mrs. Eddy relied on the textbook, Science and Health. Julia Bartlett, an early student, recalls "Her teachings were a wonderful unfolding of Truth to her students. I can seem to see her now as she sat before us with that heavenly spiritual expression which lighted her whole countenance as she expounded the truth contained in her book, Science and Health."4 And a later student, Irving Tomlinson, remembers her in the classroom as "the embodiment of vivacity as well as wisdom."5
For her Primary class, which was the introductory course,6 she taught from the chapter "Recapitulation," which was adapted from her earlier teaching text, The Science of Man.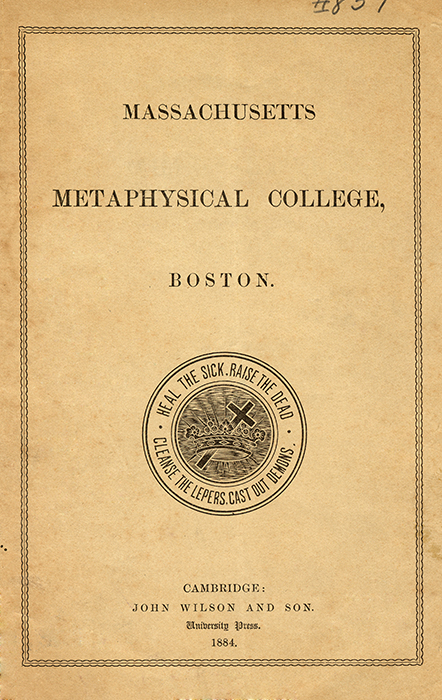 The format for the text was "question and answer" – something with which she was so familiar from her own childhood religious schooling.7 Primary classes generally ran for twelve lessons, but were later shortened to seven in 1888.8 The cost of Primary class was $300, although Mrs. Eddy gave generous discounts to many.9
A significant step was taken in August 1884, when Mrs. Eddy instructed the first Normal class in the College, preparing students to become teachers of Christian Science. There were ten students in the class, all of whom she had taught before in her Primary classes. Normal class lasted six days and cost the student $100.10
The College was successful, with classes becoming larger and more frequent as time went on. Students were waiting in the wings for the opportunity to study with the Discoverer of Christian Science. But in late June, 1889, after eight years at the Metaphysical College, Mrs. Eddy stepped down from her teaching post and withdrew from Boston to Concord, New Hampshire.11 Teaching, while important, was just one of the many things she was being called to do; during the 1880s she was simultaneously president of the College, writing for The Christian Science Journal, revising and publishing further editions of Science and Health, advising the officers of the Church, and always leading the fledgling Christian Science movement. She later explained, "The work that needs to be done, and which God calls me to outside of College work, if left undone might hinder the progress of our Cause more than my teaching would advance it: therefore I leave all for Christ."12
Closing the College
Mrs. Eddy remained president until September, when she handed the duties to her student General Erastus Bates. But the following month, she dissolved the College. She would retain the charter for future use: nine years later, in 1898, the Board of Education was established under the charter of the Massachusetts Metaphysical College, and Christian Science Normal classes resumed.
Looking back, Mrs. Eddy said she closed her college because of "a deep-lying conviction that the next two years of her life should be given to the preparation of the revision of Science and Health, which was published in 1891."13 This newly-overhauled edition of Science and Health was the landmark fiftieth edition, and she characterized her work on it in a letter to one of her students, Captain Joseph Eastaman, "I have done for this edition what the lapidary does, brought out the gems and placed them well burnished, in sight."14
Impact of the Massachusetts Metaphysical College
The significance of the Massachusetts Metaphysical College can be seen by the momentous growth of Christian Science as a result of more practitioners and teachers being prepared and sent to establish the work throughout the United States and other parts of the world.
But especially revealing are the individual stories of students who attended classes under Mrs. Eddy's inspired teaching. Joseph Eastaman, for example, heard of Christian Science when his wife Mary was sick and near death. He appealed to Mrs. Eddy to heal her, but she was not taking patients at that time. Instead, she asked him, "Captain, why don't you heal your wife yourself?"15 Astonished but willing, three days later he entered Primary class instruction. With the knowledge gained from Mrs. Eddy's teaching, he treated his wife and she made a full recovery.
Both of the Eastamans, as well as many of their fellow students at the Massachusetts Metaphysical College, became valued workers in the Christian Science movement.