Chicago figured prominently in the history of Christian Science. Mary Baker Eddy twice visited the city, lecturing both times and teaching a class there in 1884. The 1884 class included Laura Sargent and Silas and Jennie Sawyer. Judge William and Ruth Ewing, who became interested in Christian Science slightly later, also made solid contributions to Christian Science in Chicago.
---
Chicago, which at the time of Mary Baker Eddy's discovery of Christian Science in 1866 had a population of only 300,000, had grown greatly in importance to the United States in less than twenty years. Mrs. Eddy visited the city twice: in May 1884 to teach a Primary class in Christian Science, and in the summer of 1888 to attend the annual meeting of the National Christian Scientist Association.
The decision to teach a class in the Midwest was prompted partly by the enthusiasm of several of her students from the center of the United States and partly by her recognition of the growing interest there in Christian Science. She had had a handful of students from the Midwest, most notably from Chicago and Milwaukee, in her classes in Boston in 1883 and early 1884, and they were eager to have her teach in their part of the country. On April 7, 1884, she signed a contract with one of her students, Dr. Silas J. Sawyer of Milwaukee, Wisconsin, who had been a skilled dentist with a flourishing practice, which he abandoned to practice Christian Science. Mrs. Eddy authorized him to announce a class in Milwaukee and to make arrangements for it.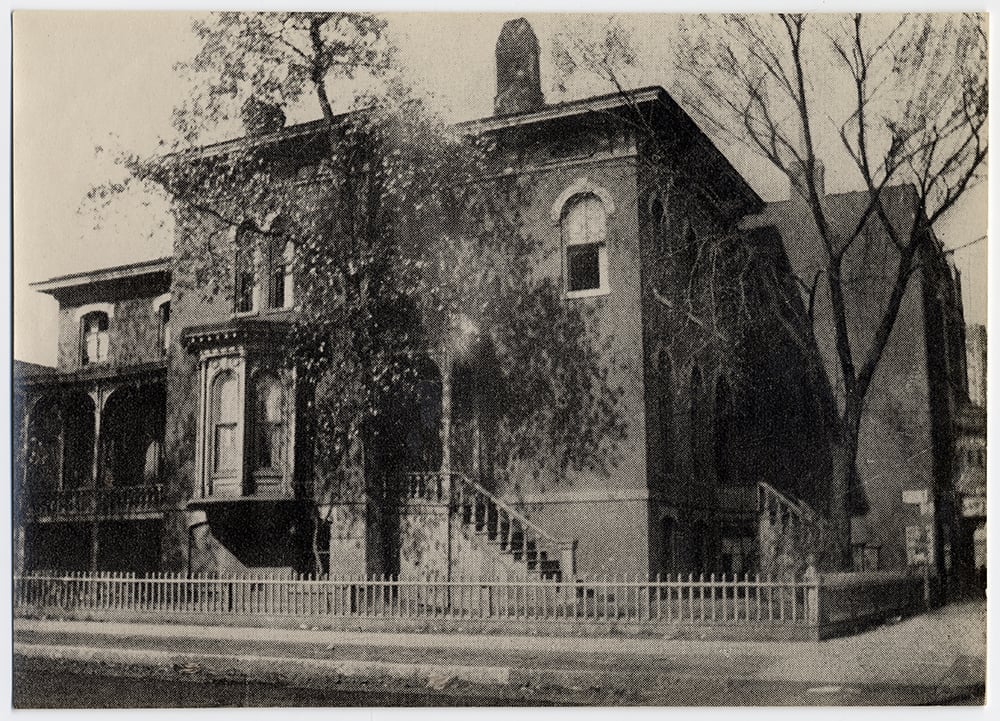 On further reflection, however, she decided that Chicago — already a hub of transportation and commerce — would be a more suitable location, and it was here, at 470 West Randolph Street in a pleasant residential section of the city, that the class was held in May. Of the twenty-five persons enrolled, sixteen were from Illinois, fifteen of these from Chicago, and seven, including Dr. Sawyer and his wife Jennie E. Sawyer, from Wisconsin. Three of the Wisconsin students came from the town of Oconto, which would later be the site of the first building ever constructed for Christian Science worship. Among the Oconto students was Laura Sargent, whom Mrs. Eddy met for the first time in Chicago and who would prove a valuable helper to her. Mrs. Sargent served in Mrs. Eddy's household for several months in 1890, and after that, off and on over a period of twenty years.
At the close of the class in Chicago, in accordance with a recommendation from Mrs. Eddy, the students formed a branch of the Christian Scientist Association. On May 25, shortly before she returned to Boston, Mrs. Eddy addressed an audience of four hundred people in Chicago's Hershey Hall on the subject "Whom do men say that I am?"
Also from Chicago were Judge and Ruth Ewing. She served as pastor and then as Second Reader of First Church of Christ, Scientist, Chicago, while he later became a lecturer for the Christian Science Board of Lectureship.
Mrs. Eddy visits Chicago a second time, 1888
Mrs. Eddy returned to Chicago in 1888 for the annual meeting of the National Christian Scientist Association. In an article which she wrote for the June 1888 issue of The Christian Science Journal, she encouraged Christian Scientists to attend.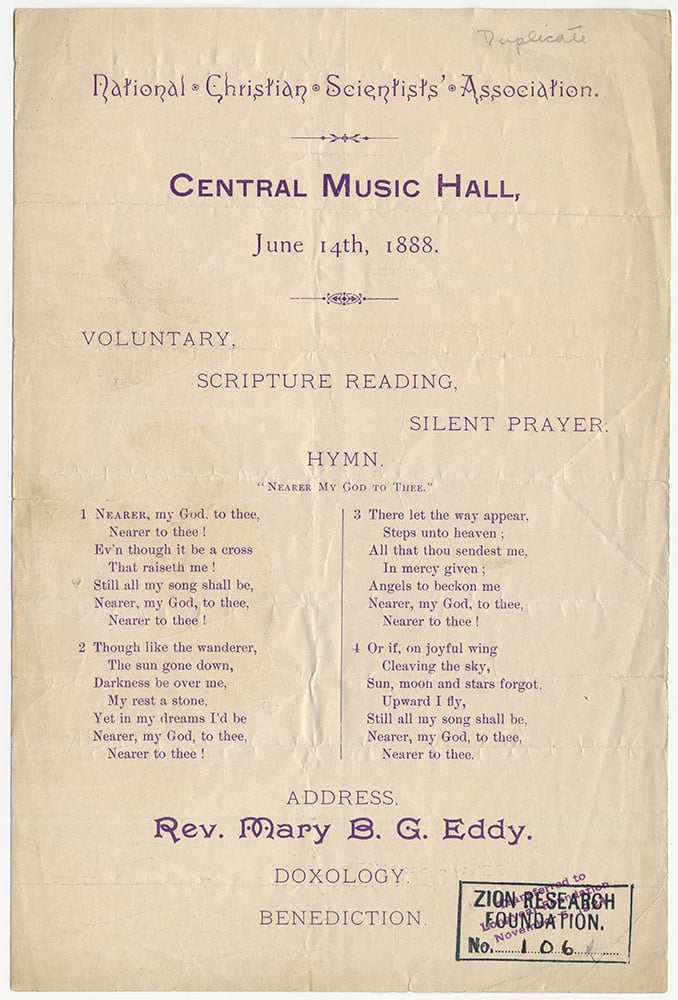 The second day of the meeting was held in Central Music Hall. On that occasion, Mrs. Eddy addressed an audience of some 4,000 people. Her talk, which led to a number of healings in the audience, was all the more remarkable because it was extemporaneous. The event attracted considerable attention from the press, not only in Chicago but in Boston as well. The report which was published in the Boston Traveller was also reprinted in the July 1888 issue of the Journal.
Mrs. Eddy went to Central Music Hall unaware that the organizers of the day's session had named her as the speaker. Without time to prepare an address, she spoke extemporaneously, taking as her subject "Science and the Senses." She stated:
Christian Science and the senses are at war. It is a revolutionary struggle. We already have had two in this nation; and they began and ended in a contest for the true idea, for human liberty and rights. Now cometh a third struggle; for the freedom of health, holiness, and the attainment of heaven. [Miscellaneous Writings, p.101]
The substance of Mrs. Eddy's talk was featured as the lead article of the Journal's August 1888 issue and reprinted in her Miscellaneous Writings, p. 98.