To understand how much care goes into every object in Longyear Museum's collection – and the joy of finding surprises there – look no further than this summer's unwrapping of a large ironing board dating back to Mary Baker Eddy's time at 400 Beacon Street in Chestnut Hill, Massachusetts.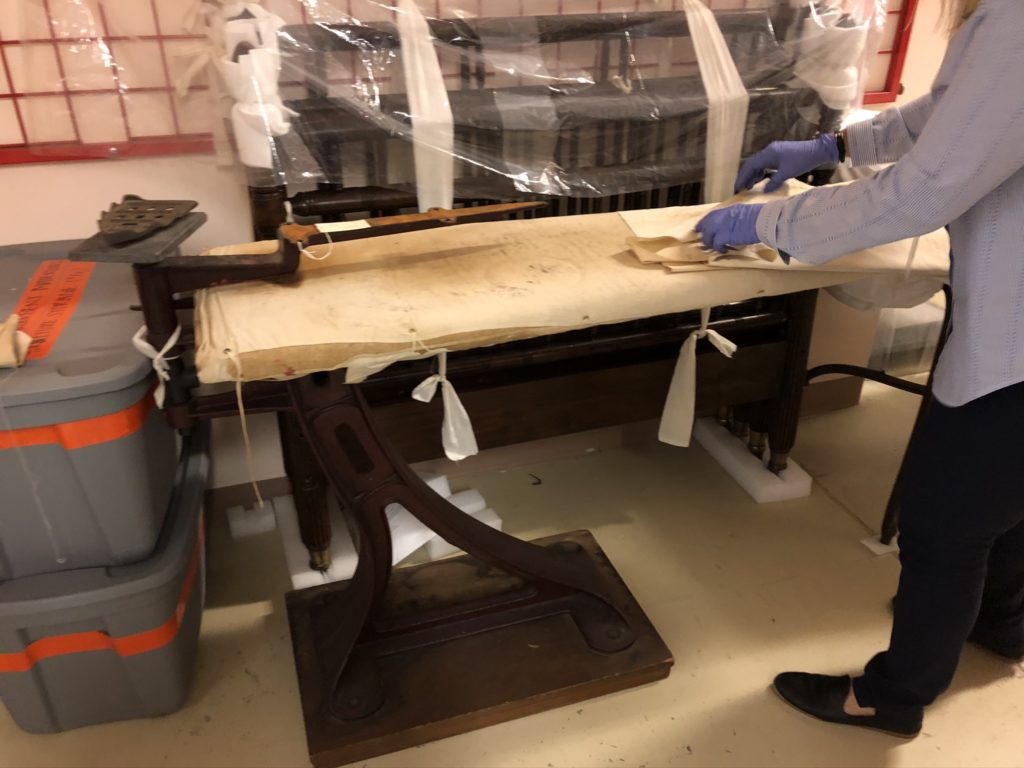 Collections manager Leslie Vollnogle documented each step as longtime consultant Valarie Kinkade removed ten layers of covering, the two of them tracking each safety pin, straight pin, and cord that had fastened the coverings onto the board.
"There's a lot of information to be gleaned as you pull things apart," says Valarie, founder and principal of Museum & Collector Resource in Concord, Massachusetts.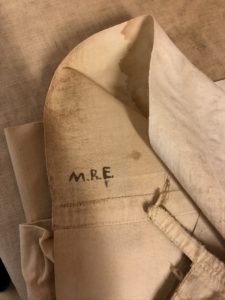 Beneath the top four layers, Valarie and Leslie found a noteworthy marking on a well-worn partial sheet: the black stamped initials M.B.E.
While the ironing board was likely purchased between 1908 and 1910, when Mrs. Eddy lived in Chestnut Hill,1 Valarie says the stamped sheet is probably much older. The initials would have served as "a laundry mark," she explains, indicating that the sheet "most likely would have been used earlier, when she was sending her laundry out."
Another clue that the sheet is probably older: It contrasts strikingly with some white linen sheets in the Museum's collection that are documented as original to 400 Beacon Street. These snowy sheets include beautiful embroidered monograms — "MBE" and "Mother E."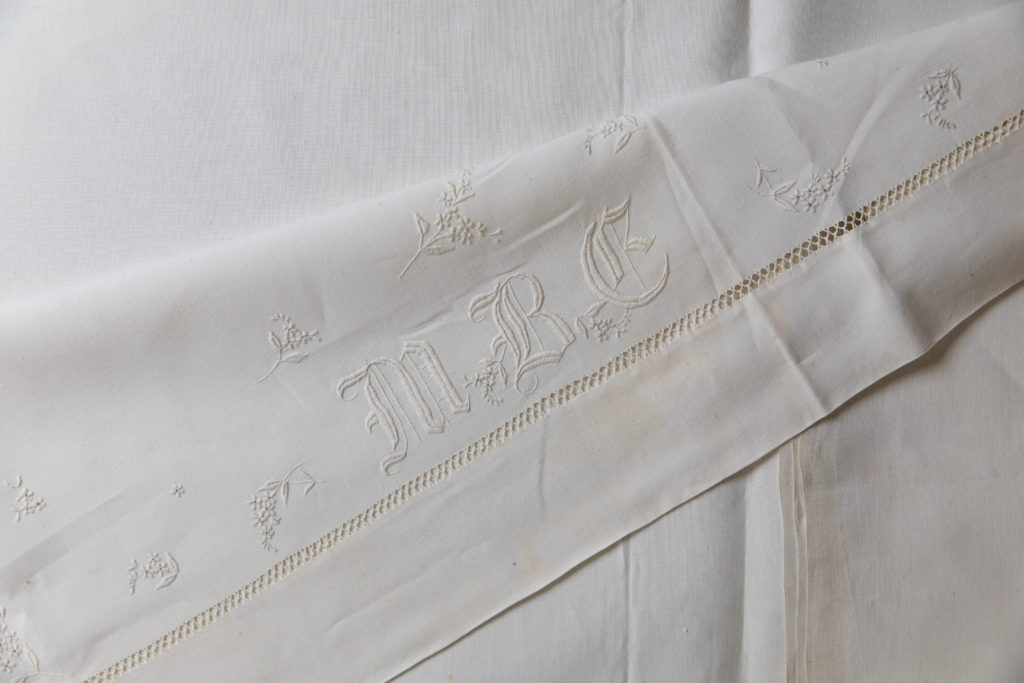 The ironing board itself appears to be listed on a 1917 inventory of 400 Beacon Street as a "skirt board" used in the third-floor workroom that adjoined the bedroom of Nellie Eveleth, Mrs. Eddy's dressmaker. Mrs. Eddy took over Nellie's quarters for three weeks shortly after her arrival in 1908, while her own rooms were being remodeled. She enjoyed the snug bedroom, especially its beautiful view.2
The Mother Church donated the skirt board to Longyear in 2016, along with other furniture from 400 Beacon Street. Then the board sat in collection storage until Valarie and Leslie explored it this summer.
Leslie's research into a patent reference and other clues date the top covering to the mid-1940s. This makes sense, as a variety of caretakers occupied the home after Mrs. Eddy's passing, until The Mother Church opened an exhibit for visitors to the house in 1951.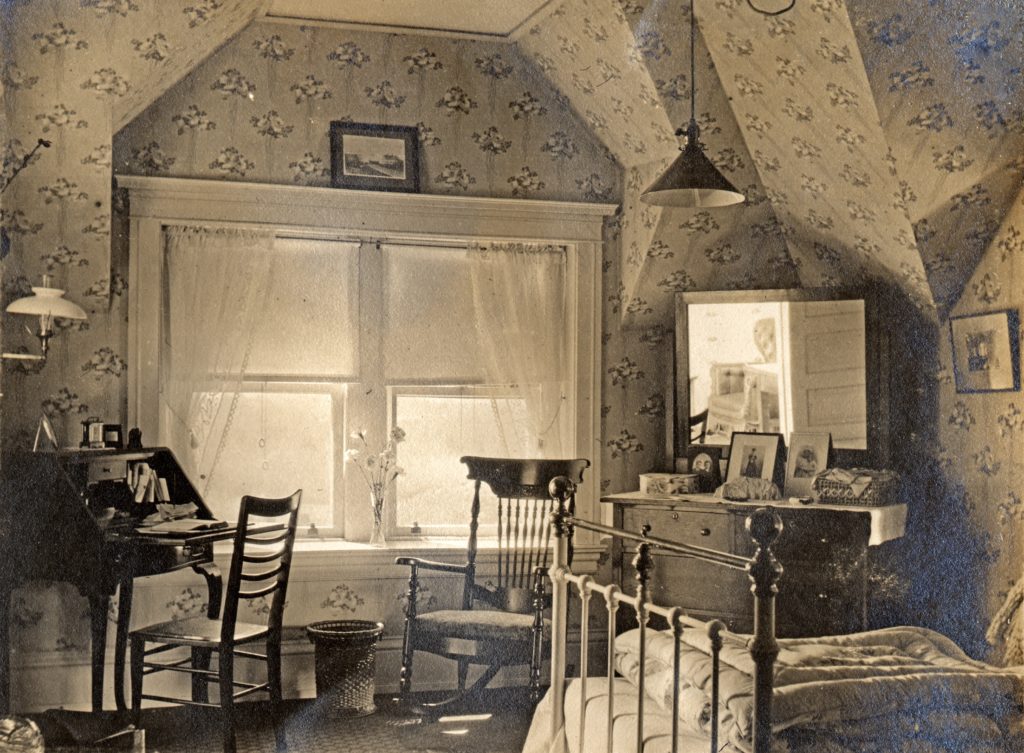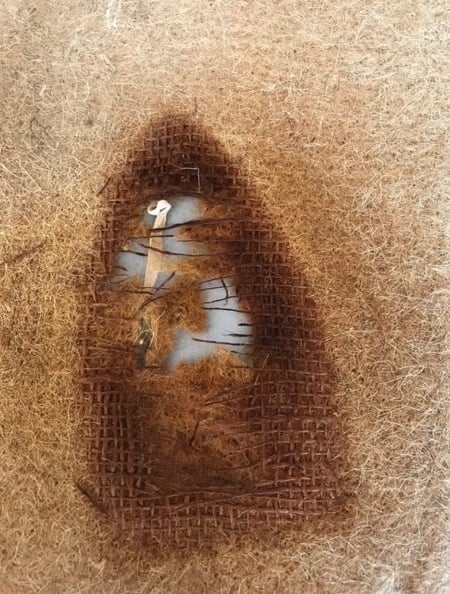 Beneath the old partial sheet marked M.B.E., Valarie removed five more layers. A few of them – including a thick wool pad – feature black burn marks in the shape of an iron. Clearly, multiple layers of padding and covering had been added over the years as needed, both during and after Mrs. Eddy's time at 400 Beacon.
It's easy to picture the devoted helpers who regularly stood at that board, smoothing the fabric of Mrs. Eddy's dresses. Martha Wilcox — who worked at the Chestnut Hill house before returning to Kansas City as a teacher of Christian Science – sets the scene in her reminiscence: "[T]here was a group of women, usually five in number, practically all of whom had left their own homes — some of whom were practitioners, and each one a good working student in Christian Science — who took care of Mrs. Eddy's entire home. We washed all the windows on the inside of the house, washed and stretched all lace curtains, and washed and ironed Mrs. Eddy's personal things. . . . I wish you might have heard her expressions of gratitude for her home and her gratitude to those who were caring for her home."3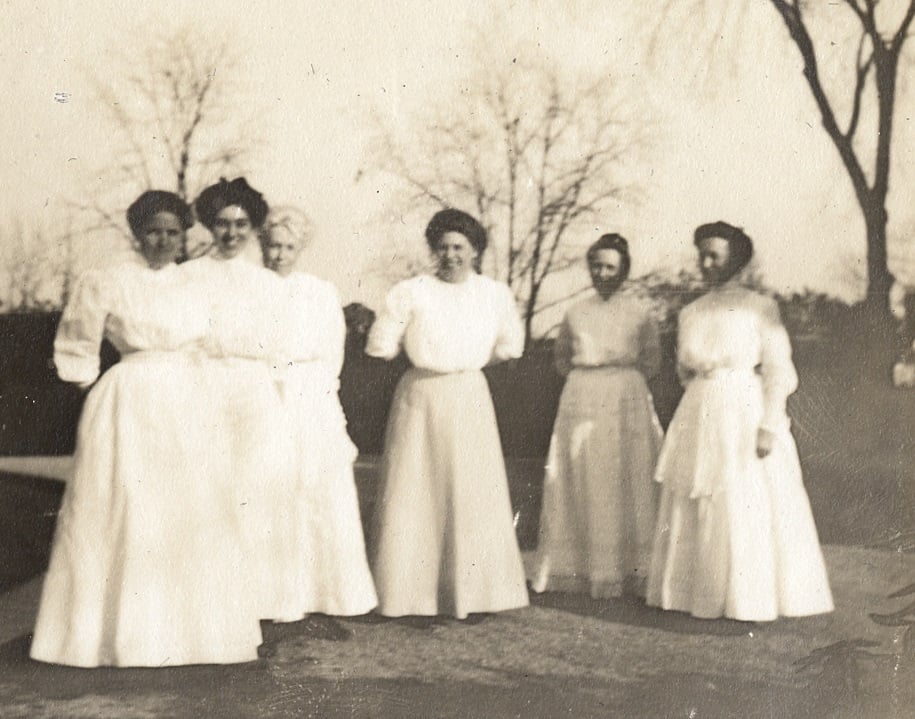 Photographs of Nellie Eveleth's workroom show a sewing machine and an electric iron on a small table, but those were just a few of the useful items at her disposal. "Miss Eveleth has her shop equipped with all the machinery of her trade and uses her Science continually," corresponding secretary William Rathvon observed.4
It's unknown what the pins were used for before they held layers of coverings on the ironing board. But Mrs. Eddy expected pins – along with all the other objects in her home — to be treated with precision.
"Even the different lengths of pins had their respective corners in [Mrs. Eddy's] pin cushion, and she took [out] the pin she needed, without taking out and putting back the different lengths," Mrs. Wilcox recalled. "Mrs. Eddy knew that if one's thought was not orderly and exact in the things that made up present consciousness, that the same thought would not be exact enough to give a treatment or to use an exact science."5
The final layer of muslin was left nailed in place. The ironing board will eventually be returned to 400 Beacon Street when the home is fully restored. When it is on display, Longyear's historic house team will cover it with a fabric representative of Mrs. Eddy's time at Chestnut Hill. Visitors will also be able to see the sheet stamped "M.B.E."
Valarie, who once studied archaeology, says her career in historic preservation is similar, but instead of "digging around in dirt, it's digging around in furniture! There's a lot to learn from these things, if you have the patience and time to go through them carefully."