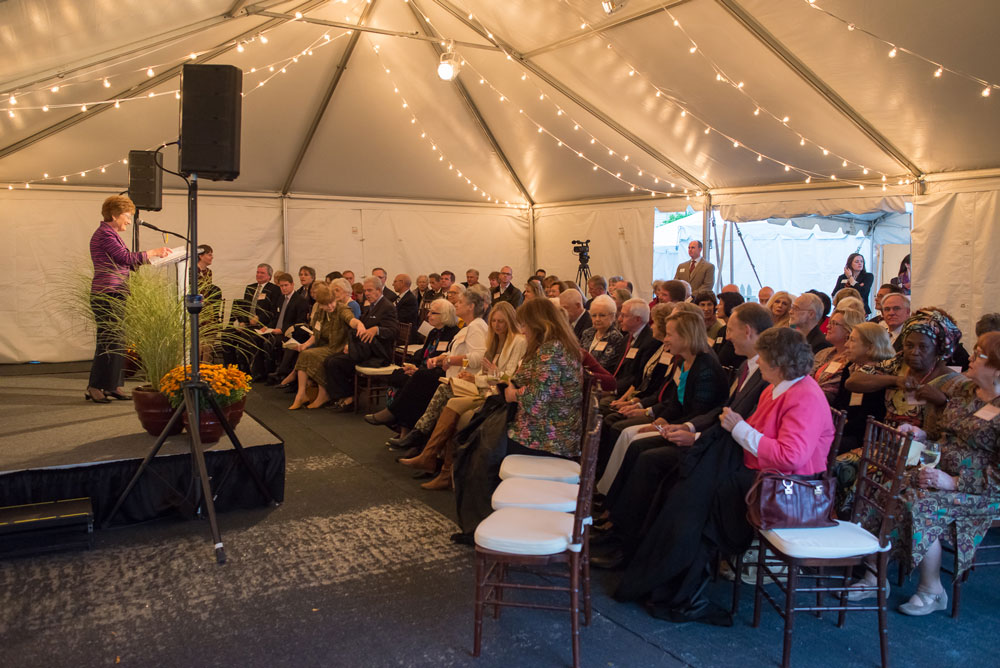 The crisp autumn evening of September 13, 2014, began with Longyear staff busily preparing for the opening celebration at the Mary Baker Eddy Historic House in Lynn. At 5:30 pm guests were welcomed into the tented backyard of the house where an opening program began with remarks and readings by Longyear Board of Trustees members, Ellen Williams and Reid Wagstaff.
Gary Wolf, preservation architect, shared with guests the ways that the house was transformed through the restoration process. James Suber, Longyear's Researcher and Publications Coordinator, shared insights into the exhibit design process.
After the opening remarks, guests toured the first, second, and third floors of the house. Longyear staff members stationed throughout the house provided the history and significance of each space. Of note was Mrs. Eddy's third-floor study, where she finished the first edition of her book Science and Health.
On the first floor, guests explored the newly installed exhibit, "Mary Baker Eddy at 8 Broad Street: Foundational Work for a Worldwide Movement." Here, material covering Mrs. Eddy's writing, teaching, and work founding a church is amplified with historical documents, images, and objects of the period. Of special interest are reproductions of the first three editions of Science and Health,which visitors are allowed to pick up and examine closely.
When not touring the house or exhibit, guests enjoyed hors d'oeuvres, dessert, sparkling pear cider, and hot drinks outside under the tent, where there were additional presentations on nineteenth-century printing and Mrs. Eddy's efforts to acquire copyrights for the first three editions of Science and Health.
The evening highlighted a sense of fellowship and appreciation for the work that has been completed at the Lynn house, both historically and recently. Executive Director Sandra Houston closed her remarks by expressing gratitude to the many friends of Longyear, including members, donors, supporters, and former and current staff, who made the restoration and this opening event possible.