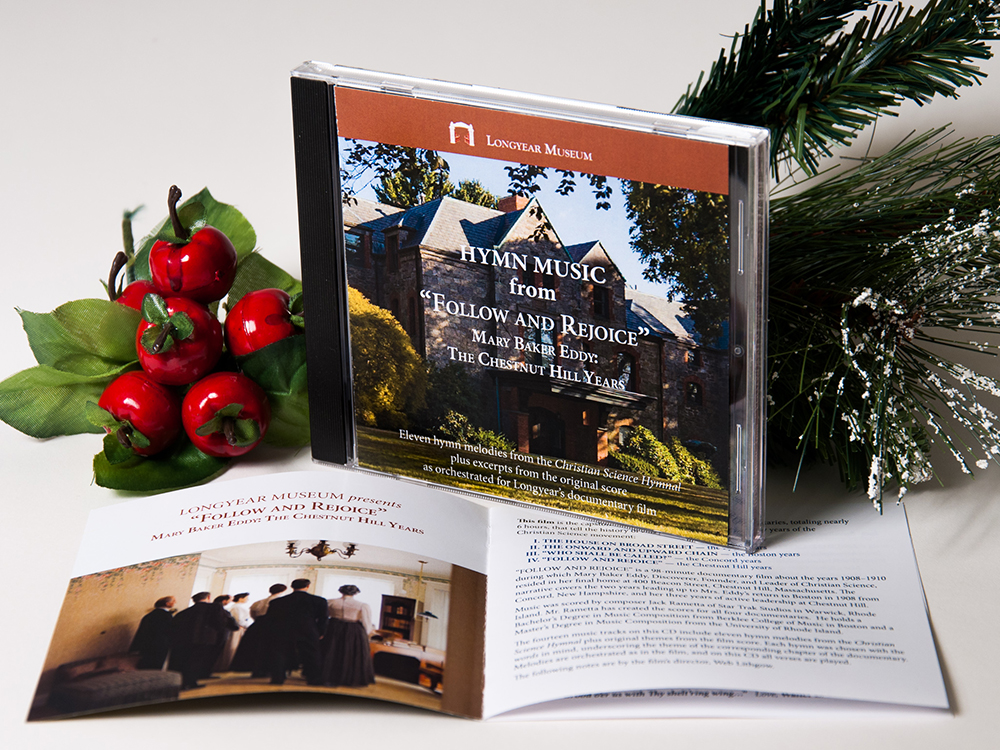 We recently sat down with Web Lithgow, director and producer of Longyear's historical documentary films, to find out more about the new CD that the Museum has just released. Here's what he had to tell us.
---
"From the first screenings of "Follow and Rejoice" viewers have been asking to hear the film score itself," says Web. "What they most love are the hymns. That doesn't surprise me — so do I!"
Longyear has responded to these requests by producing a CD with the eleven hymns from the Christian Science Hymnal used in the film, plus a few original pieces of music composed for that score.
"In making the documentary, the narrative voices and musical score were recorded first," Web recalls. "Then the film was edited to match the cadences of the voices and music. Each hymn was chosen to mirror the theme of a particular chapter in our account of Mary Baker Eddy's years in Chestnut Hill. Of course, in the film you hear only a few bars of each hymn mixed with the speaking voices. For the CD we've played all the verses, so you can sing along with them — out loud for all to hear or silently to yourself."
Web went back to musician Jack Rametta, who composed and orchestrated the film score, and the two of them worked for hours in Mr. Rametta's Star Trak Studio in Warwick, Rhode Island.
"Each verse was given its own individual instrumentation that reflects the familiar wording," Web explains. "Jack's classic orchestral style honors the spirit of each well-loved hymn, but you'll also hear a special connection to a particular episode in Mrs. Eddy's story that the film covers. For example, the strains of hymn #304, Mrs. Eddy's 'Feed My Sheep,' are played, perhaps surprisingly, on trumpet and horns. So the phrase 'I will follow and rejoice' rings out like a bugle call to follow in the rugged way she has taken before us."
A pamphlet accompanying the CD includes further notes on the relation of each hymn to a chapter of Mrs. Eddy's story as presented in the film. We hope you'll enjoy listening to the audio samples available below!