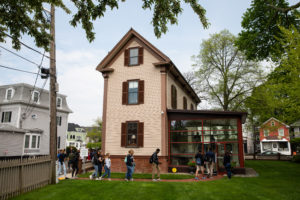 Last month, the Principia Upper School Junior class traveled to Boston to learn about Mary Baker Eddy and the Church that she founded. The group spent a day of their trip visiting the Mary Baker Eddy Historic Houses in Lynn and Swampscott, Massachusetts, and exploring Longyear Museum.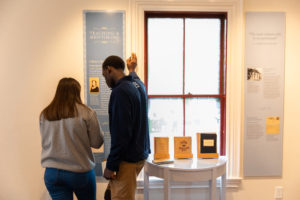 The theme of the students' day with Longyear was "Mary Baker Eddy: Discoverer, Founder, Leader." In the morning, they learned about Mrs. Eddy's landmark healing in Swampscott which led to her discovery of Christian Science, while the focus in Lynn was on the foundations she laid for the Christian Science movement, including publishing Science and Health with Key to the Scriptures. Next stop was lunch at Red Rock, a spot along the ocean that Mrs. Eddy frequented when she lived in the area. In the afternoon, the students returned to Chestnut Hill, where they explored the galleries at the Museum with a focus on Mrs. Eddy's role as Leader of Christian Science. They listened to a presentation about Longyear's newest publication, Life at 400 Beacon Street: Working in Mary Baker Eddy's Household, and learned about some of Mrs. Eddy's major accomplishments while living in Chestnut Hill from 1908 to 1910.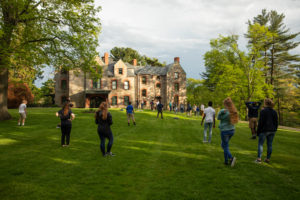 Because 400 Beacon Street, the home that Mrs. Eddy lived in during those years, is currently closed for restoration, the group toured the carriage house on the property instead, and then played whiffle ball on the front lawn—in honor of the baseball games that were occasionally enjoyed by members of Mrs. Eddy's household. Her staff called themselves "The Chestnut Hill Doves," and in our match, "The Chestnut Hill Doves" competed against "The Christian Science Monitor" – which actually fielded a city-league team as early as 1911!