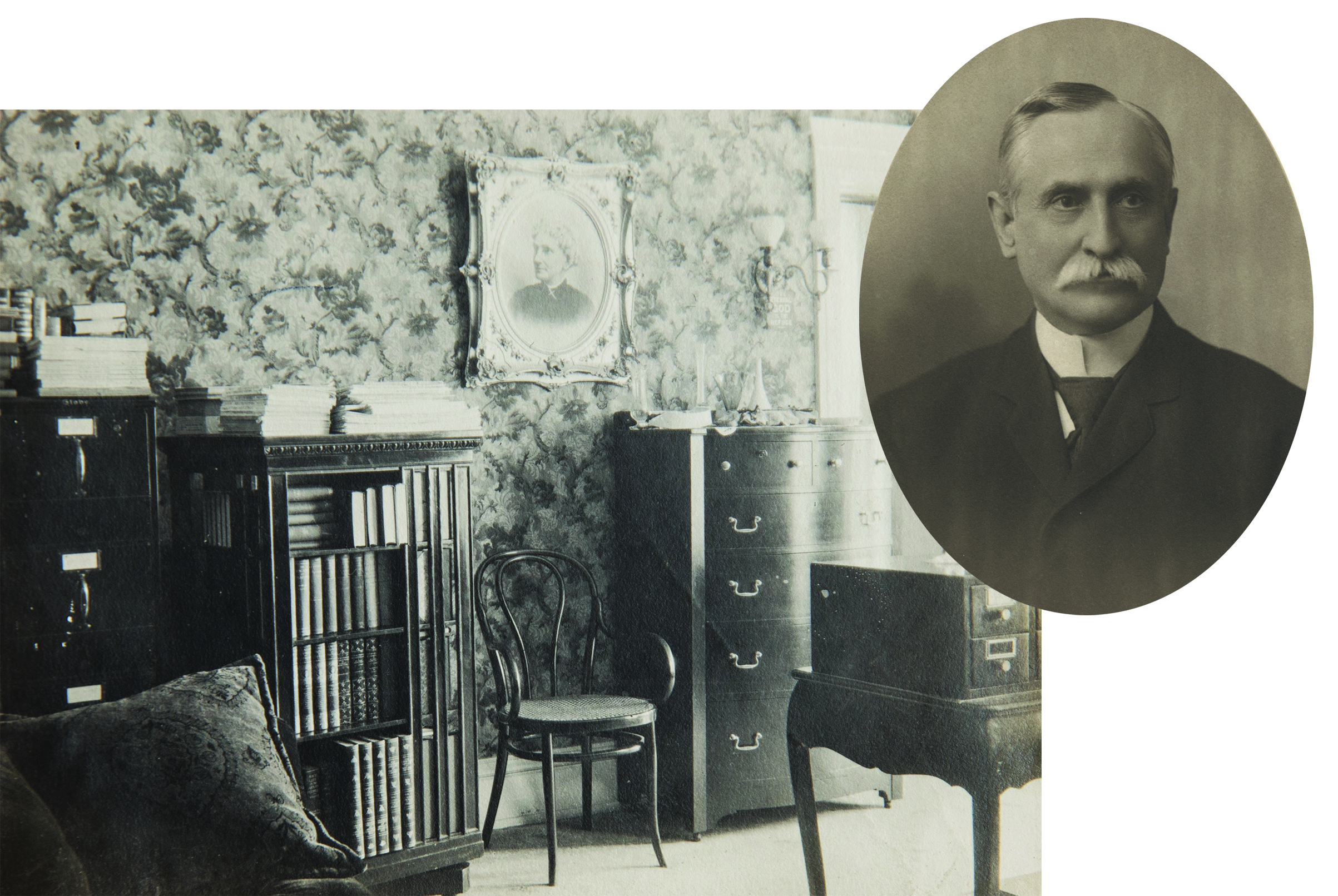 When reporter Sibyl Wilbur visited Pleasant View in 1907 to interview Mary Baker Eddy, she also sat down with household stalwart Calvin Frye. She caught his quiet, earnest nature and his "gentle mirthfulness in conversation." He also gave her a glimpse into his life after his daily duties were performed: "A quiet corner and a book are all he requires, he told the writer good-humoredly," she later said in an article in Human Life.1
Calvin Frye was Mary Baker Eddy's right-hand man. When Mrs. Eddy sent for his assistance in the summer of 1882, he dropped everything to join her and would barely leave her side for the next 28 years. Mr. Frye kept the books of the household, oversaw purchases, paid the bills, tended the furnace, took down dictation, and answered correspondence. Enjoying a good book at the end of the day must have been a delight!
Although Mr. Frye never went to college, it's clear from the wide variety of books he later owned that reading was part of his education. His book collection from his later years consisted of some 200 titles that spanned a wide range of subjects, including natural history, Bible study, algebra, chemistry, law, and investment. He also evidently read works of fiction.2

While some of the books in Mr. Frye's library were acquired after working for Mrs. Eddy, many hark back to his days in her household. Take The ABC of Banks and Banking and Principles of Banking, which he likely referenced while working at 400 Beacon Street, Mrs. Eddy's home in Chestnut Hill, Massachusetts. Not having been trained as an accountant, he may have put these titles to good use when managing the household's ledger.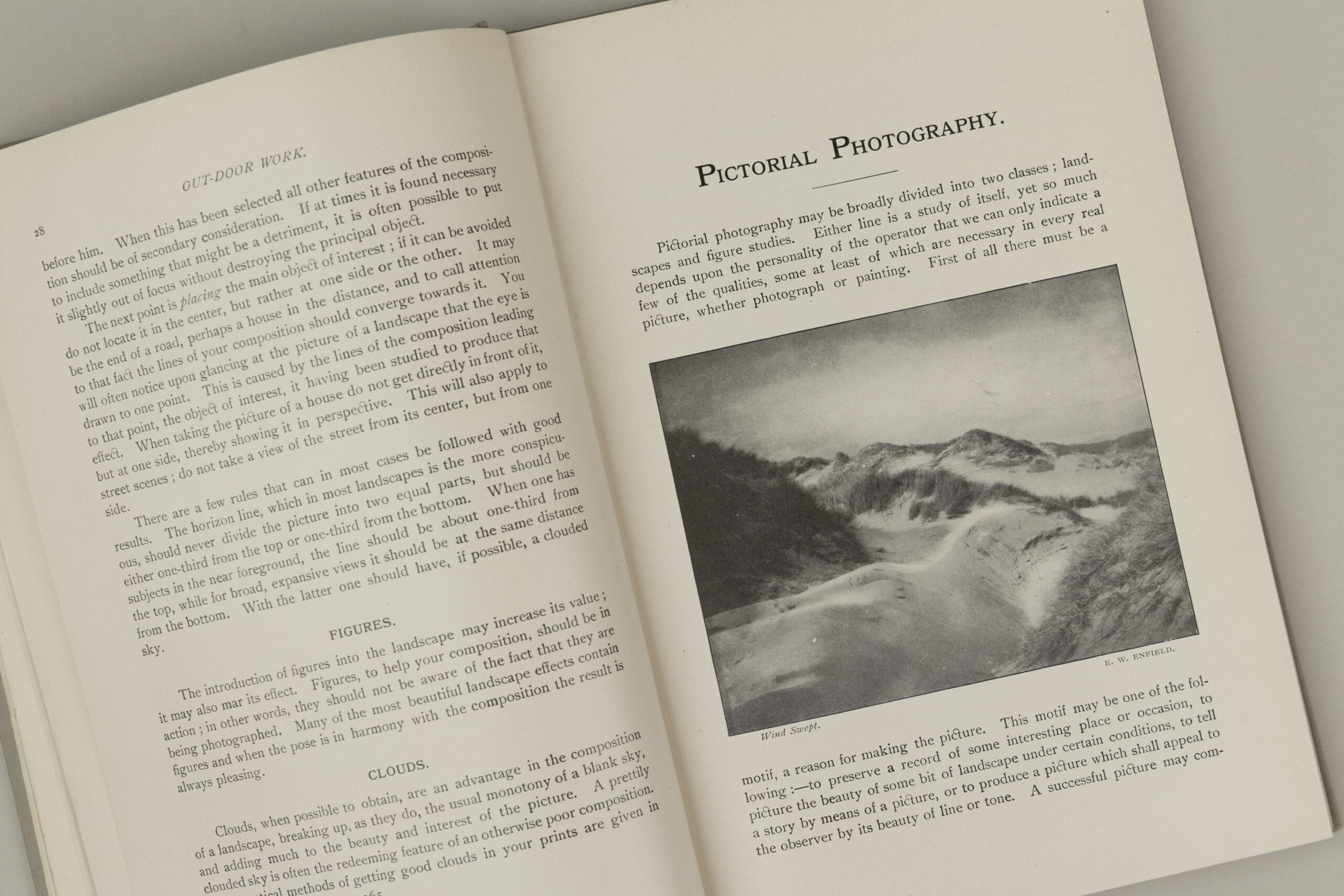 Mr. Frye also owned a book published in 1908 about automobiles. That same year, a car arrived at Chestnut Hill. He wasn't pleased at the household response. "Had engaged to buy [a] Columbia Electric car," he reported in his diary, "but on its arrival the 'kids' made such a fuss over trying to monopolize it . . . that I refused to take it. . . ."3 He actually sent the car back! Eventually Mr. Frye softened, and later that year two White Steam cars were purchased.
The Modern Way in Picture Making must have spurred Mr. Frye's creative outlet, as did books on musical theory, voice, and instrumentals.4 (He picked up photography as a hobby at Pleasant View and 400 Beacon Street, and often carried the tenor part in a household quartet that regularly sang hymns for Mrs. Eddy. He also played the piano and autoharp.) Books on astronomy also peppered his library. They may have been used at 400 Beacon when members of the household went to the roof to peer at the heavens through a telescope.5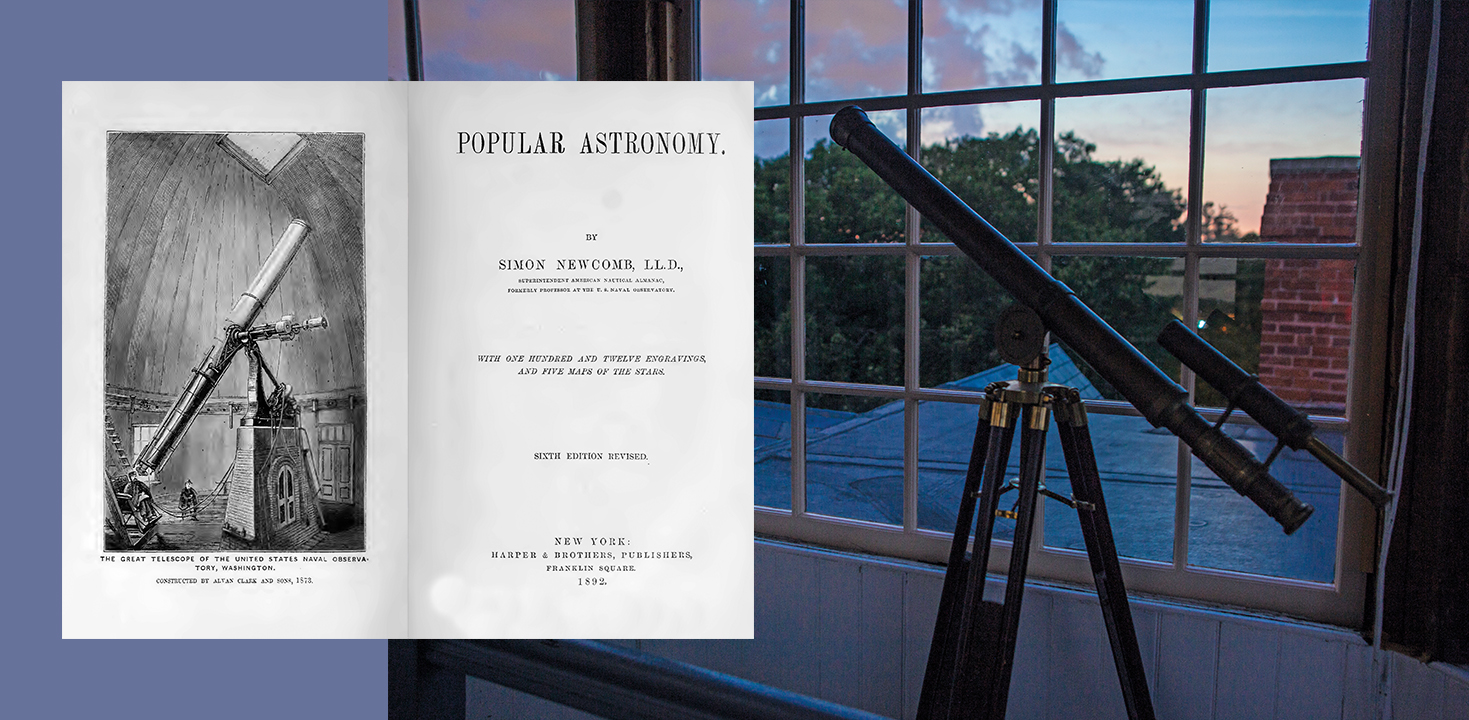 Mr. Frye's penchant for self-instruction led him to two English-Italian dictionaries that focused on vocabulary, conversation, and pronunciation. While we don't know his level of fluency, we know that his interest in Italian took him to Italy in 1916.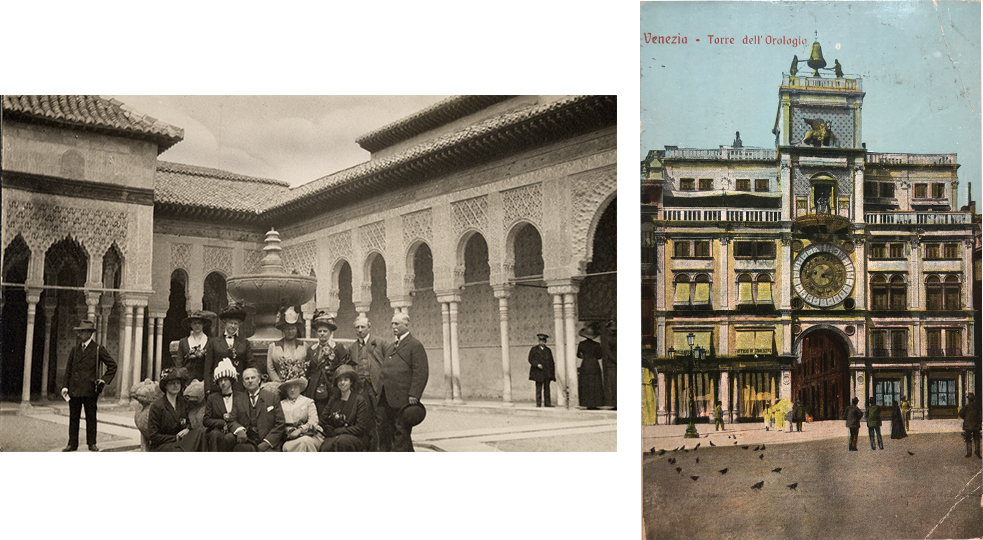 Mr. Frye also had his nose in some of the most epic and classic works of fiction. He owned an illustrated edition of The Life and Surprising Adventures of Robinson Crusoe, as well as several novels by Charles Dickens. The comedies and tragedies of William Shakespeare also stacked heavily on his bookshelf.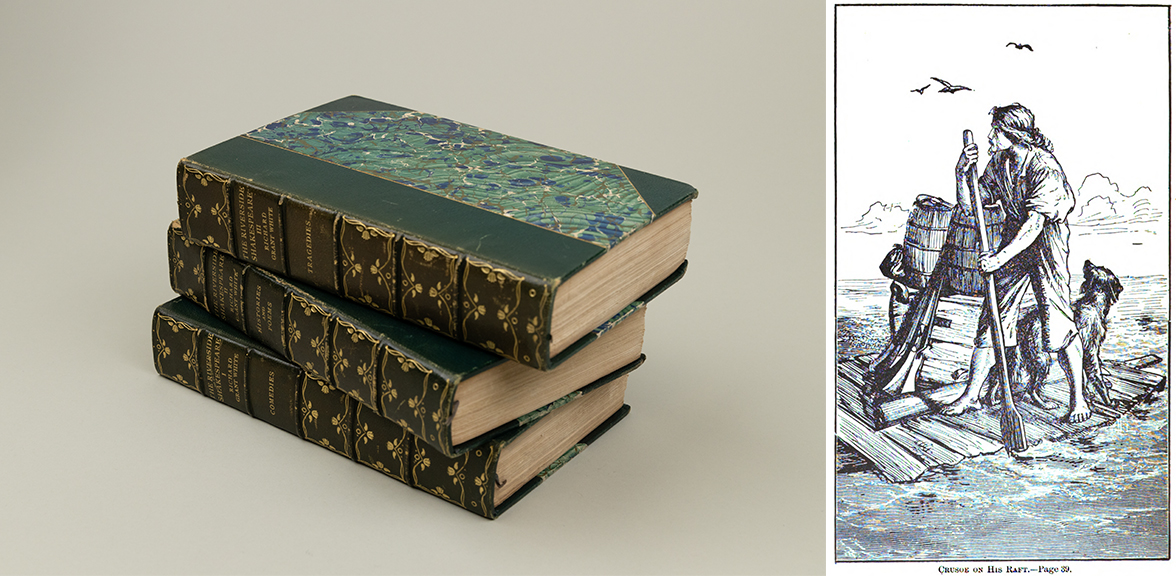 An autographed early edition of Science and Health with Key to the Scriptures must have been a special keepsake. In its flyleaf, Mrs. Eddy had tenderly inscribed it to "Calvin, dear," and signed it "Mother, Author." Below the inscription, Calvin wrote "August, 1903."
That date marked Calvin's 21 years of service to Mrs. Eddy. As tokens of gratitude and recognition, Mrs. Eddy rewarded him with a sizeable financial gift, asked the officers of her Church to honor him with a present, and gave him this signed copy of the latest edition of her textbook.6
As is evident from his bookcase, Calvin Frye never tired of reading for enjoyment, for self-improvement, and to aid his work and better serve Mary Baker Eddy.