Mary Baker Eddy called him "invaluable." Those who worked alongside him called him honest, trustworthy, plain-speaking, and loyal. For his part, he humbly referred to himself as Mrs. Eddy's "useful man."1 Calvin Frye, who served Mrs. Eddy for 28 years, was all of these things and more. He also had a sense of humor—an aspect of his character that often goes unnoticed.
"Mrs. Eddy loved his wit … ," recalled fellow secretary Irving Tomlinson.  A reporter noted, "His eyes have a smile lurking in them." A friend agreed: "His eyes twinkle, and a few minutes talk show his tendency to fun and jokes."2 
A photograph from Longyear's collection captures a bit of that twinkle, along with a hint of a smile under the familiar white mustache. Taken by the American Press Association at 400 Beacon Street, Mary Baker Eddy's home in Chestnut Hill, Massachusetts, the image (below) shows Mr. Frye posed at his handsome rolltop desk. Pen in hand, he's surrounded by a comfortable clutter of envelopes, notepads, blotter, clock, and postage scale.
On the desk, though, there's also something surprising. Peeking out from behind a row of silver-topped inkwells is a pair of playful pugs. Made of painted cast iron and measuring less than three inches high, the winsome pups add a grace note of whimsy to Mr. Frye's otherwise pragmatic workspace. (The paperweight is now part of Longyear's collection.)
They also spark questions. Did Calvin Frye like dogs? Was he partial to pugs? Was it a gift or did he purchase it for himself? It's unlikely we'll ever know for sure, but the paperweight's presence points up the lighter side of this faithful man whose good-natured humor was loved and appreciated by those who knew
him best.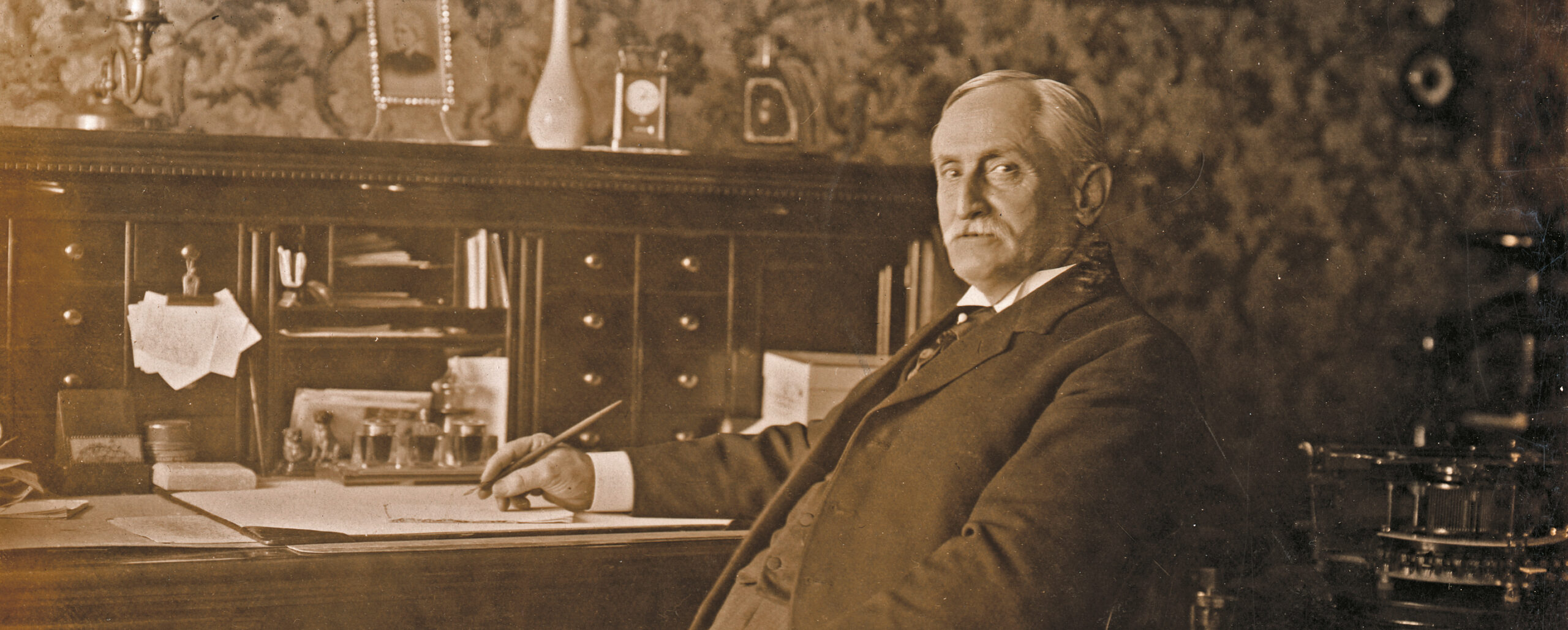 Heather Vogel Frederick is Longyear's Director of Research and Publications.