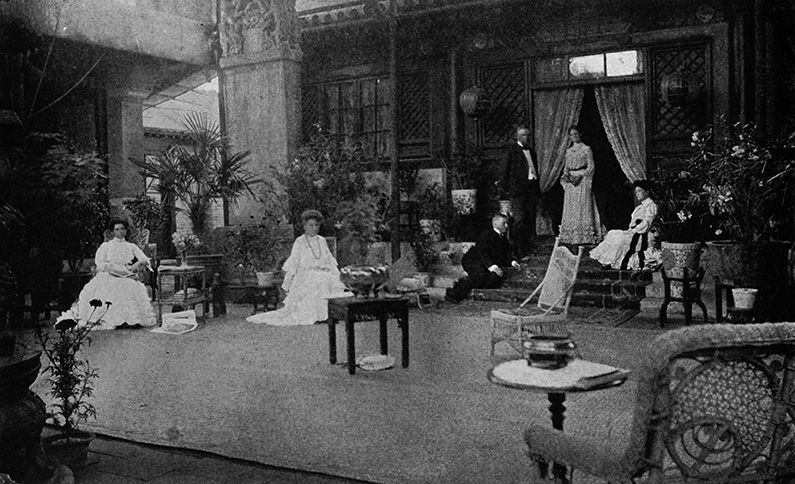 When Sarah Jane Pike married Edwin Hurd Conger in the summer of 1866, she probably little suspected that she would one day meet the Empress Dowager of China.
The young couple had met in Galesburg, Illinois, where both were students at Lombard College. Galesburg was their home for the first two years of their marriage; then, in 1868, they moved to Iowa. In 1883, Edwin Conger was elected to Congress; seven years later, in 1890, he was appointed U.S. Minister (officially, "Envoy Extraordinary and Minister Plenipotentiary") to Brazil by President Benjamin Harrison. It was the beginning of a diplomatic career that would change the couple's life.
Meanwhile, in 1887, while still living in Iowa, Mrs. Conger first heard of Christian Science. She became an active member of the group of Christian Scientists who met weekly in Des Moines, and in 1894 she joined The Mother Church, The First Church of Christ, Scientist, in Boston. She took class instruction from Valeria J. Campbell, and later was a member of the June 1901 class taught by Edward A. Kimball in the Christian Science Board of Education. But the greatest joy in her life as a Christian Scientist was undoubtedly meeting Mary Baker Eddy in September 1897 at Pleasant View in Concord, New Hampshire.
Only months after Mrs. Conger's meeting with Mrs. Eddy, Edwin Conger was appointed U.S. Minister to China. The Congers arrived in Beijing at a time of crisis for the Qing (Ch'ing) dynasty (1644-1911). A series of domestic insurrections over the course of the century had proven seriously debilitating to the nation. The Qing government was weak; the economy was on the brink of collapse; there was widespread poverty and unrest; and there was growing anti-foreign sentiment.
By her own admission, Mrs. Conger knew little of China when she first arrived. "Before going to the Far East, my ideas of the Orient were vague," she later recalled. She hoped to learn more about China, however, by making friendships with Chinese women. Her husband's high ranking in the diplomatic community enabled her to meet Chinese across the social spectrum, including members of the Chinese imperial family and even the powerful Empress Dowager Cixi (Tz'u-hsi).
In the summer of 1900, anti-foreign sentiment erupted in the Boxer Uprising. The Boxers were a group of insurrectionists; the name "Boxer" derived from the name of their movement, which has been translated as "Fists United in Righteousness." On June 21, 1900, Boxers and their supporters attacked the Legation Quarter of Beijing; the siege continued for two months. Ever practical, Mrs. Conger had already stocked up on supplies to face whatever lay ahead. "I have bought more supplies; flour, rice, meal, beans, and coal. It seems that we may have need of them," she noted in her diary on June 12.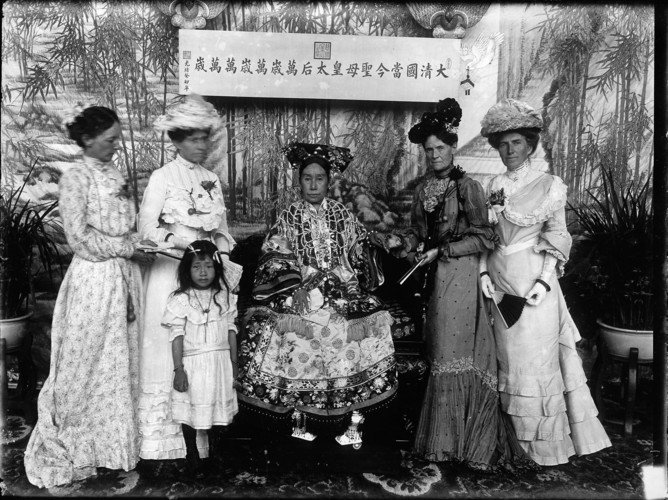 The Congers, nine of their servants, their staff and guests, along with American missionaries and Chinese Christians to whom Edwin Conger had given shelter, subsequently moved into the British Legation, which had plentiful water and was located further inside the Legation Quarter. "What can I write?" Mrs. Conger wrote in a letter during the siege. "What a prolonged, dreadful dream! Who can tell it? It cannot be told or even imagined."
"We have passed through another stormy night. Much firing of small and big guns . . . I opened my Bible and began to read to see what lesson was there for me." Remarkably, she opened to II Corinthians 1:8-10:
8 For we would not, brethren, have you ignorant of our trouble which came to us in Asia, that we were pressed out of measure, above strength, insomuch that we despaired even of life:
9 But we had the sentence of death in ourselves, that we should not trust in ourselves, but in God which raiseth the dead:
10 Who delivered us from so great a death, and doth deliver: in whom we trust that he will yet deliver us.
The siege ended on August 14, 1900, after troops of the foreign Allied forces arrived in Beijing. Mrs. Conger later received a letter from Mrs. Eddy with the following words: "Your faith and love and understanding of the dear God were more than all armaments strong to deliver. His arm was more than arms to save you."
The Congers left China in April 1905. Their next posting was to Mexico, but Edwin Conger resigned because of poor health and the couple settled in Pasadena, California. After his passing in 1907, Mrs. Conger remained in California for a few years but eventually moved east to live with their daughter, Laura Conger Buchan, and her family in the Boston area.
Mrs. Conger knew Mary Beecher Longyear, and in fact, the two women discussed having Mrs. Conger's portrait painted, though it appears that no portrait was ever done. Mrs. Conger passed on in 1932.
Notes
---
This article was originally published in the 2009 fall/winter Report to Members.