Timothy C. Leech, Ph.D., is a scholar of American history. He is also a former staff member at both Longyear Museum and the Mary Baker Eddy Library in Boston. As a researcher and curatorial staffer, he has done work in all of the Mary Baker Eddy Historic Houses and has also visited them in a non-professional capacity throughout his life. This piece is the fourth in an occasional series of personal essays offering an insider's view of the houses in Longyear's collection.
When I first went to work at Longyear Museum, it was on a short-term contract, to help with packing up the historic collections before moving the museum out of its original home, Mary Beecher Longyear's former mansion. I gave up the security of a permanent job, because I knew that the opportunity to work with Mary Baker Eddy's history could only be a blessing for me. That was during the summer of 1997, and within a few months, I secured a permanent position with Longyear.
In recent years, more and more people have found it necessary to work on either a contract basis or in other informal employment situations for either supplemental or primary income. These workers are now referred to as participating in the "gig economy," especially when their contracts are mediated through technology apps, such as ride-sharing and delivery services.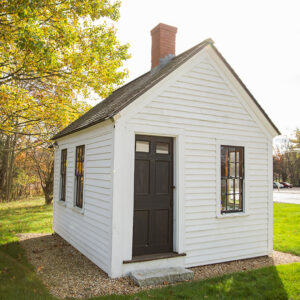 Americans in the 19th century made their livings through various modes of employment, including some that bear a close kinship to today's gig economy. Before I joined the Longyear staff, I was not aware of the Mary Baker Eddy Historic House in Stoughton, Massachusetts, where Mrs. Eddy stayed with Alanson and Sally Wentworth and their family for 18 months, from 1868 to 1870.1 But as I learned about this property and its history, I realized it makes a marvelous illustration of the way Americans of Mrs. Eddy's era sometimes supported themselves.
The Stoughton property includes a small outbuilding which was used by Mr. Wentworth as a shoemaker's shop. Shoe shops like this one were once common throughout much of New England. In addition to making shoes for their own families and neighbors, individual freelance workers often used their shops in conjunction with the new factories that were proliferating in industrial towns such as Lynn and Brockton.2 Some of the work was performed by machines in the factories, while other steps still needed to be done by hand, providing employment on a contract basis for home-based workers like Mr. Wentworth. This work structure allowed for flexible scheduling, so time could be devoted to farm work during busy seasons of planting and harvesting crops, or other activities. Demand for consumer goods grew rapidly through the 19th century, and the Civil War spurred additional needs for inexpensive but durable shoes and boots to equip hundreds of thousands of soldiers on their long-distance marches.
Employment in the 19th-century gig economy was not limited to men and boys. Women and girls participated as well, albeit in different ways. For example, Sally Wentworth, in addition to her work as a homemaker, provided informal nursing care for friends and neighbors in Stoughton. Unlike the set payment on a per-piece basis for shoemaking, the compensation for this type of service was much more casual. Goods and services may have been exchanged in barter arrangements and credit extended to friends and neighbors.3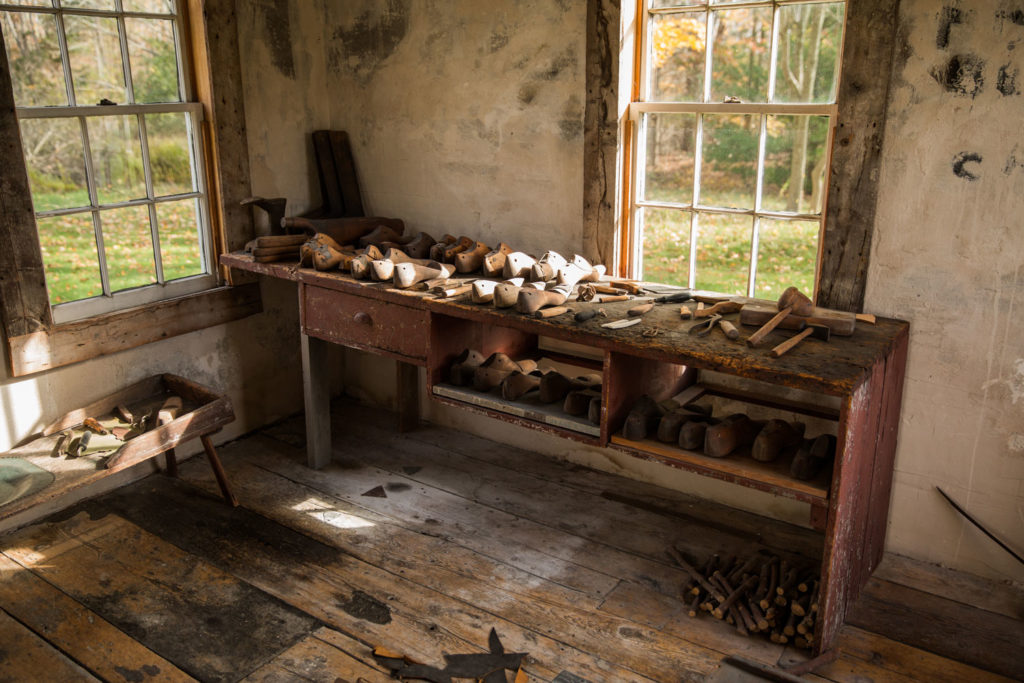 Mrs. Eddy came to live in Stoughton based on informal exchanges with the Wentworths. She worked out an agreement that they would provide her with room and board, as well as a place to write, in exchange for her teaching Mrs. Wentworth the method of healing through Christian prayer that she had discovered in 1866. (Mrs. Eddy had not yet settled on the term Christian Science for her discovery.) Sally Wentworth hoped that this teaching would enhance the nursing work she was already doing.
In the years immediately following her discovery, Mrs. Eddy had often found herself with little income and moved often, living in rented rooms or as a guest of those interested in what she was learning about Christian healing. Yet, the 18 months she spent with the Wentworths in Stoughton found her continuing to take important steps forward. In addition to studying and writing about the Scriptures, she was healing, teaching, and lecturing in parlors. She also reached a milestone in her journey, completing a teaching manuscript that she would eventually publish as The Science of Man.
And while she did so, the people around her went about making livings in the gig economy of their era.
Fourth in an occasional series on the houses in Longyear's collection. Part 1 features the Mary Baker Eddy Historic House in Chestnut Hill, Massachusetts. Part 2 focuses on the house in Amesbury, Massachusetts, and Part 3 features the house in North Groton, New Hampshire.