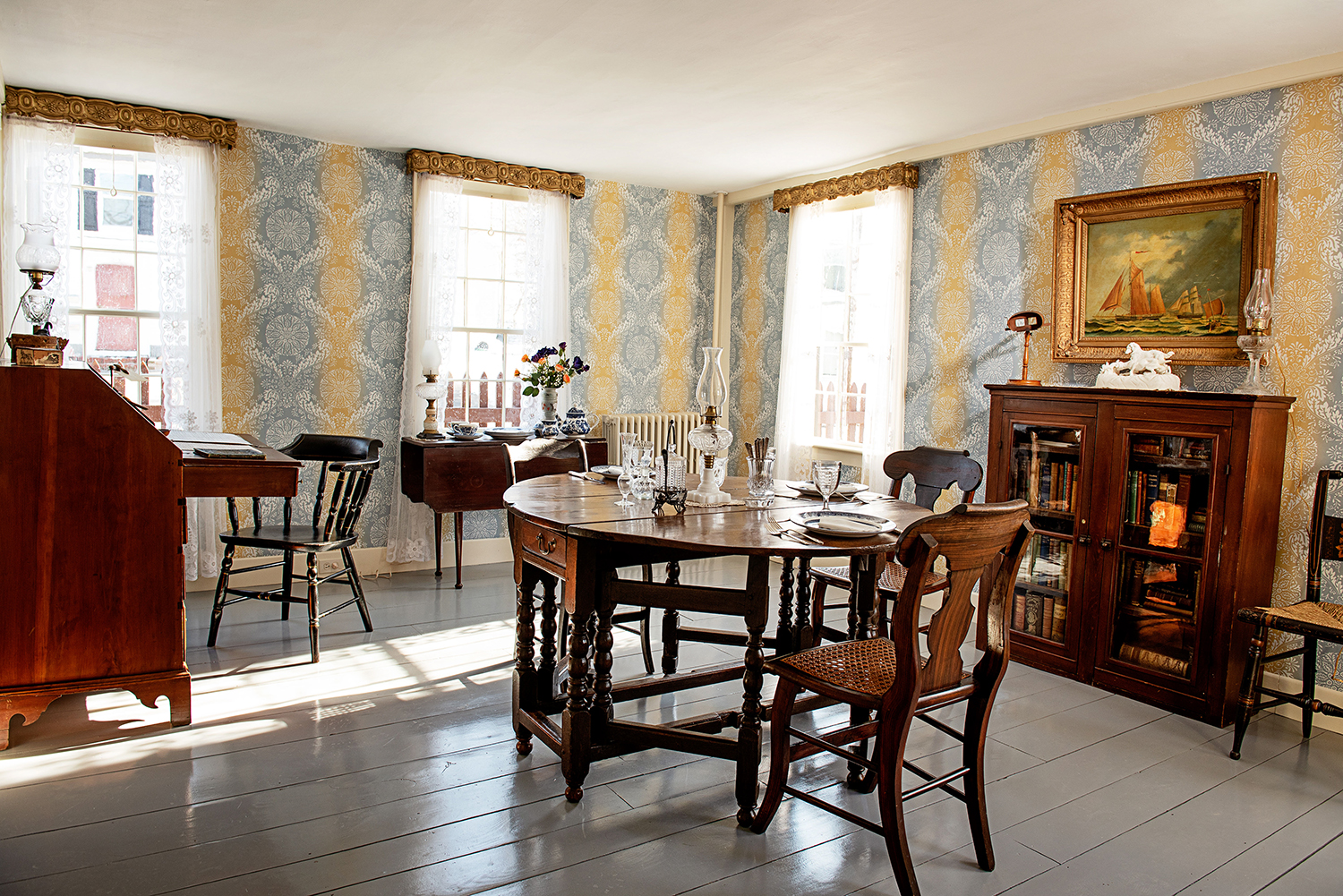 It all started with the storm windows.
Longyear's recently completed renovation of the Mary Baker Eddy Historic House in Amesbury, Massachusetts, began with the intent to replace storm windows to better shield it from the elements. But instead of sealing up the house, that project actually opened it up to a host of other opportunities.
Now, sunlight pours through windows that are not only protected but also fully restored—along with the rest of this significant house, which sheltered Mrs. Eddy in the summer of 1868, when she was turned out on a stormy night from another rented room nearby. (She was known as Mrs. Glover at the time, after her second husband, Daniel Patterson, deserted her.)
At Longyear's first meeting with Allied Window representative Denis Semprebon, it quickly became clear that he had the expertise to assist Longyear with the restoration of this 18th-century house. As the owner of Beacon Hill Restoration, Denis was equipped with decades of experience renovating historic buildings. Longyear hired him to serve as a preservation consultant, and he and his staff mentored the Longyear staff as they trained them in preservation techniques. He guided the project as longtime issues surfaced, including rot, caused by moisture and insects, that was hidden in parts of the 18th-century timber frame.
Pouring concrete footings, replacing sills, putting new cedar shingles on the roof, installing new copper gutters, improving the drainage, adding a new electrical system, and replacing siding with historically accurate wooden clapboards are just some examples of the thorough work accomplished by Longyear staff and the Beacon Hill Restoration team. Supported by Longyear members and friends, including donations through a matching challenge for the window restoration in 2018, the exterior work was completed in 2021.
"This house is thoroughly restored, and with proper maintenance, good for another 100 years," says Longyear President and Executive Director Sandra J. Houston. "It looks very inviting. I love thinking about Mrs. Eddy being welcomed into this home on two occasions." (She lived there again for some weeks in the spring of 1870.)
The Mary Baker Eddy Historic Houses enable Longyear to tell Mrs. Eddy's history in the very rooms where it occurred. This requires properly caring for the houses, furniture, and other items in the collection. "When you work with a specialist like Denis, you are applying the very best stewardship, . . . with high-quality workmanship and materials," Sandy says.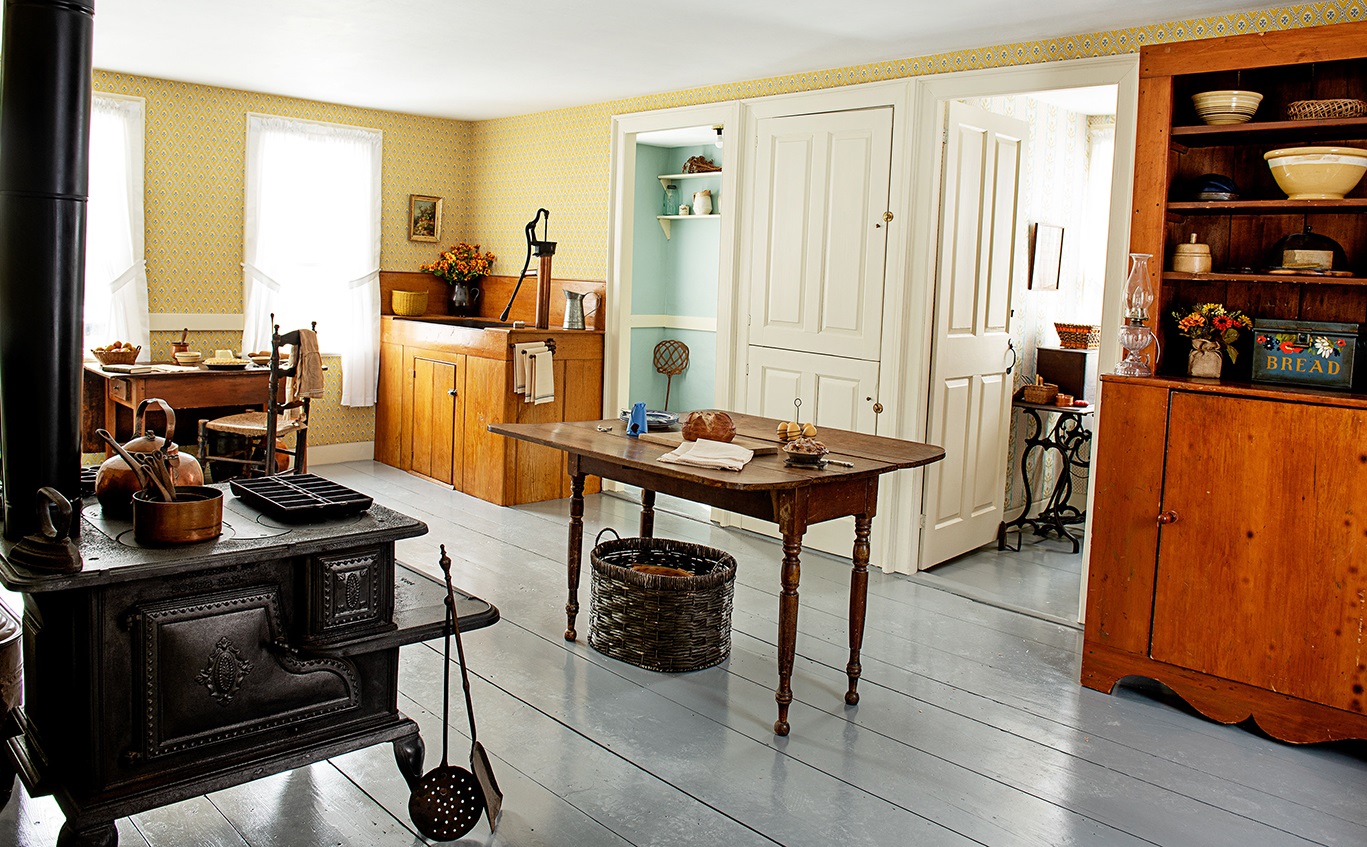 The goal was to save as much original fabric as possible, and when original material wasn't available, Denis found the most historically accurate replacements. This is especially significant at the Amesbury house, Longyear's oldest historic house. Built around 1780, it was owned by Squire Lowell Bagley and his family and features artifacts from the Bagleys, including from Mrs. Eddy's time with them.
To structurally repair damaged cornerposts, the crew spliced in new wood—a technique that reminded them of working on a three-dimensional puzzle. And just as the Bagleys would have done, Longyear purchased many of its supplies nearby. Board sheathing was custom-made at the Bartlett Sawmill in neighboring Salisbury, Massachusetts, based at a family farm that goes back more than 10 generations. The nails used on the exterior came from Tremont Nail in Mansfield, Massachusetts, which still makes steel-cut nails the way it did in the mid-1850s.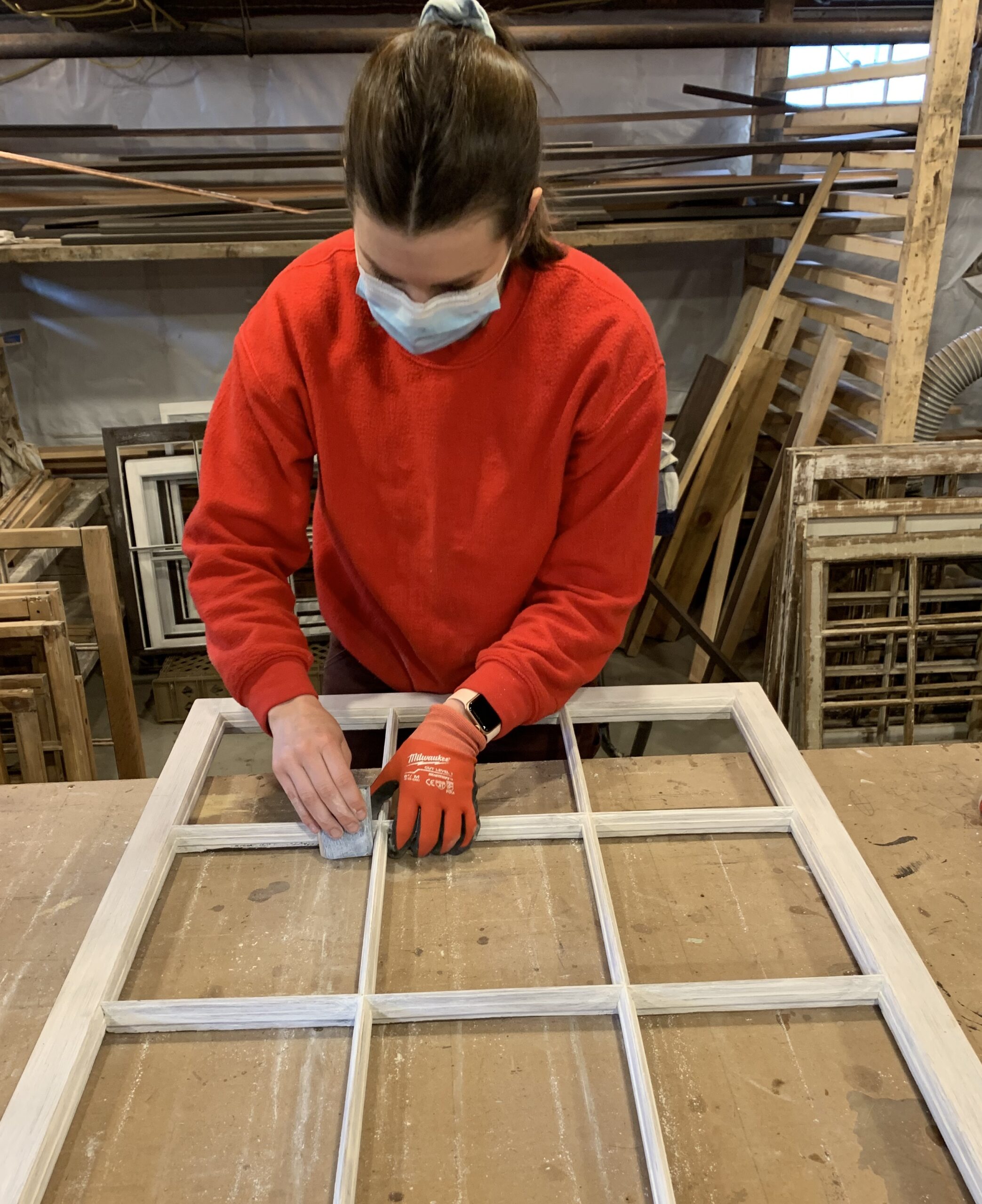 In 2019, another generous matching challenge enabled Longyear to restore the interior. This phase of work was also extensive—removing wallpaper, stripping and repainting the interior woodwork and floors, repairing plaster, and restoring the original window sashes. Staff members Gray Carlson and Laurea McLeland spent many hours working at the Amesbury house, including stripping the old window paint and glaze and carefully applying the new. Gray has been putting his carpentry skills to work at the house since the start of the project in 2018 and worked alongside former Longyear staff member Bryan Reed for much of it.
"I've been looking at the windows for so long that I didn't realize how pretty they were until they were actually installed—very delicate, and the details are still there for the most part," Gray says.
With the restoration completed, the Historic House and Collections teams brought home the furniture and other artifacts from nearby storage units this past December.
As chairs, trunks, andirons, desks, framed pictures, and dozens of other items came into a staging area in the kitchen, they were cleaned with a small vacuum and cotton swabs. Collections Assistant Sarah Sampson kept track of each item on inventory sheets and occasionally added new details to the records, such as the height and width of a dresser.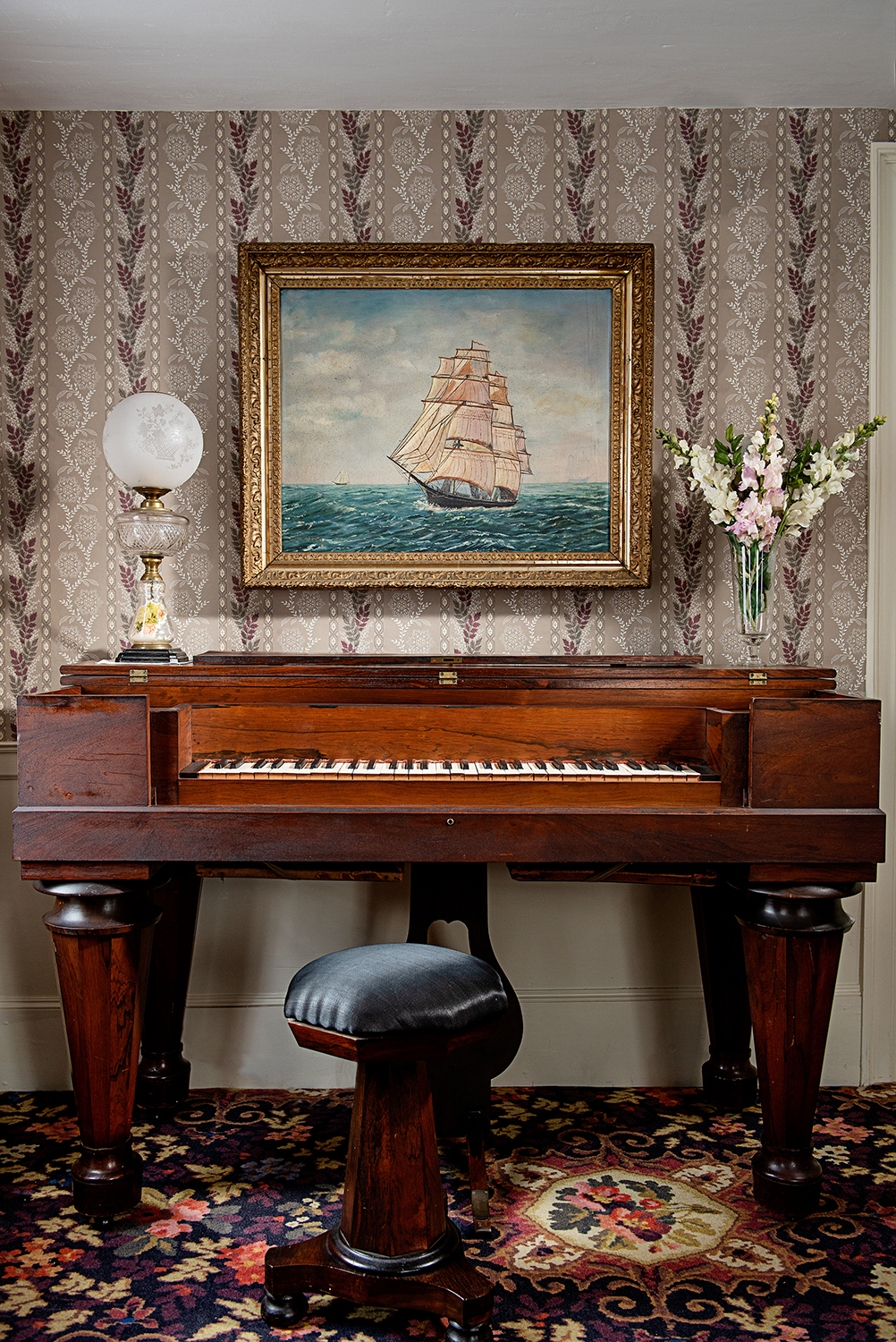 The Historic House team has put together a notebook for each room, documenting the furniture and other items so that tour guides will be able to answer visitors' questions. "We've been living with these artifacts for a long time, and it's really fun to see them actually back here," Sarah said.
The team was especially eager to move an 1840s reed organ back in place in the front parlor, known as the Garden Room. It was in the house when Mrs. Longyear purchased it 100 years ago. In 2020, an organ restoration expert cleaned it, shored it up, and gave a thorough report on its construction. Prior to that, any attempt to move it was hampered because the legs and bellows were not secure.
As Gray and Rex Nelles, the historic house manager, began to move the reed organ off the truck, Senior Collections Manager Deb Wold peeked over their shoulders like a mother hen. Soon she was viewing the wooden instrument safely in its place and happily exclaiming, "It made it!" Perhaps Mrs. Eddy and her hosts sang together around the organ. What's known for certain is that the Garden Room is where she taught a few eager students about her discovery and her early understanding of how to heal through prayer. One of those students was Sarah Bagley, who grew up in the house and still lived there with her widowed mother when Mrs. Eddy arrived.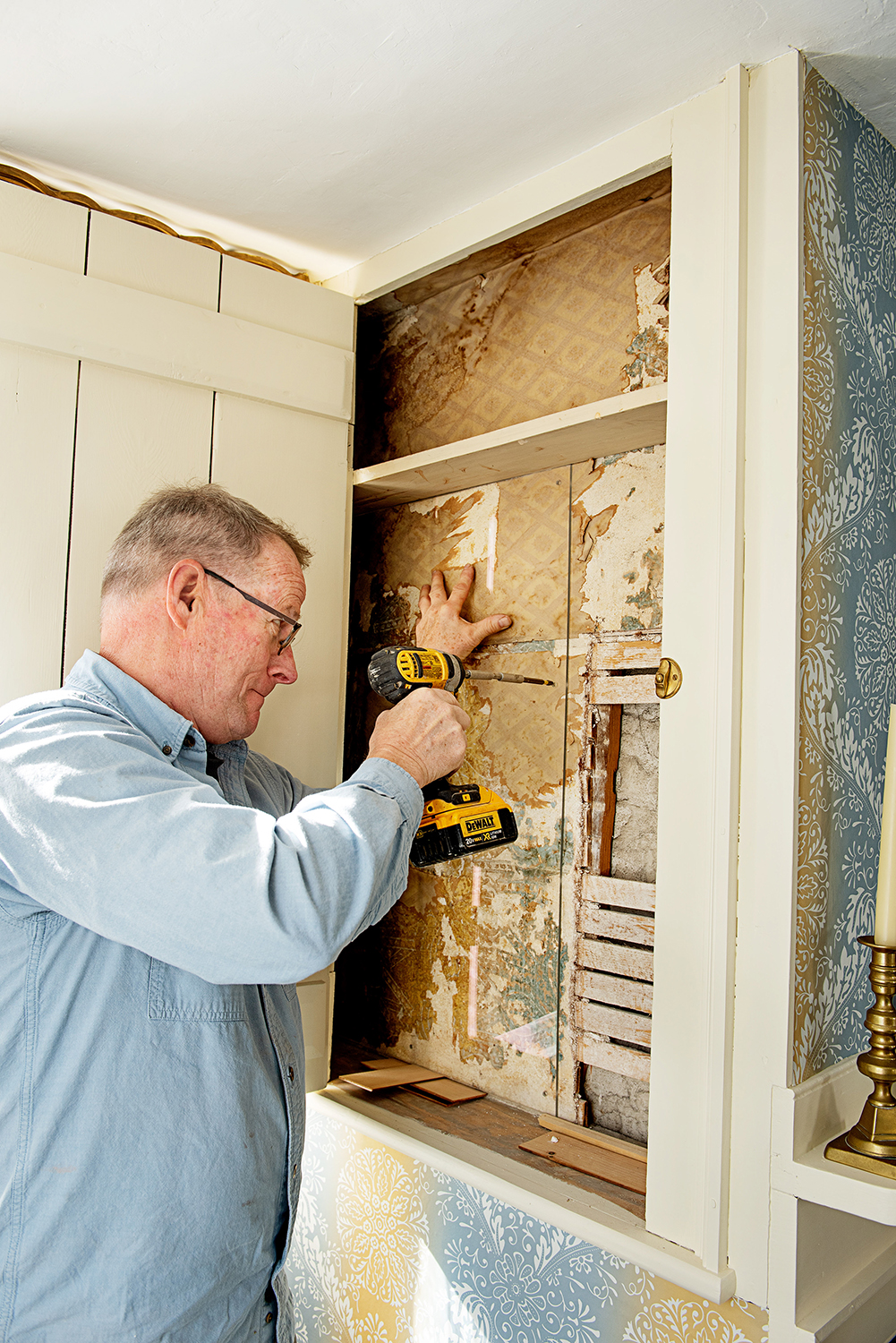 Miss Bagley's father, Squire Bagley, had performed many public service roles. His desk is displayed in the versatile dining room and family room, which cheers visitors with luminous blue and yellow wallpaper.
Inside a narrow cupboard on the side wall of the fireplace is a large sample of wallpaper that would likely have been in the home when Mrs. Eddy stayed there. Its colors match the tones of the "Rainbow Deerfield" pattern now on the walls. The pattern was first reproduced by Pocumtuck Valley Memorial Association's Memorial Hall Museum in Deerfield, Massachusetts, and Longyear received permission to reproduce it for this house
"We've worked really hard to strip back the layers of wallpaper and other parts of this house to see how we can get back to an authentic depiction of what Mrs. Eddy might have seen here," says Pam Partridge, director of education and historic houses. During the winter, Pam's team made several trips to the house—and to area antiques stores— to add finishing touches that will enrich public tours, which began again on May 1.
Denis Semprebon returned for a look at the finished interior in February. As he walked through the house, he delighted in how the rooms were set up, and took note of the items that tell Mrs. Eddy's story, such as the trunk in her second-floor bedroom. "This is really stunning," he said.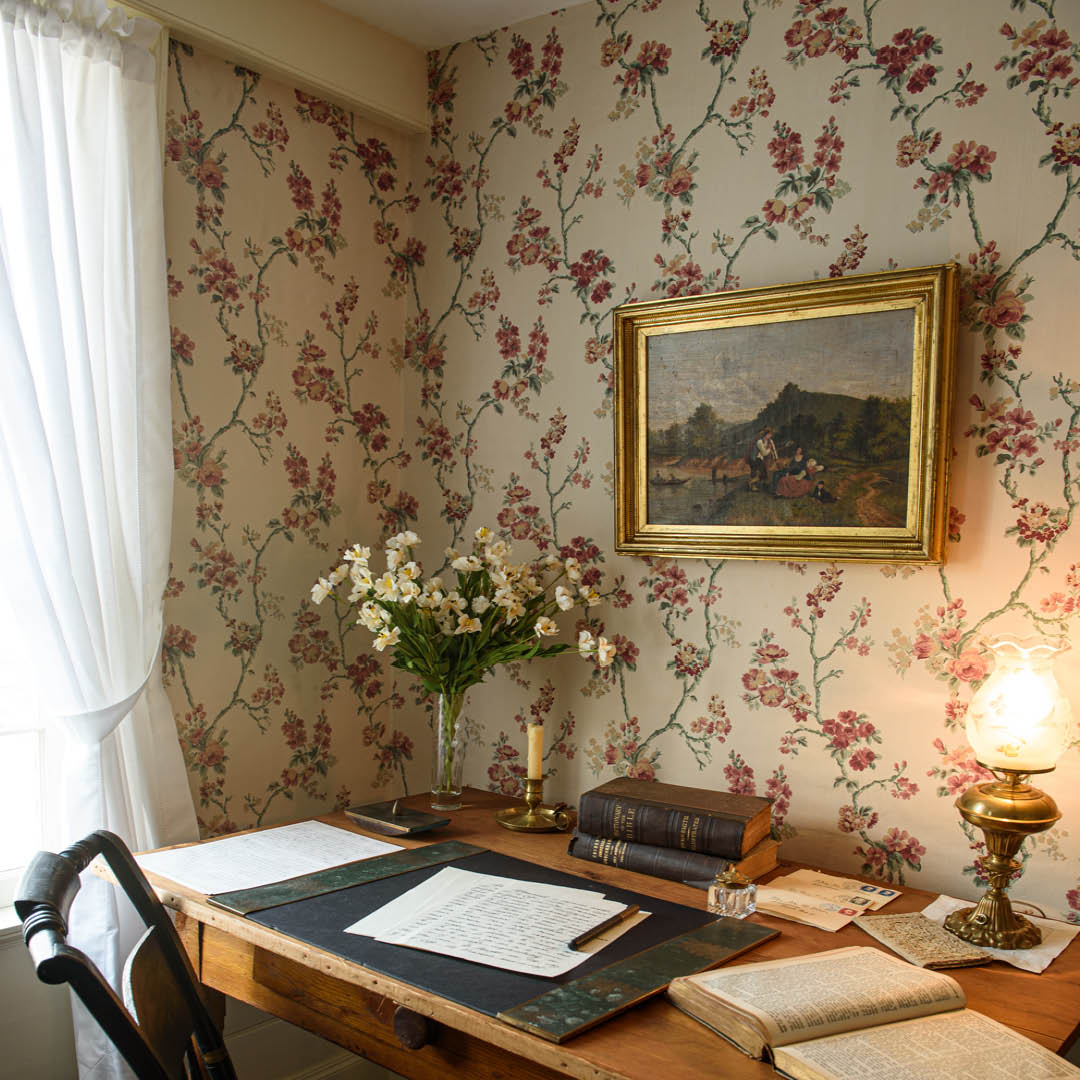 Squire Bagley's diary revealed that this bedroom was created in 1852 by adding a wall. In the small hallway that remained at the top of the stairs after the bedroom was partitioned off, a window butts up directly—and unconventionally—against the wall, proof of the 1850s renovations which opened the way for the Bagleys to take in Mrs. Eddy.
Pam says that as she thought about Mrs. Eddy writing her notes on the book of Genesis during her time in Amesbury, she added a desk to the bedroom, along with a Dictionary of the Bible edited by William Smith, a copy of the book that Mrs. Eddy received at that time from a friend whom she had healed.
The restored Amesbury house also highlights some special architectural details.
"New England was dotted with numerous modest 18th-century houses, but many of them haven't survived or haven't been properly maintained unless they have remained in a family for generations or have been designated as a historic site early on," Denis says. But this house has been well preserved, he adds, first by the Bagleys and later by Mary Beecher Longyear and the organization she founded.
Denis found the outline of an original cornice return where the roof trim meets the eaves, so he added that detail back on during the restoration. The "bowed" roof trim, called a rake, is tapered, getting wider as it approaches the eaves, an architectural style that Denis says was common in Portsmouth, New Hampshire, and somehow made its way to this house. (See photo gallery below.)
Preserving historic houses is "very rewarding," Denis says, "because you've left your mark."
He means that both figuratively and literally. Nearly 100 years ago, a workman hired by Mrs. Longyear signed his name, Ernie Courtemanche, on the plaster of one of the two chimneys. Partial renovations of the Amesbury house also took place around 1950 and 1999. This time around, the Beacon Hill Restoration and Longyear craftsmen signed their names in various spots, now hidden away for future generations to discover.
Like the work of peeling back the layers to restore the house's original details, the ultimate purpose of the restoration is to reveal—to make better known to the public Mrs. Eddy's role as the Discoverer, Founder, and Leader of Christian Science.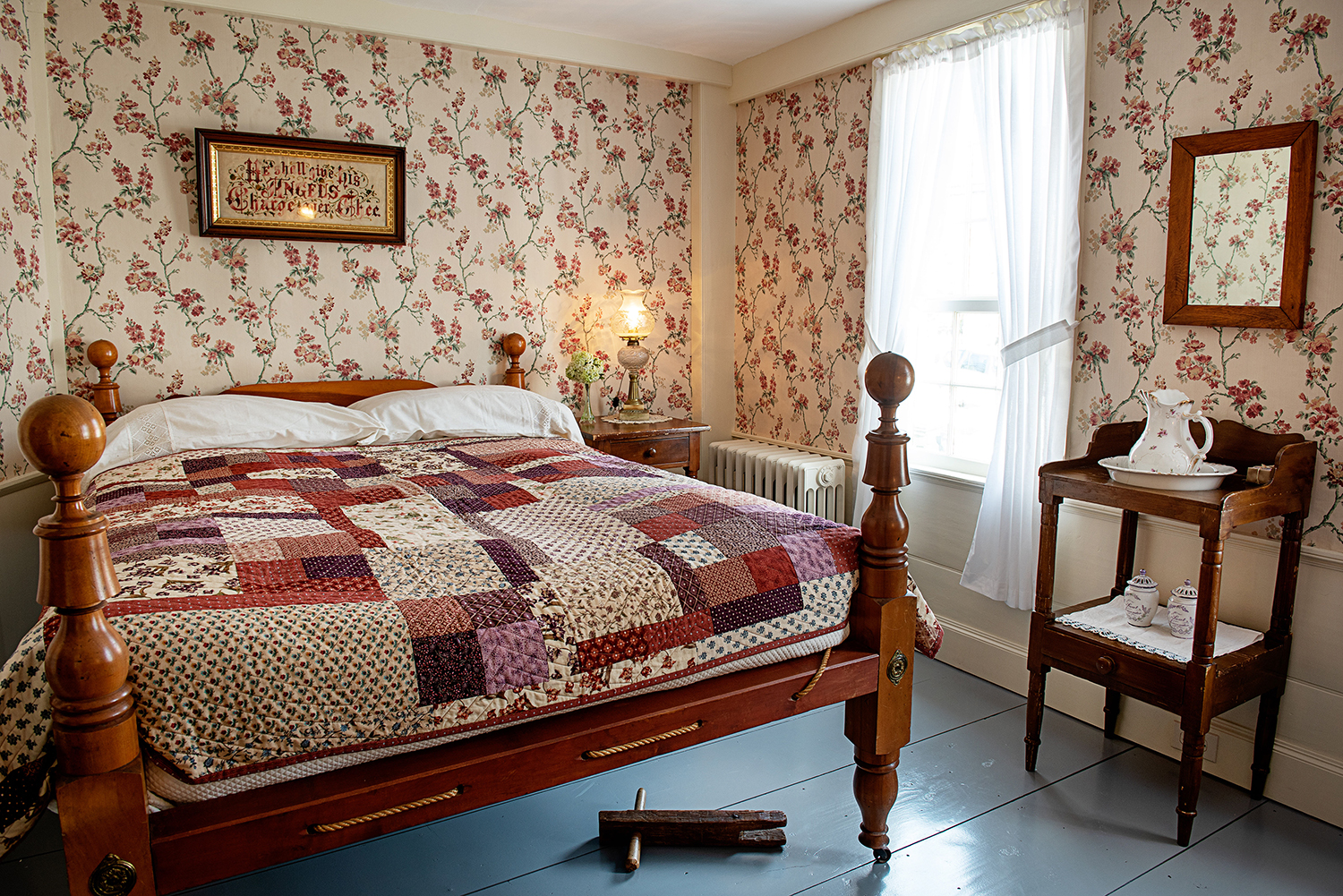 "Here she was in Amesbury in a rented room, just beginning her ministry," Sandy explains, and for those who go on to visit other houses in Longyear's collection, what will stand out is "tremendous growth and progress, unfoldment, and work, work, work…. Mrs. Eddy was constantly growing in her understanding of Christian Science, always moving forward. She was a tireless worker."
Longyear's work, as well, is never finished, Sandy adds. "We're constantly preserving these houses … [asking] what do we need to be doing now, to make sure they stand for another 100 years."
The Mary Baker Eddy Historic House in Amesbury, Massachusetts, is located at 277 Main Street. It is open 12–3 p.m. on Fridays and Saturdays through the end of October, and by appointment (48-hour notice is appreciated). To make reservations, call 1-800-277-8934, ext. 100.