Longyear is grateful to have received a number of bountiful gifts recently, both from members and friends in the field, as well as from The Mother Church. This enduring support allows us to share Mary Baker Eddy's history more widely and effectively. As you may have seen in the past few issues of our Report to Members, we have received several large and generous donations from The First Church of Christ, Scientist, in Boston, Massachusetts. Some of these items, including two carriages and a boat, along with the furniture from Mrs. Eddy's final residence at 400 Beacon Street in Chestnut Hill, Massachusetts, were given to the Museum in 2016. Others, including the artwork from that home, arrived this past year. We've spent much of 2017 cataloging, assessing, and learning more about all of these artifacts, and we thought this a fitting time to share more information about a few of them!
Wicker Rocker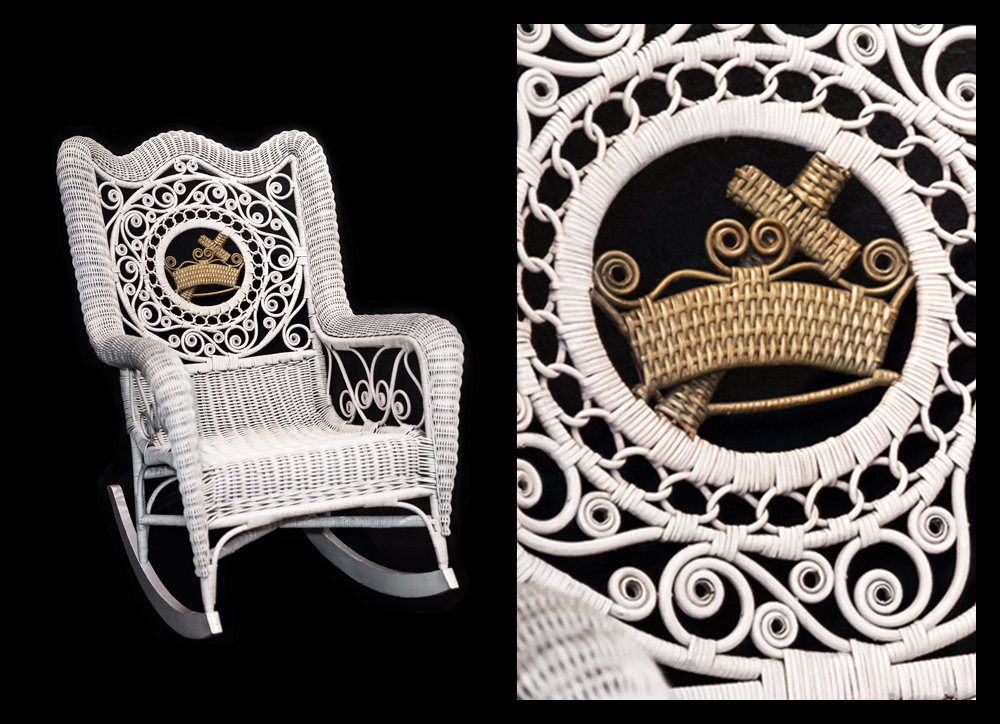 This rattan rocking chair was given to Mrs. Eddy while she lived at Pleasant View, her home in Concord, New Hampshire. It features a Cross and Crown emblem worked into the design on the back, a giveaway that the chair was specially made for her. In fact, according to Minnie Weygandt, who cooked for Mrs. Eddy, the rocker was fashioned by prisoners at the New Hampshire State Prison in Concord — the prisoners made the chair, and their instructor made the emblem. Miss Weygandt mentions that it was located in the dining room at Pleasant View, and she later saw it upstairs in the West Room at Chestnut Hill.1 This room over the porte-cochere was where Mrs. Eddy enjoyed sitting at the end of the day to watch the sunset, visit with Calvin Frye or another of her household workers, and see the streetlamps come on along Beacon Street.2
Calvin Frye's Desk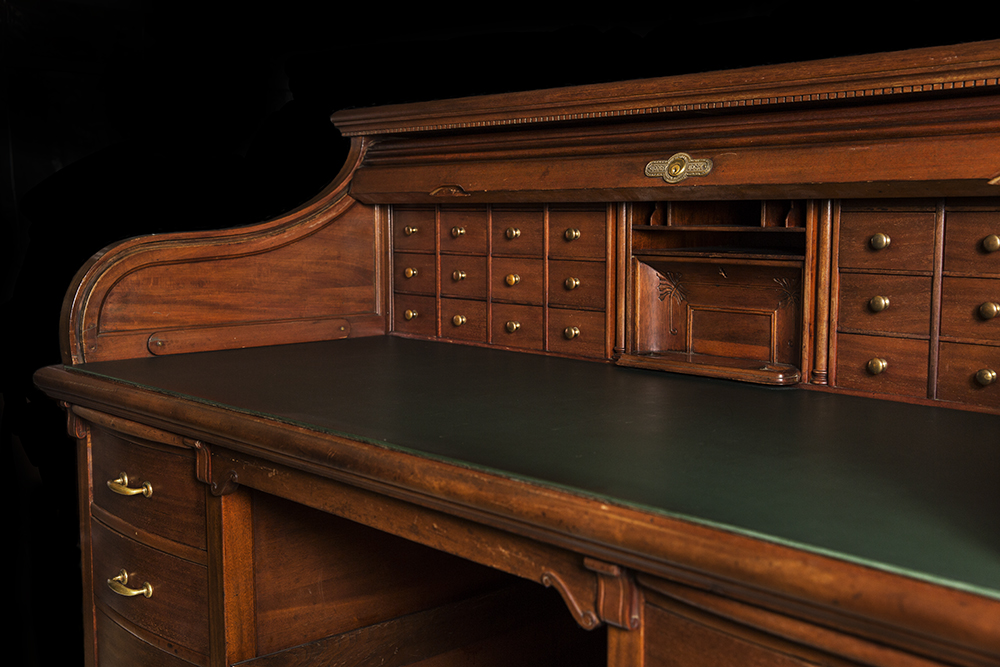 On August 16, 1882, Calvin Frye joined Mrs. Eddy's household staff as her private secretary. Twenty-one years later, he had proven to be one of her most loyal and tireless workers. To commemorate his years of service, Mrs. Eddy gave him a check for $1,000 (Calvin invested it in a municipal bond) in August 1903, along with an autographed Science and Health, which is in the Longyear collection.3 She also enlisted the help of the Christian Science Board of Directors. "He has done more practical work in my behalf to aid our Cause than any other student," she wrote to them, speaking of Calvin.4 The Board in turn wrote to the Executive Members (formerly First Members) of the Church, many of whom had worked shoulder-to-shoulder with Mr. Frye during the early days of the movement, and invited them to contribute money toward a gift. Ultimately, this mahogany roll-top desk and a chair were purchased.5 On September 12, 1903, Calvin Frye recorded in his diary that he had received the desk that afternoon.6 "It was the first desk Mr. Frye had ever had and his pride and delight in it was childlike," Irving Tomlinson would later write.7
Pleasant View Skiff
In 1893, just a year after moving to Pleasant View, Mrs. Eddy received this boat as a gift from First Church of Christ, Scientist, Toronto, Canada. It is an elegant version of a St. Lawrence skiff, a type of boat indigenous to the Toronto area. It measures over 16 feet long and is made of cedar planking on an oak and ash frame. The foredeck is inset with a masonic emblem, which shows a cross and crown inside a white triangle.8 Around the perimeter is a Greek and Latin inscription that translates to: "We have found the worship of God, O citizens of the world." Mrs. Eddy thought highly of the Masons, as George Washington Glover, her first husband, had been active in the fraternal organization.9 Her letter of thanks for the gift was published on page 142 of Miscellaneous Writings 1883-1896.
Portrait of Joseph Armstrong

This beautiful portrait of early worker Joseph Armstrong was donated to the Museum this year. Mr. Armstrong was once the president of a bank in Kansas, but became interested in Christian Science after his wife, Mary, was healed. Joseph would eventually be put in charge of building the original edifice of The First Church of Christ, Scientist, in Boston, Massachusetts. The portrait came to Longyear by way of a donor who was a close friend of Joseph and Mary's grandson.