Asa Gilbert Eddy was born to Asa Eddy and Betsy (Smith) Eddy in their Londonderry, Vermont, farmhouse about 1832. He was the sixth child in a family of five sons and two daughters. As Asa grew, he gained from his mother a love of books, as well as a practical understanding of domestic chores. His father provided him with experience in the necessary tasks associated with maintaining the family farm.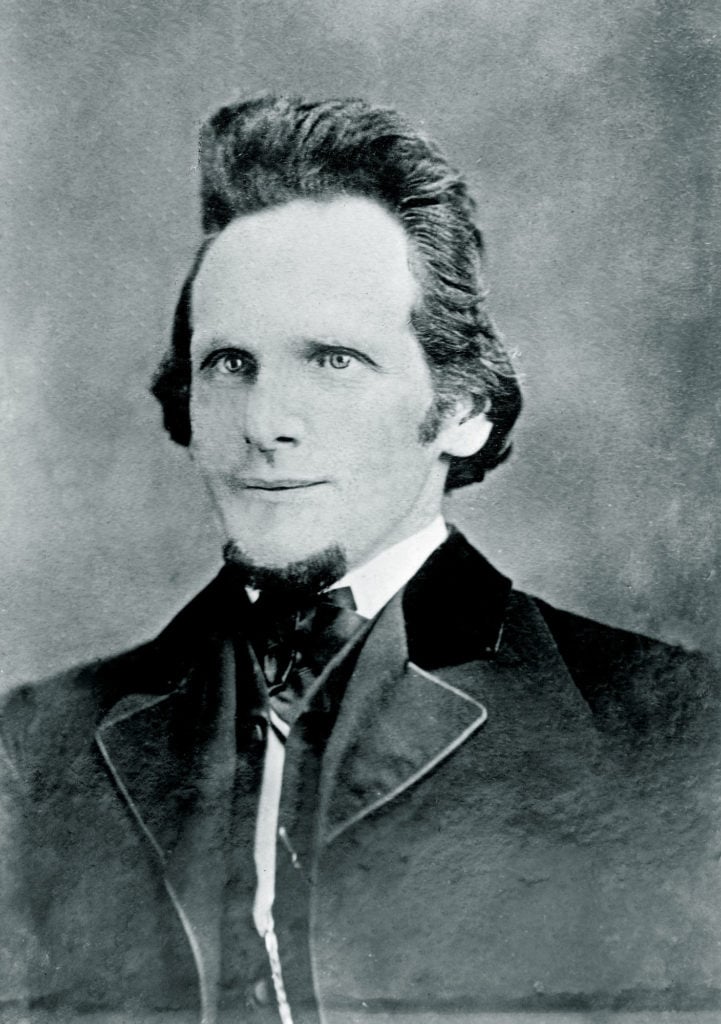 Those who knew Asa and his family claimed that he was his parents' favorite child. Perhaps this was true, as Asa remained at the family farm to care for his parents in their later years. And in return for his kindness, they deeded the homestead to him. After his parents' deaths, he continued to manage this farm for a few years, before renting it and moving to nearby Proctorsville and later Springfield, Vermont, where he worked in the woolen mills running a spinning jack.
Only men were allowed to operate the spinning jack, and it was considered one of the most skilled and respected jobs in a woolen mill. The spinning jack was a power machine whose operator had to maintain control manually. With over one hundred spindles and a length of over thirty feet, it was no small task to keep the spinning jack running smoothly.1
By the winter of 1875, Asa had left the woolen mills to come to East Boston as a sales agent for the Singer Sewing Machine Company. This sales job suited his nature well. Although he was described by some as "slow of speech and taciturn," yet he conveyed a winning sense of sincerity, trustworthiness, and common sense to those whom he met.2
A significant friendship began when the Godfrey family of East Boston purchased a sewing machine from Asa. Common cultural interests attracted him to this family and he spent many evenings in their home, discussing topics of the day or listening to the seafaring tales of Mr. Godfrey, a former seaman.  But even more importantly, the relationship was pivotal in bringing him into contact with Mrs. Mary Glover, his future wife.
Mrs. Mary Godfrey had met Mrs. Glover while visiting her nephew, William Nash, and his family, who were renting a portion of Mrs. Glover's home at 8 Broad Street, Lynn. In the course of this visit of a few weeks, Mrs. Glover noticed that Mrs. Godfrey had a badly infected finger — so bad, in fact, that doctors had prescribed amputation.  That night Mrs. Godfrey slept well for the first time in weeks, and awoke in the morning to find the finger almost normal, much to her surprise and bewilderment.  She mentioned it to her nephew, who made a passing remark about Mrs. Glover and her healing work.  Then, when Mrs. Godfrey saw Mrs. Eddy later that day, Mrs. Eddy suggested that she would cure the finger (through prayerful Christian Science treatment), if Mrs. Godfrey would discontinue applications of a home remedy to it.  According to Mrs. Godfrey's young daughter, in a matter of eight days the finger was restored to its normal condition, except for the nail. A few weeks later, Mrs. Godfrey mentioned the nail to Mrs. Glover, and that, too, was restored to normal.  Mrs. Godfrey was so impressed with this healing that she immediately related it to Asa Eddy, whom she knew to be suffering from a heart condition.3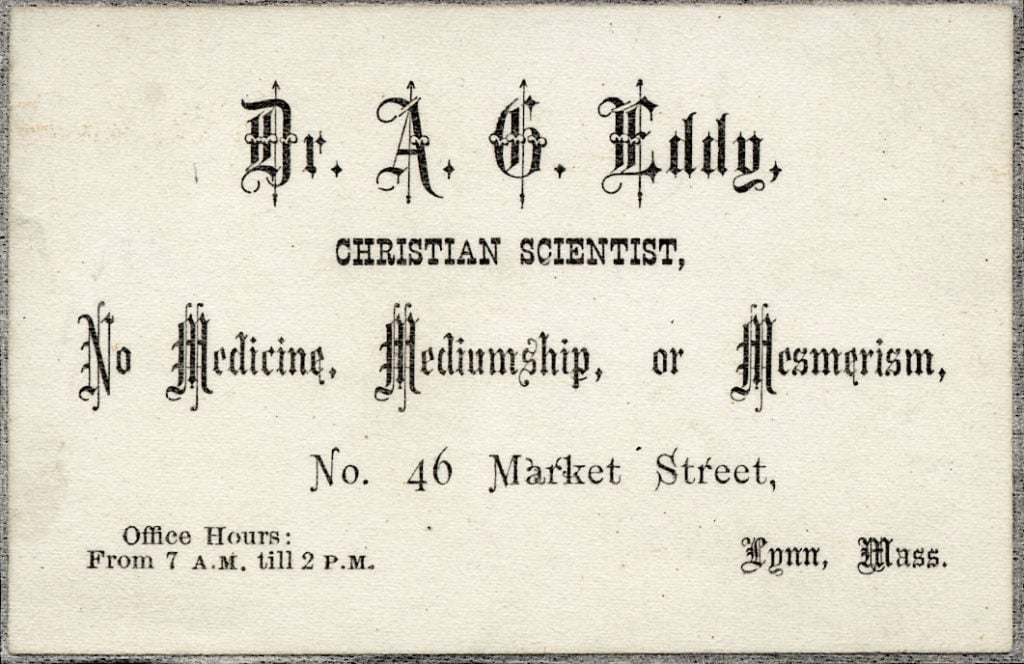 Asa visited Mrs. Glover for Christian Science treatment twice in March 1876. He was so much improved by this treatment that he took her course of instruction in Christian Science. At this time, Mrs. Glover was teaching from the Bible and her manuscript entitled The Science of Man. This manuscript eventually evolved into what is now the chapter "Recapitulation" in her textbook, Science and Health with Key to the Scriptures.
Following Christian Science instruction with Mrs. Glover, Asa opened an office as a practitioner of Christian Science healing at 46 Market Street, Lynn. His listing in the Lynn Directory for 1876 reads: "Eddy, A. G., 'Christian Scientist,' 46 Market, Boards 25 North Common." The first to advertise himself as a Christian Scientist, Asa Eddy he put up a sign outside his practitioner's office which read, "Dr. A. G. Eddy, Christian Scientist."
His business card from the same period also reads, "Dr. A. G. Eddy, Christian Scientist." The title of "Doctor" was applied to men in the 19th century as a mark of respect. In many cases it did not indicate the attainment of any formal degree, but was often used to refer to men who practiced some form of healing.
While Mrs. Glover valued the earnest sincerity and healing works of her new student, Asa Eddy (whom she called Gilbert), she may not have fully appreciated his potential until an incident which she described in a July 14, 1876, letter to her cousin, Hattie Baker. Mrs. Glover explained that she had recently experienced a "violent seizure" during which she had fallen unconscious, and that Gilbert Eddy had been called and immediately brought her out of it. As Mrs. Glover put it, he was "calm, clear, and strong, and so kind…. Never before had I seen his real character…."4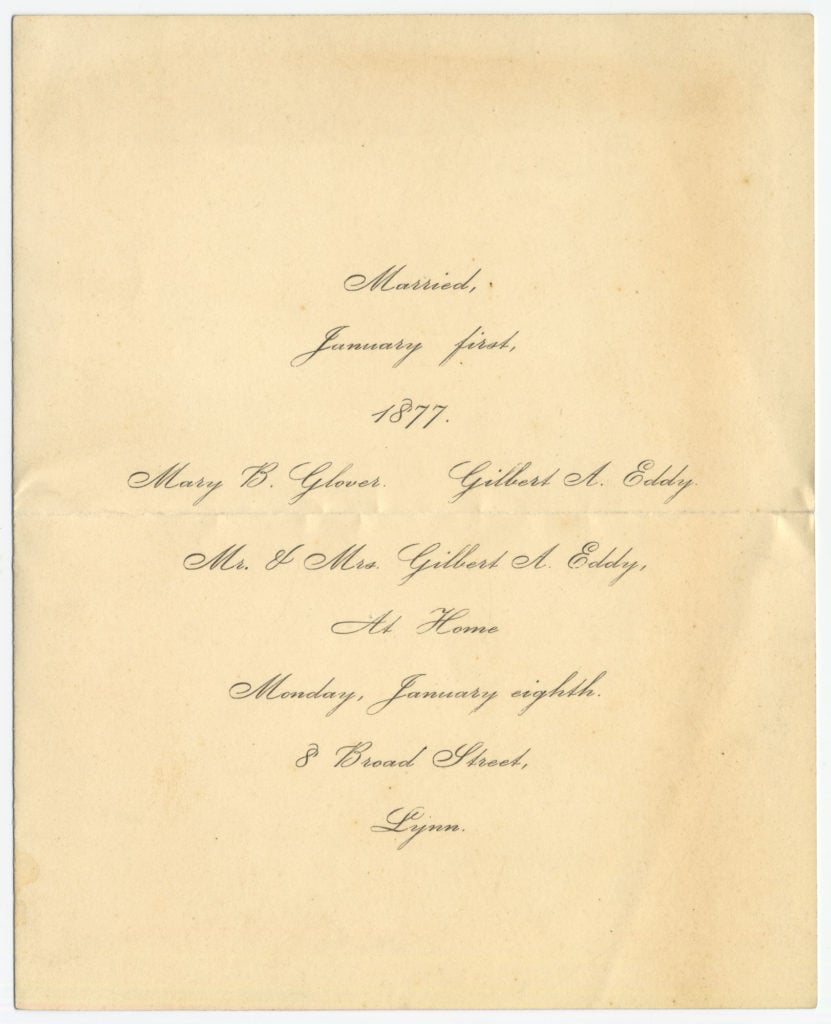 This awakened appreciation must have helped to provide an atmosphere favorable to her acceptance of Gilbert's proposal of marriage in late December 1876. They were wedded in her home at 8 Broad Street, Lynn, on January 1, 1877, by Rev. Samuel Barrett Stewart, a Unitarian minister.
The period from their marriage until Gilbert's death some five and one-half years later, was particularly important in the formation, development, and establishment of the Church of Christ, Scientist, formally organized in 1879. Some of Gilbert's contributions during these years include being the first to organize and superintend a Christian Science Sunday School; lecturer on scriptural topics; public practitioner of Christian Science healing; publisher of the second and third editions of Science and Health; and teacher of several classes on Christian Science.5
In the opening pages of the third edition of Science and Health (volume one), Gilbert wrote a notice "To The Public." As her publisher he sought to defend Mrs. Eddy's copyright, and as her student and husband he showed his loving appreciation of her lifework. He wrote, "Mrs. Eddy's works are the outgrowths of her life. I never knew so unselfish an individual, or one so tireless in what she considers her duty."6
One example of Gilbert's healing work can be seen in the case of Julia S. Bartlett. Miss Bartlett was extremely ill in 1880, suffering from a condition that had eluded the best efforts of physicians for over seven years. At this point she was introduced to Christian Science by a friend. Miss Bartlett asked her friend to recommend a Christian Science practitioner. This friend sought Mrs. Eddy for advice, who, in turn, recommended her husband, Gilbert. Concerning Gilbert's healing work for her, Miss Bartlett later wrote: "I began to improve immediately and was getting my freedom. I felt like one let out of prison."7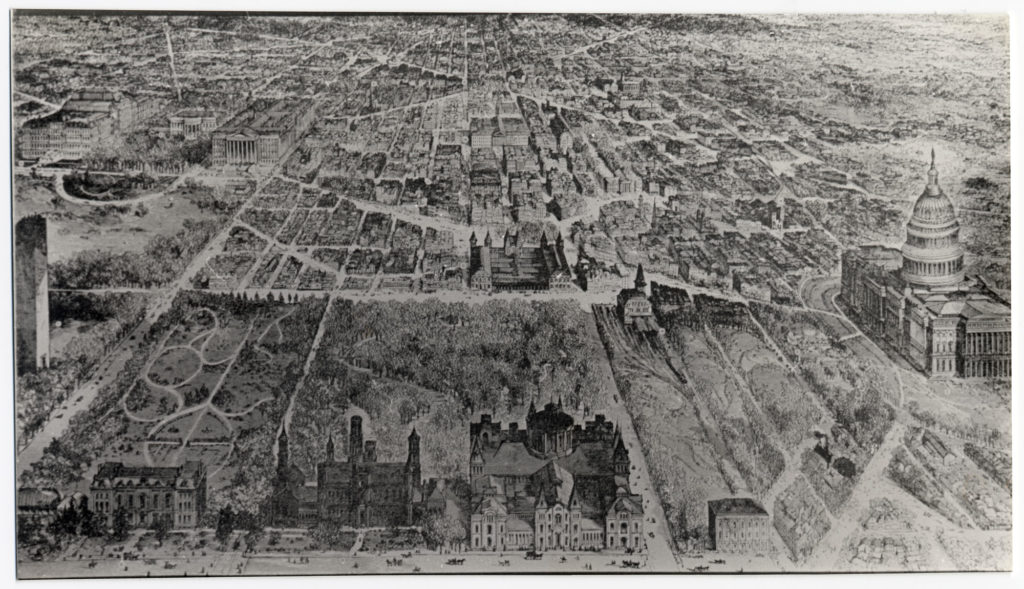 About four months after her healing, Miss Bartlett applied to Mrs. Eddy for instruction and entered her fall 1880 class. In all, she took instruction from Mrs. Eddy four times, becoming a practitioner and teacher of Christian Science, and a stalwart, loyal early student of Mrs. Eddy's, who supported and furthered the young Christian Science movement throughout her life.8
In early 1882, the Eddys traveled to Washington, D. C. . While Mrs. Eddy was carrying out healing work there and lecturing on Christian Science, Gilbert took time to study copyright law. The information he obtained from this work provided a useful background that was helpful in protecting his wife's writings from copyright infringement.
The Eddys returned to Boston in April. By May they had moved into their new home at 569 Columbus Avenue, Boston. The residence also served as the headquarters for the Massachusetts Metaphysical College. Moving from Lynn to Boston served two purposes: the new location provided more room for the ever growing numbers of students at the college, and Boston was a more favorable atmosphere for the growth of the fledgling church.
Gilbert became seriously ill towards the end of May, and, sadly, passed on shortly thereafter, on June 2, 1882. Mrs. Eddy felt such a keen sense of loss at Gilbert's death that she left Boston to stay in Barton, Vermont, for a time of quiet rest during the month of July. She had him buried near her parents in a Tilton, New Hampshire, cemetery. On his memorial she had inscribed, "a devoted husband, a true philanthropist, a Christian Scientist."