In April 1937, nationally-known artist Jean Jacques Pfister and his wife, Elizabeth, toured New Hampshire and Massachusetts, using Sibyl Wilbur's book, The Life of Mary Baker Eddy, as a guide to search out many of the places connected with the Discoverer and Founder of Christian Science. As a direct result of the inspiration gained from these visits to Mrs. Eddy's former homes and other landmarks, Mr. Pfister, a Christian Scientist, decided to paint a portrait of Mrs. Eddy. Several photographs were loaned to him, and from these, he painted a life-size profile portrait of the 1866-67 period, and the first of many balcony scene portraits.1 The latter, which is probably Mr. Pfister's most widely-known work, depicts Mrs. Eddy addressing the crowds from her balcony at Pleasant View.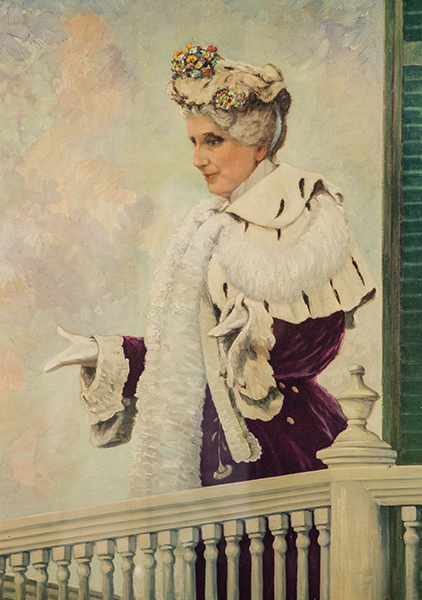 Jean Jacques Pfister was born in Hasle, Switzerland in 1878 and emigrated to the United States twenty years later.2 He had first come to love art as a child, admiring the soft blue tones of a painting in his sister's room. He spent many years in art school, attending Hopkins School of Fine Arts in San Francisco, Bremen Art School in Germany, and the Art Students League in New York. While studying in San Francisco, his studio was destroyed in the famous earthquake and fire of 1906. After escaping the city, he painted a highly-acclaimed landscape of the scene, entitled "The Burning City," from the hills across the bay.
The natural beauty of his native Switzerland no doubt influenced Mr. Pfister's artwork, for the monumental grandeur of nature is a recurring theme in his landscapes. Although he worked in several media, including oil and watercolor, he usually used quickly-drying tempera for landscapes. This was particularly helpful when painting on hikes through the mountains. He traveled extensively in the American West, filling canvas after canvas with the majestic beauty of the National Parks in Colorado, Utah, Wyoming and Montana.
Mr. Pfister was also well-respected as a portrait artist, and he was a member of many of America's most prominent art clubs, including the National Arts Club, the Salmagundi Club and the American Water Color Society. One of his most popular paintings from the late 1920's, entitled "'We' at Daybreak," depicts Col. Charles Lindbergh's historic flight over the Atlantic.
In the 1930's the Pfisters moved from New York to Florida, where he was head of the art department at Rollins College in Winter Park for several years. He also gave a series of very successful demonstration art lectures, at which he lectured as he painted. Later, the Pfisters built a combination studio/house in Coral Gables.
After 1937, much of Jean Jacques Pfister's time was spent painting portraits of Mary Baker Eddy, working from several life-size photographic enlargements. He had a unique atmosphere in which to work, as he explained in a letter to Longyear Foundation: "…most of my painting of the portraits of Mrs. Eddy have been made while listening to Mrs. Pfister read from Science and Health with Key to the Scriptures. In other words, we have both tried to shut out thoughts unlike Mrs. Eddy's own exalted conceptions." The inspiration he gained from this method is evident in the quality of the work produced.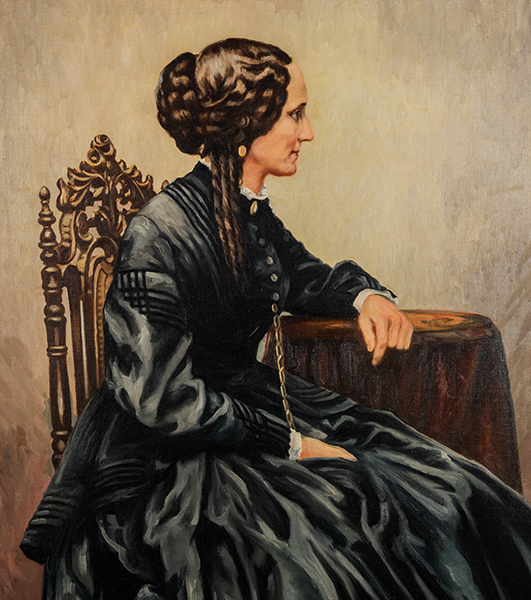 To paint the profile portrait mentioned previously, the artist used an enlargement of an 1866-67 tintype of Mary Baker Eddy.3 To him, this portrait represented a period of vital significance in the history of Christian Science, because it showed Mrs. Eddy about the time she wrote her first manuscripts. Mr. Pfister completed the work in 1938 and graciously loaned it to Longyear Foundation for several years. In 1943 the Longyear Board of Trustees bought the canvas, making it the first major addition to the portrait collection following the opening of the Museum in 1937.
Mr. Pfister's popular balcony scene portrait of Mrs. Eddy was painted from a photograph taken by W.G.C. Kimball, a Concord , New Hampshire photographer. Mrs. Eddy is shown standing on the balcony at her home in Concord, on June 29 , 1903, as she spoke to a crowd of over 10,000 of her followers.4 What many do not realize about this now familiar scene is that the temperature that day was over 100° in the shade.5 Yet Mrs. Eddy must have been intent on appearing with proper dignity before the people who came to see her, for she was dressed in a heavy jacket, fur cloak, feather boa , hat and gloves.
The balcony scene portrait was so well received and was considered such a good likeness that Mr. Pfister was commissioned to paint it many times over. He presented the first canvas to The Christian Science Board of Directors in 1938. When it was decided to display a portrait of Mary Baker Eddy in the Christian Science Building at the 1939 New York World's Fair, the architect of the building, W. Pope Barney, reviewed all the available portraits and recommended that Mr. Pfister's be used. A copy of the portrait was also ordered for the Christian Science pavilion at the 1939 Golden Gate Exposition in San Francisco.6
Mr. William P. McKenzie, C.S.B., ordered a balcony scene portrait for his study, another for a friend in California, and two for The Principia. He and his wife wrote to Mr. Pfister: "We are charmed to have this artistic concept, presented not as a labored likeness, but as evidence of what the artist saw in the whole combination of sky, earth, handsome raiment and noble and winning humanity."7 Other known copies of the portrait were made for the office of the Publisher's Agent at The Christian Science Publishing Society; Mrs. Nelvia E. Ritchie, C.S.B.; Mr. Charles E. Heitman, C.S.B.;8 and Tenth Church of Christ, Scientist, New York.
Mr. Pfister painted numerous paintings of Mrs. Eddy which are undoubtedly in the possession of various individuals throughout the country. He was commissioned by Mrs. Marie K. Larkin, C.S.B., of Miami Beach, Florida, to paint one of the balcony scenes and a portrait of her teacher, Mrs. Annie M. Knott, C.S.D. The latter was done from a photograph taken about 1918 while Mrs. Knott was visiting Mrs. Mary B. Longyear at her home (which is now the Mary Baker Eddy Museum).9
Jean Jacques Pfister believed that an artist's purpose is to bring poetry into the lives of others. His dedicated work in making accurate portrayals of Mary Baker Eddy has brought joy and inspiration to thousands and will continue to bless generations of her followers.