A Longyear member recently shared a unique item with us – several pages of memorabilia belonging to Gilbert C. Carpenter, who served as a secretary in Mrs. Eddy's home from March 1905 to March 1906. Consisting of a receipt, five thank you letters, and a brief note of explanation, this item prompted further investigation on our part. The end result is a wonderful story of Christmas generosity.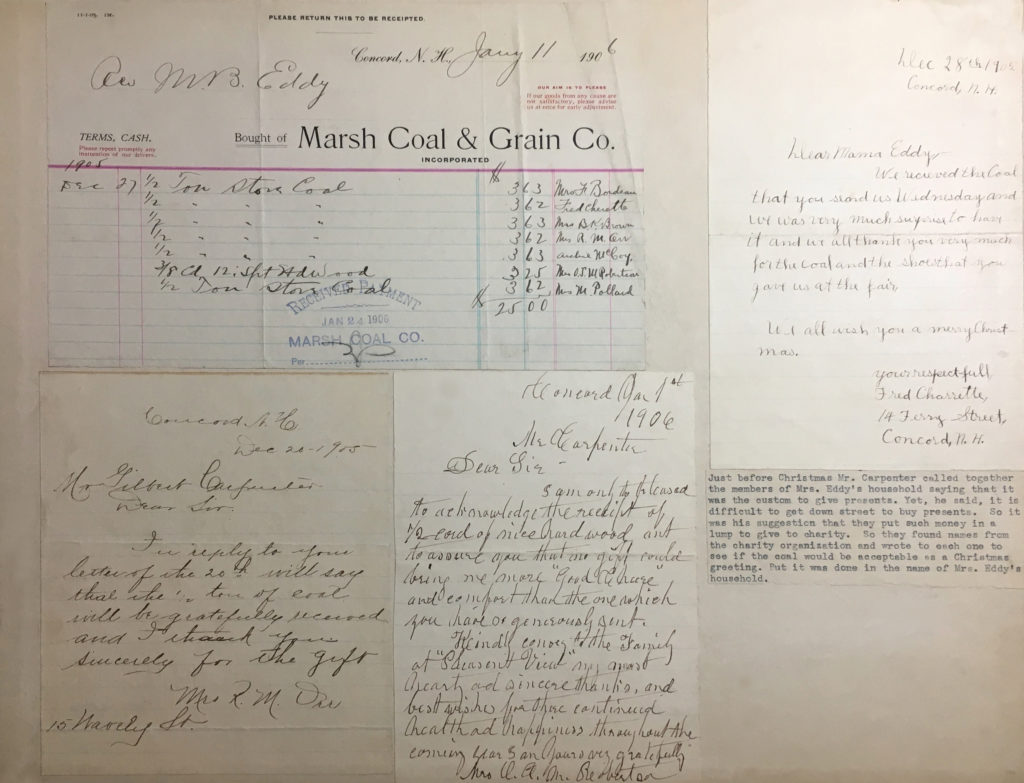 As 1905 drew to a close and the mercury in the thermometer fell at Pleasant View, Mary Baker Eddy's home in Concord, New Hampshire, Gilbert Carpenter called the household together.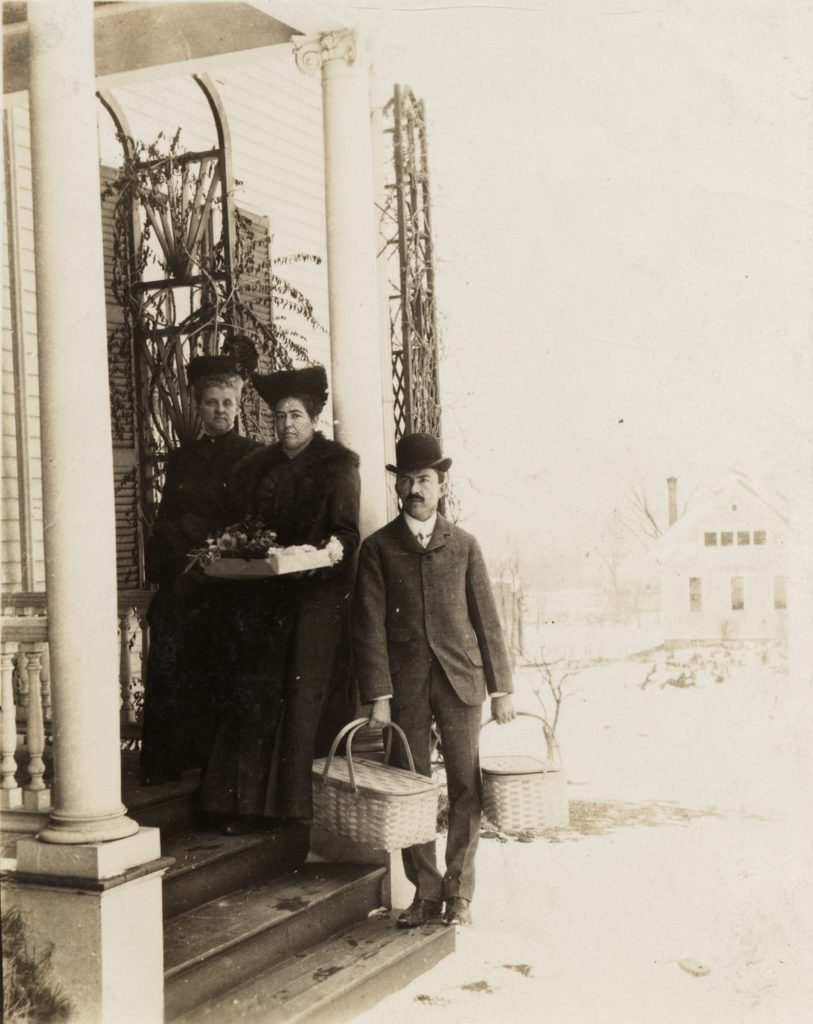 Christmas was just around the corner, he told his colleagues, and it was customary for members of the Pleasant View "family," as Mrs. Eddy referred to them and as they referred to themselves, to exchange presents. However, the demands of their work supporting Mrs. Eddy as she labored for the Cause of Christian Science left little time to go downtown and shop. So Mr. Carpenter had a different plan to propose this year: Why not pool their money and help needy neighbors? Specifically, with a gift of coal – much welcome fuel for warming homes as everyone braced for the long New Hampshire winter ahead.
A brief note tells what ensued.
"So they found names from the charity organization and wrote to each one to see if the coal would be acceptable as a Christmas greeting."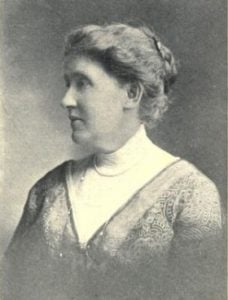 The "charity organization" referred to in Carpenter's note was likely the Concord Charity Organization. Lilian Streeter was serving as its vice-president at the time, as well as on several other state and local charitable boards, and as the wife of Mrs. Eddy's attorney Frank Streeter, this would have been a natural connection for the household to make.1
Perhaps Lilian provided suggestions for potential recipients, or perhaps the staff had a few in mind already. However the final list came about, once the recipients were selected, each was notified of the intended gift.
"Dear Mr. Dow," began Carpenter's letter to local farmer Samuel Dow, "The family at Pleasant View ask if you would do them the favor of accepting ½ ton of coal as an expression of good cheer and the Seasons greetings."2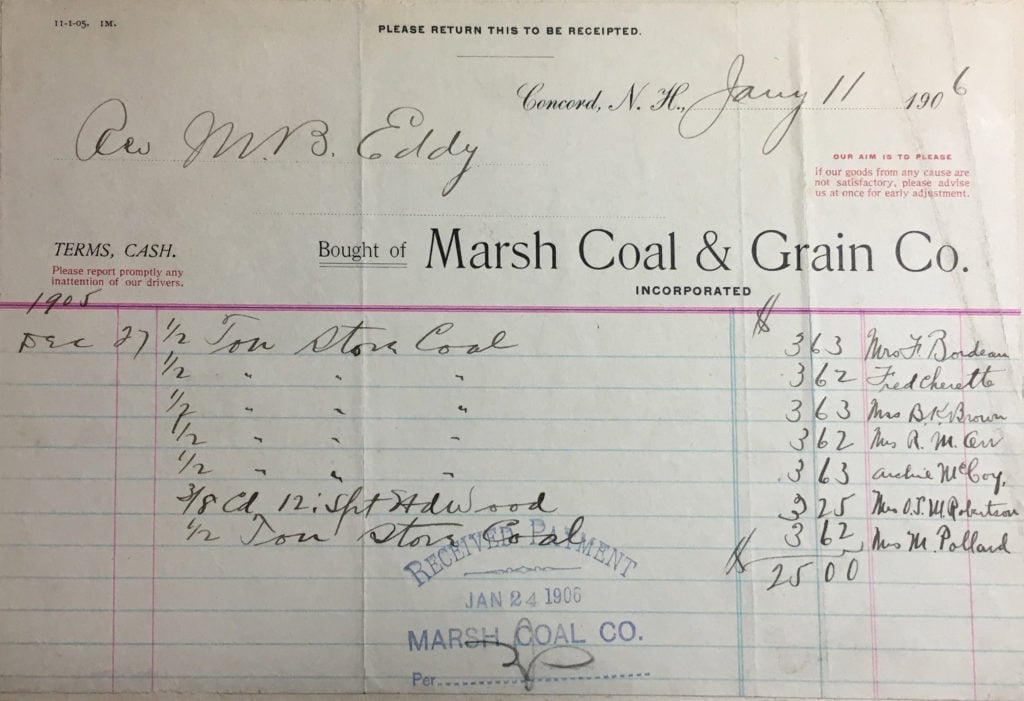 The total for half a ton of coal for six families (and 3/8 of a cord of split firewood for Mrs. O. A. M. Robertson) was $25 (about $735 in 2018 dollars).3 Although no record remains as to who exactly chipped in, those serving in Mrs. Eddy's household at the time in addition to Gilbert Carpenter included Calvin Frye, Laura Sargent, coachman August Mann and his wife Amanda, groundskeeper John Salchow, housekeeper Anna Machacek, cook Minnie Weygandt, and either Grace Greene, Julia Prescott, or Ella Willis as a metaphysical worker.
The Christmas gifts were received with enthusiasm and heartfelt gratitude, as evidenced by the thank you notes that were speedily sent.
"I don't know of anything I need at present more than fuel," wrote Archie McCoy, an African-American laborer living in the city. He and his wife Alma's three-year-old daughter, Bertha, had been joined just that month by baby Harold. Archie signed his letter "gratefully yours in Truth and Love."4
"No gift could bring me more 'Good Cheer' and comfort than the one which you have so generously sent," assured Olive Ann M. Robertson, an elderly widow.5
"You do not know how pleased and grateful I was," wrote Mrs. Boudreau, wife of Frank, another local laborer, "for we have a very cold home and could not keep the little ones from cold at night. . . . You could not give me a better gift for Christmas."6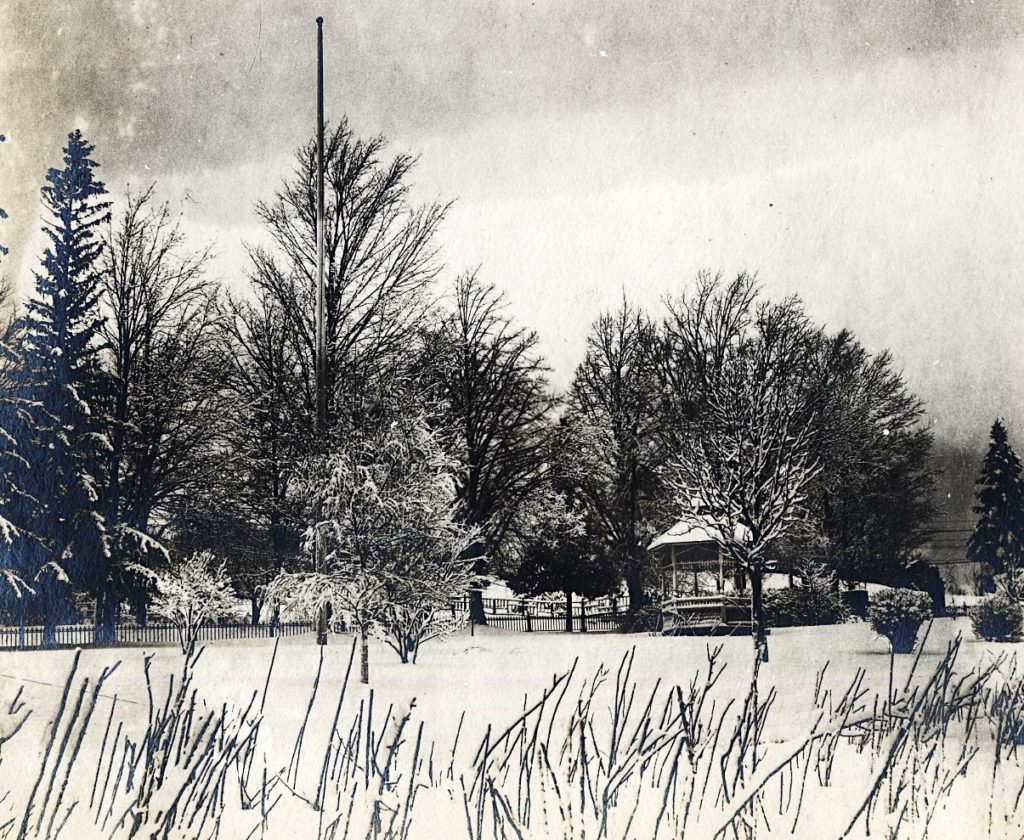 The list of gift recipients included at least three families who had already benefited from Mrs. Eddy's charity, and another who soon would. In fact, it may well have been Mary Baker Eddy's example that inspired the household to their own act of generosity.
Well known for her philanthropy, Mrs. Eddy donated liberally on both the local and national scale. Her staff would have been well aware of this, and they were certainly aware of the kindness she showed each of them.
"While Mrs. Eddy was very generous in her donations to public interests and gave liberally to the support of her home town," Minnie Weygandt recalled, "I think it was the smaller examples of loving interest to those within her immediate circle that counted most with me. It is easy enough to be large-handed in public, but what really tells the story about one is his attitude toward others in private life."7
One particular home-town cause that Mrs. Eddy supported has an interesting connection to this story. Since 1900, the year of her first visit to the Concord State Fair, Mrs. Eddy had made a practice of providing shoes to needy children in Concord. The footwear was given out each year on "Children's Day" at the fair, and this generous gesture would benefit hundreds of little ones over the decade that it continued.8
"My small gift to the children came from my love for children," Mrs. Eddy explained.9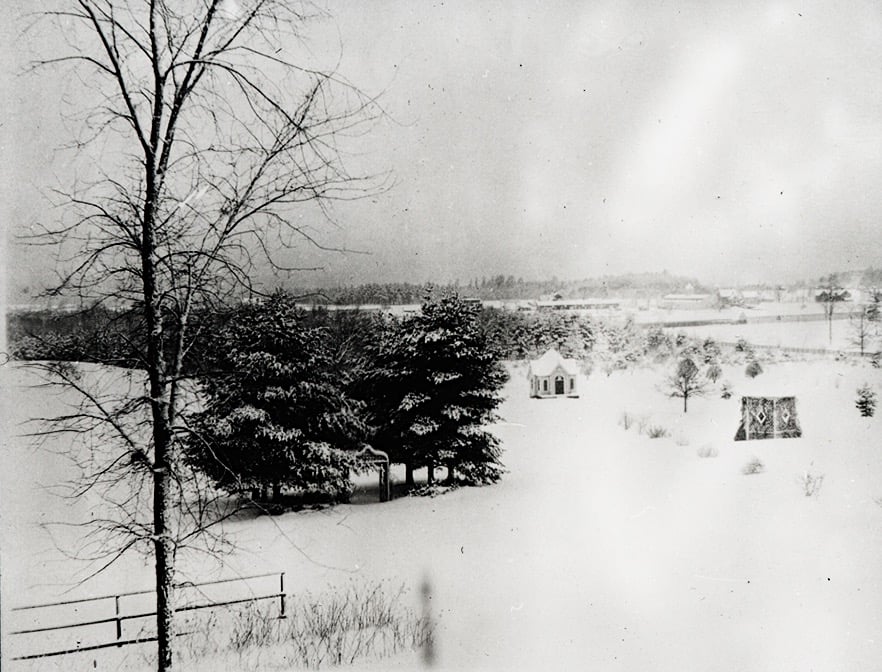 One family that had previously received shoes and that would also receive coal from the Pleasant View family for Christmas was the Pollards. Martha Pollard, a British-born widow with four children – Annie, 11, Cecil, 9, Gertrude, 8, and Amelia, 5 – had written to Mrs. Eddy earlier that fall thanking her for the gift of shoes for her children. Mrs. Pollard's letter had been published just a few weeks before in the November 25, 1905 Christian Science Sentinel.
Concord, N. H., October 8, 1905.
Dear Mrs. Eddy:—I suppose you will be surprised to have these few lines from me, but I feel so grateful for your kindness to the poor children every year, in giving them shoes, that I thought I would send you a note of thanks. I have four little children, and being a widow, I have to work hard for them. I do find the shoes come in very handy every year. My little children would not have any to wear now but for your kindness in giving them away. I have had very hard times this last summer. I hope I shall not offend in writing you this note of thanks, as you do not know me, but I am a decent, hard working woman, and I thank you with a heart brimming over with gratitude to you. I remain your humble servant.
Martha J. Pollard10
The Charrette family had also received shoes. French-Canadian transplants Fred and Flora Charrette were the parents of four boys and two girls – Louis, 13, Joseph, 12, Thomas, 10, Fred, 8, Marion, 7, and baby Florence – and may have had their youngest son (and Fred's namesake) write the thank you letter for the family.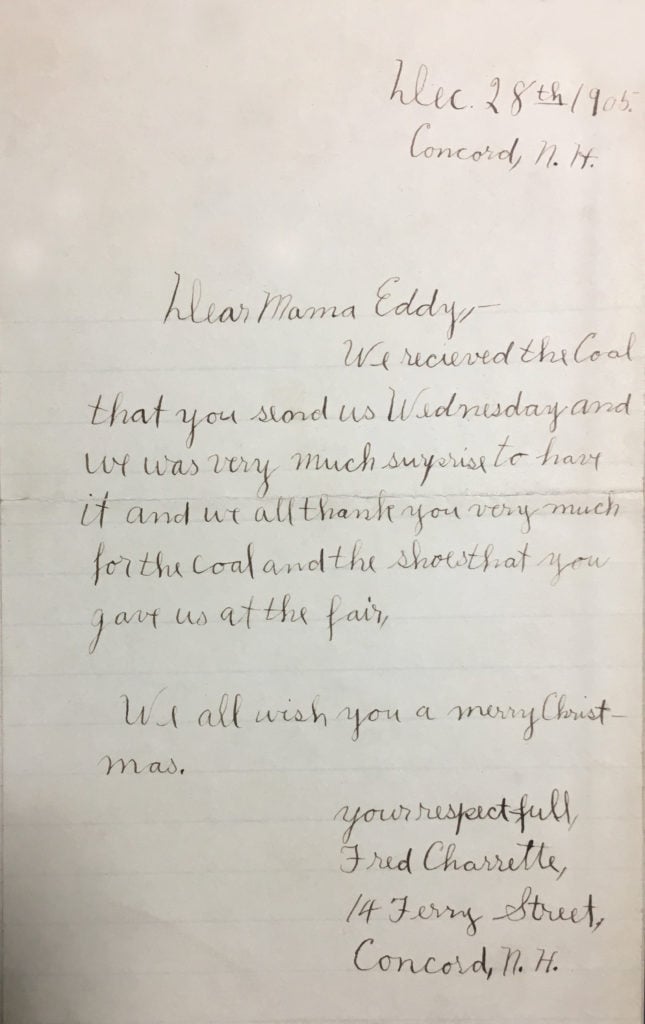 Written in a round, careful hand, the letter, which begins "Dear Mama Eddy" (at just eight years old, young Fred could be forgiven the mistake), thanks her for the coal and also refers to "the shoes that you gave us at the fair."11
And finally, there was the Orr family – parents Robbins and Rosanna, and children Stephen, 17, Eva, 14, and Willie, 10. Rosanna promptly wrote a thank you letter after being notified of the winter fuel that was in the works. Her heartfelt thanks12 foreshadowed a note that her young son Willie would write to Mrs. Eddy eighteen months later:
Concord, N. H., Sept. 16, 1907.
Dear Mrs. Eddy:—I want to write you a few words to thank you for the nice pair of shoes that Mr. Thompson gave me. I needed them very badly, because my papa is not well and cannot buy me many clothes. My little school mate and chum, Paul Casey, got a pair too, and he wants me to thank you for him. When I am sick mamma sends me to a Christian Science lady. I like that way better than to have a doctor and take medicine. I am twelve years old and I live on Waverley Street, No. 15. I will close now.
Yours with love,
Willie Orr13
The ripples of love and charity that went out from the Pleasant View household that Christmas touched the hearts and lives of many in the community. The shoes, the coal, the firewood – these simple gifts help shed light on the type of practical generosity that Mrs. Eddy embraced, and the example she inspired for her household.