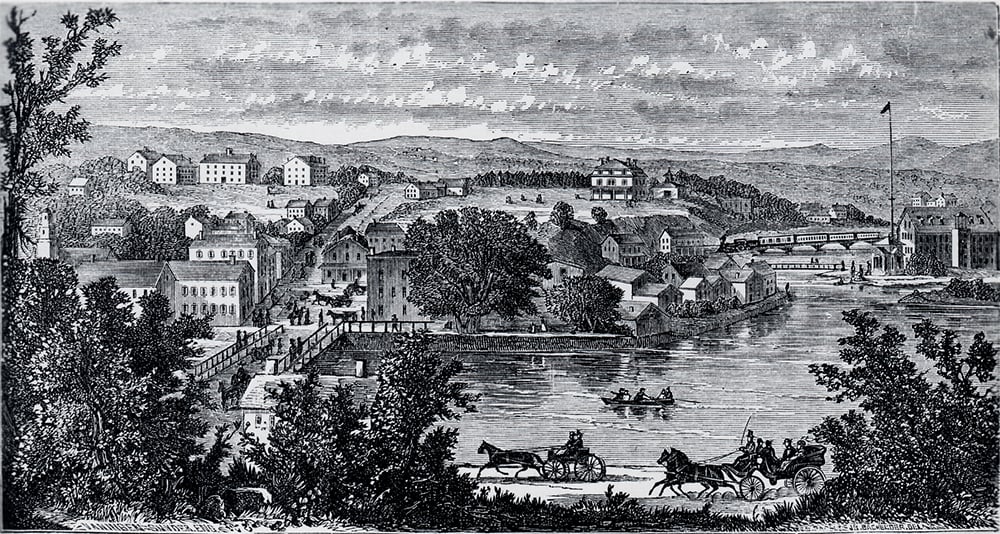 From Lake Winnipesaukee in the central part of New Hampshire, the Winnipesaukee River flows southwest until it merges with the Pemigewasset River to form the Merrimack River. At about the midpoint between the river's source and its confluence with the Pemigewasset River, it flows between the towns of Tilton and Northfield. The modern town of Tilton lies to the north of the Winnipesaukee River. In Mrs. Eddy's day, the town was unofficially divided into a northern part, called Sanbornton Square, and a southern part bordering the river and known as Sanbornton Bridge. It was to a farm just outside the Bridge that the Bakers moved in 1836.
Across the river to the south lay the community of Northfield, significant to the Bakers for its Congregational church. Today, though the Winnipesaukee divides Tilton and Northfield and the two towns are in separate counties, they coexist as a joint community, sharing a library, fire department and school system.
Mrs. Eddy wrote fondly of Tilton, referring to it as "that beautiful village": "During my childhood my parents removed to Tilton, eighteen miles from Concord, and there the family remained until the names of both father and mother were inscribed on the stone memorials in the Park Cemetery of that beautiful village" (Retrospection and Introspection, p. 5).
The Tilton mills
Known to native Americans before the arrival of the Europeans, the Tilton area was first settled by colonists in the mid-1700s. Its location on the Winnipesaukee River made it ideal for the grist-, saw- and textile mill industries which grew up along the banks of the Winnipesaukee. The oldest mills were roughly contemporary to the American Revolution. In the nineteenth century, woolen and cotton textiles constituted the main products, but shoes and leather goods, lenses for eyeglasses, lumber and other wood products were also produced here. One factory made military uniforms during World War I.
There were four major dams on the river as it flowed past Tilton. Historical texts call the mill sites at these dams "privileges" or "water-privileges" – a "privilege" meaning the right to use water for the purpose of generating shaft power.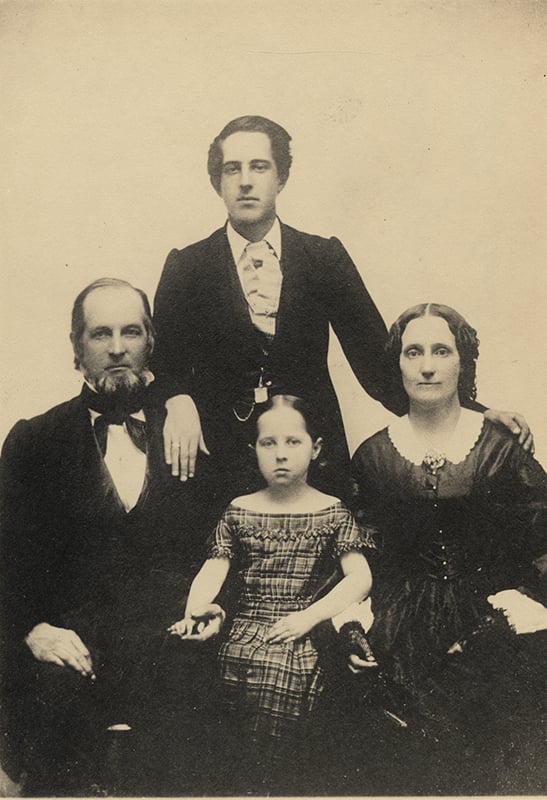 Mary Baker's immediate family had direct links to the dams: her older sister Abigail married Alexander Hamilton Tilton, who became a leading mill owner in the town. He and Mary's brother, George Sullivan Baker, were partners in mill operations from 1838 to 1847 at two of the town's four water privileges. Alexander later refitted and successfully operated an old mill at the fourth water privilege for many years, producing the woolen products known as "Tilton's Tweeds."
"God seemed to shield the whole world in their hearts"
Mary Baker Eddy wrote these words in 1901 about the "Christians of the old sort" that she had known some sixty years earlier. She and her parents, Mark and Abigail, joined the Congregational church in Sanbornton Bridge, when Mary was seventeen. This congregation had its beginnings in Northfield, on the south side of the river. The Northfield Congregational Church was organized in July, 1822, a year after Mary's birth.
In 1838, the year the Bakers joined the church, a new edifice was built in Sanbornton Bridge under the guidance of the recently arrived Reverend Enoch Corser. It became known as the Northfield and Sanbornton Bridge Congregational Church. Here Mary taught Sunday School. Her father was Sunday School Superintendent and her brother George sang in the choir. The families of her two friends Priscilla Clement and Augusta Holmes both had pews in this church.
The Reverend Corser tutored Mary, for whose intellectual abilities he had high regard. His son, Bartlett, stated that his father considered Mary "even at an early age, superior both intellectually and spiritually to any other woman in Tilton" (Mary Baker Eddy: The Years of Discovery, Robert Peel, pp. 49-50 ).
Mrs. Eddy cherished life-long affection and gratitude for the clergy and fellow church members. In her Message to The Mother Church, 1901, she writes (pp. 31-33):
It was my fair fortune to be often taught by some grand old divines, among whom were the Rev. Abraham Burnham of Pembroke, N.H., Rev. Nathaniel Bouton, D. D., of Concord, N. H., Congregationalists; Rev. Mr. Boswell, of Bow, N. H., Baptist; Rev. Enoch Corser, and Rev. Corban Curtice, Congregationalists; and Father Hinds, Methodist Elder. I became early a child of the Church, an eager lover and student of vital Christianity. Why I loved Christians of the old sort was I could not help loving them. Full of charity and good works, busy about their Master's business, they had no time or desire to defame their fellow-men. God seemed to shield the whole world in their hearts, and they were willing to renounce all for Him ….
… I believe, if those venerable Christians were here to-day, their sanctified souls would take in the spirit and understanding of Christian Science through the flood-gates of Love; with them Love was the governing impulse of every action ….
Schools
After the Bakers' move to Sanbornton Bridge, Mary's secular education included several types of schooling: attendance at a local district school, tutoring by a local minister, and attendance at secondary schools known as academies.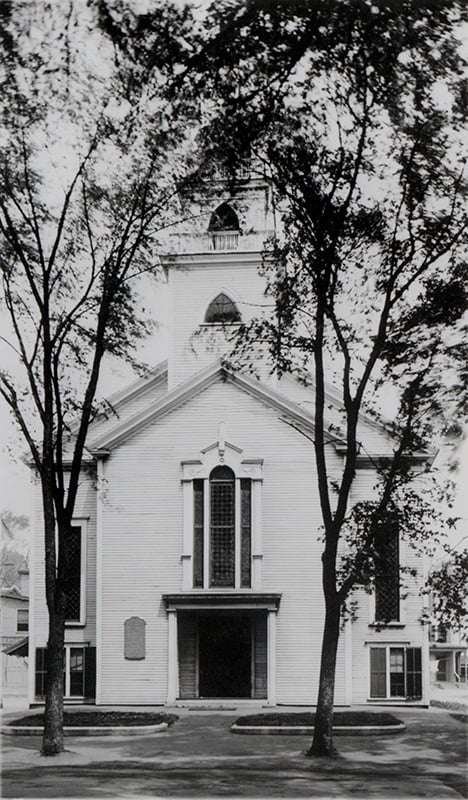 When Mary first arrived in Sanbornton Bridge in the mid-1830s, she attended a district school a mile from the Baker farm at a crossroads called Tin Corner. This area was bustling with activity, boasting a blacksmith, a wheelwright, and shops for making tin, clocks and shoes.
After completing her studies at the district school, Mary attended local academies. These schools, analogous to today's high schools or even junior colleges, were often run by ministers. School terms were not always regular, sometimes lasting six weeks, sometimes more. Some academies held sessions in the fall and spring, some in the summer. It was not unusual to study at more than one academy.
Mary attended Sanbornton Academy at Sanbornton Bridge and most likely attended the Woodman Sanbornton Academy at Sanbornton Square. Despite similarity of names, Sanbornton Academy and Woodman Sanbornton Academy were distinct schools. The Reverend Enoch Corser, who tutored Mary, also taught at Sanbornton Academy, where in 1842, Mary completed a full academic year under educator Dyer Sanborn (see Mrs. Eddy's statement, "A Misstatement Corrected," The First Church of Christ, Scientist, and Miscellany, p. 304).
Sarah Bodwell, who had taught Mary at the Tin Corner school, later taught at the Woodman Sanbornton Academy; it is thought that Mary studied a second time under her there.
Dyer Sanborn taught at the Woodman Sanbornton Academy from 1839 to 1841, and then taught at the Sanbornton Academy from 1842 until 1845. When the latter was closed following the founding of a school named the New Hampshire Conference Seminary, he taught at the newer institution.
The Seminary had its beginnings in Northfield, but later moved to Sanbornton Bridge. This latter school was still operating at the time of this writing on "Academy Hill" in Tilton, under the name of Tilton School.
Marriage, departure, and return
Mary had finished her studies at Sanbornton Academy a year earlier when, in December of 1843, she married George Washington Glover. He was the brother of Eliza Ann Glover Baker, the wife of Mary's eldest brother, Samuel. Mary and her new husband went first to Charleston, South Carolina, where George Glover was a building contractor. In February they moved to Wilmington, North Carolina. In June, George contracted yellow fever and passed on. Mary, widowed and expecting a child, sadly returned to Sanbornton Bridge only seven months after she had left it as a joyful new bride.
Her son, George Washington Glover II, was born that September. Mary was often unwell, and Mahala Sanborn, a sometime helper in the family, looked after the boy.
For a time, Mary served as a substitute teacher in the newly-formed New Hampshire Conference Seminary, and even ran an "infant school" for kindergarten-age children, but her health was fragile. It became even more so after the passing of her much-loved mother in November 1849, and she and her father moved from the farm to a town house on Main Street near her sister Abigail's home.
A year later, Mary's father remarried, and Mary went to live with her sister Abigail. In May of 1851, Mary's son was taken to live with Mahala Sanborn and her new husband, Russell Cheney, in North Groton, New Hampshire. In June 1853, Mary wed Dr. Daniel Patterson, who had a dental practice in the nearby town of Franklin, New Hampshire, and the Pattersons made their new home there for two years. This marked the end of Mary's residence in Sanbornton Bridge.