The Fourth of July, 1882, was a cloudy day in Boston, and while many people celebrated America's independence with clambakes, firecrackers, and patriotic speeches, Mary Baker Eddy was planning a sojourn amid the green hills of Vermont.1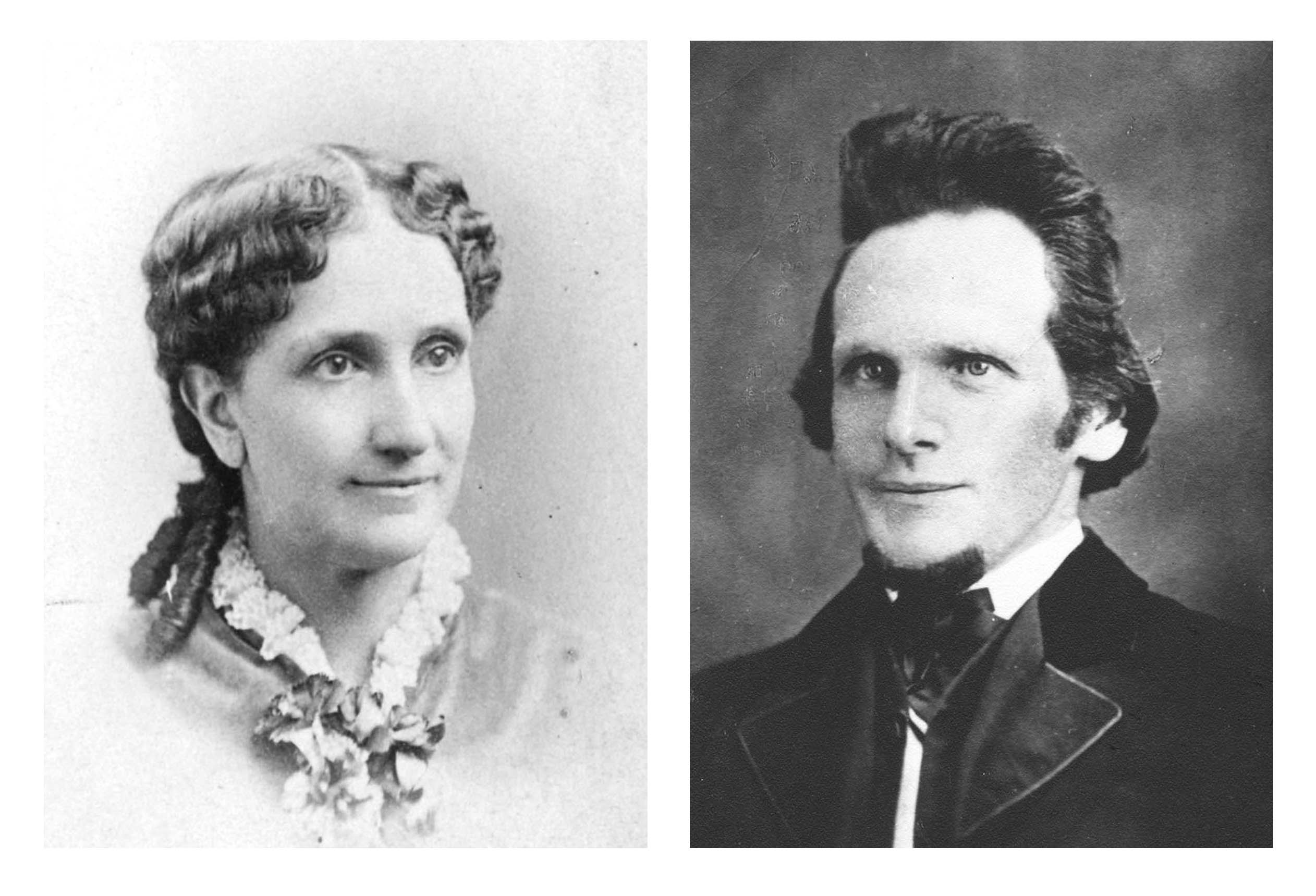 Just a month earlier, she had lost her beloved husband and bold supporter in the Cause of Christian Science, Asa Gilbert Eddy. She had tended to the necessities at their home on Columbus Avenue in Boston, making a statement to the press and arranging for the eulogy and songs at Gilbert's service, including "I Need Thee Every Hour" and "Nearer, My God, to Thee."2
Among the friends and students she called upon for aid at this time was Arthur True Buswell, a charter member of the Church of Christ (Scientist), which Mrs. Eddy had founded just a few years before.3
Mr. Buswell had witnessed the Eddys' mutual affection when the couple lived in Lynn, Massachusetts, in the late 1870s. Gilbert Eddy, he would later write, had "watched, with tenderest care, the needs, and anticipated the wishes of his appreciative and equally devoted wife."4 Gilbert had been the first of Mrs. Eddy's students to advertise his healing practice as a "Christian Scientist," and had done much to promote the fledgling church and help her protect the copyright on Science and Health with Key to the Scriptures.
Now, Buswell offered his teacher the use of his family home in Barton, Vermont, for a respite. She accepted. Her dear Gilbert and his five siblings had been raised on a farm in the same state.5
Mrs. Eddy sought an additional companion for the visit to Vermont's "Northeast Kingdom," not far from the Canadian border. Using stationery from the Massachusetts Metaphysical College, which occupied the same four-story building where she lived, she wrote to her friend Alice Sibley on July 4: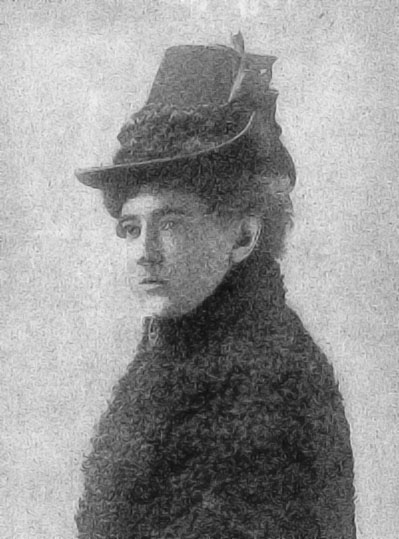 "My very dear Alice, . . . [I] dip my pen in my heart when I ask you to accompany me on my trip into the country. Can you, will you go with me?"6
Still a teenager, Alice had developed a friendship with Mrs. Eddy after first hearing her deliver a Sunday Sermon in 1879. Mrs. Eddy had given her a newly published third edition of Science and Health in 1881, which she described in a letter to Alice as "like a meteor of light."7
The traveling party appears to have set out on their train trip July 10. Mr. Buswell kept a ledger of expenses showing they stayed in Concord, New Hampshire, and in Warren, Vermont, along the way.8 That would put them in Barton on July 12, after what Mrs. Eddy later described as a three-day journey.9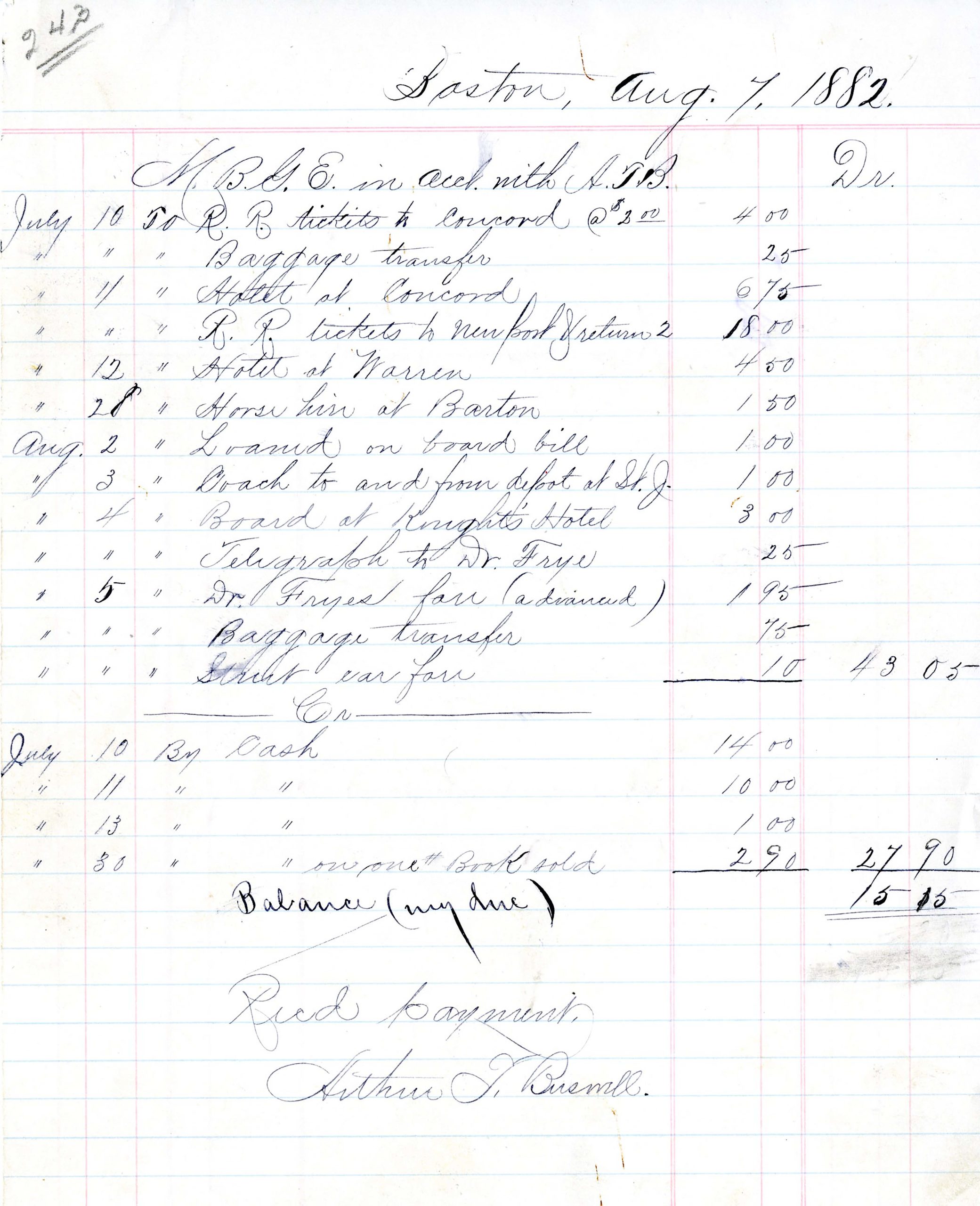 To the public, the trip may have looked like a grieving widow's retreat into the countryside. Yet for the Leader of Christian Science, the challenges always went far beyond what was outwardly apparent. Mrs. Eddy had to face not only the loss of her husband, but also continued attacks against herself, aiming to thwart the healing and saving mission of Christian Science.10
While Mrs. Eddy did not hide her struggles with sorrow and loss from her friends, she was also well practiced in turning to her understanding of God as omnipresent Love to demonstrate that "trials are but proofs of God's care for his children," as she had written in the third edition of Science and Health.11
Rather than surrendering to grief, she would pray to rise above it. Her letters to students at this time would counsel them to follow the example of Christ Jesus, as she was doing.
During her Barton stay, Mrs. Eddy would spend a good portion of her time discussing church business with Buswell.  She would also share Christian Science publicly and make momentous decisions to propel her church and college forward.
"Green quiet valleys" and "still waters"
Barton, on the north shore of Crystal Lake, was home to about 2,400 people when Mrs. Eddy visited. In addition to the railway station and post office, the small town included farms, mills, manufacturing companies, woodworking firms, shops, and hotels that had built up around the river and its natural waterfalls.  The town also boasted three churches, several schools, and a newspaper, the Orleans County Monitor.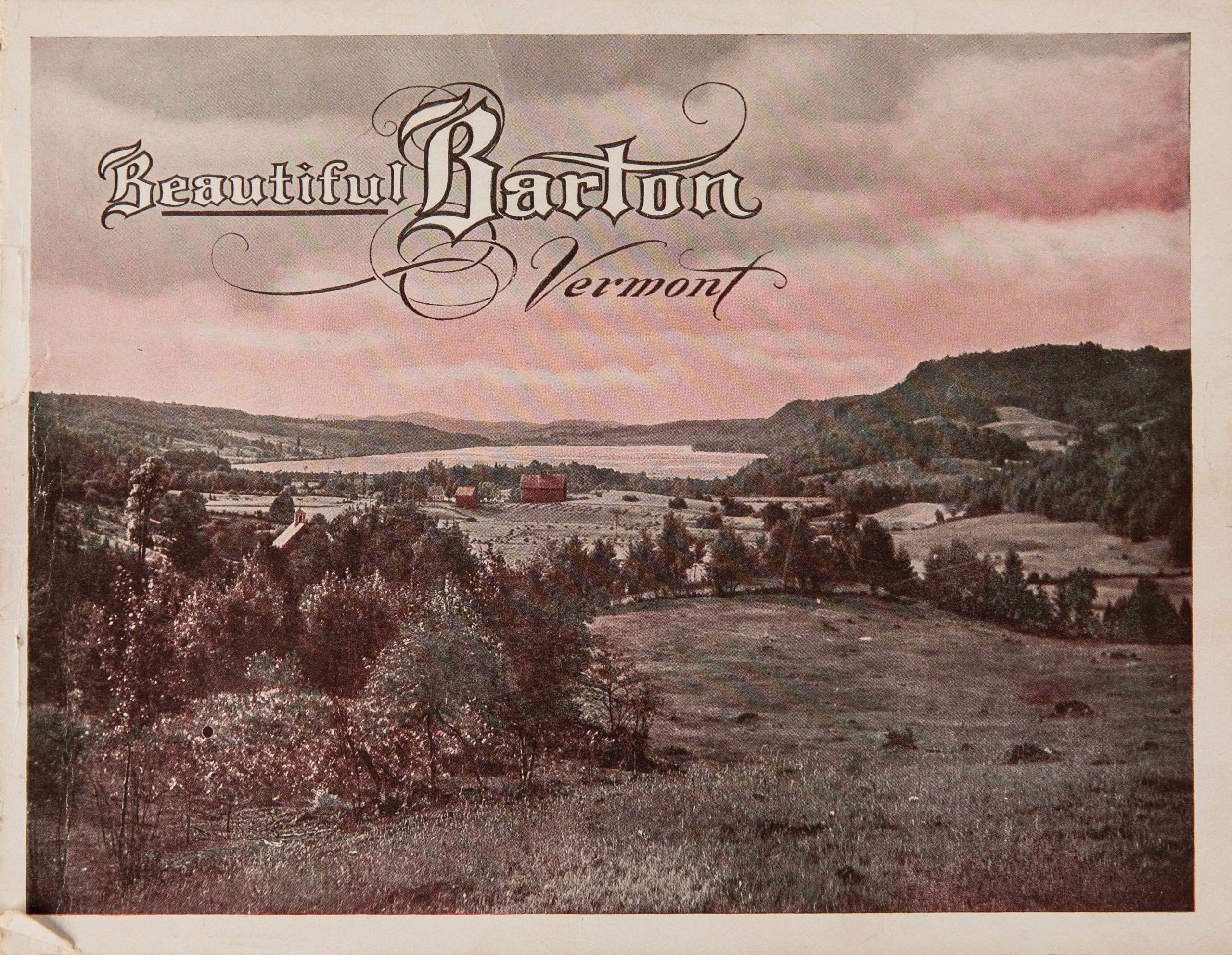 Mrs. Eddy directed people to write to her at the post office, care of J.C. Buswell, the widowed father of Arthur and his brother Charles.12  J.C. lived with Charles and his wife, Emma, most likely on a farm about a mile and a half from the center of Barton on the road heading east toward Willoughby Lake.13 Mrs. Eddy took drives and walks with Miss Sibley.14 These would have offered vistas of the three-mile-long Crystal Lake as well as Barton Mountain, rising 2,200 feet. She appreciated her beautiful surroundings.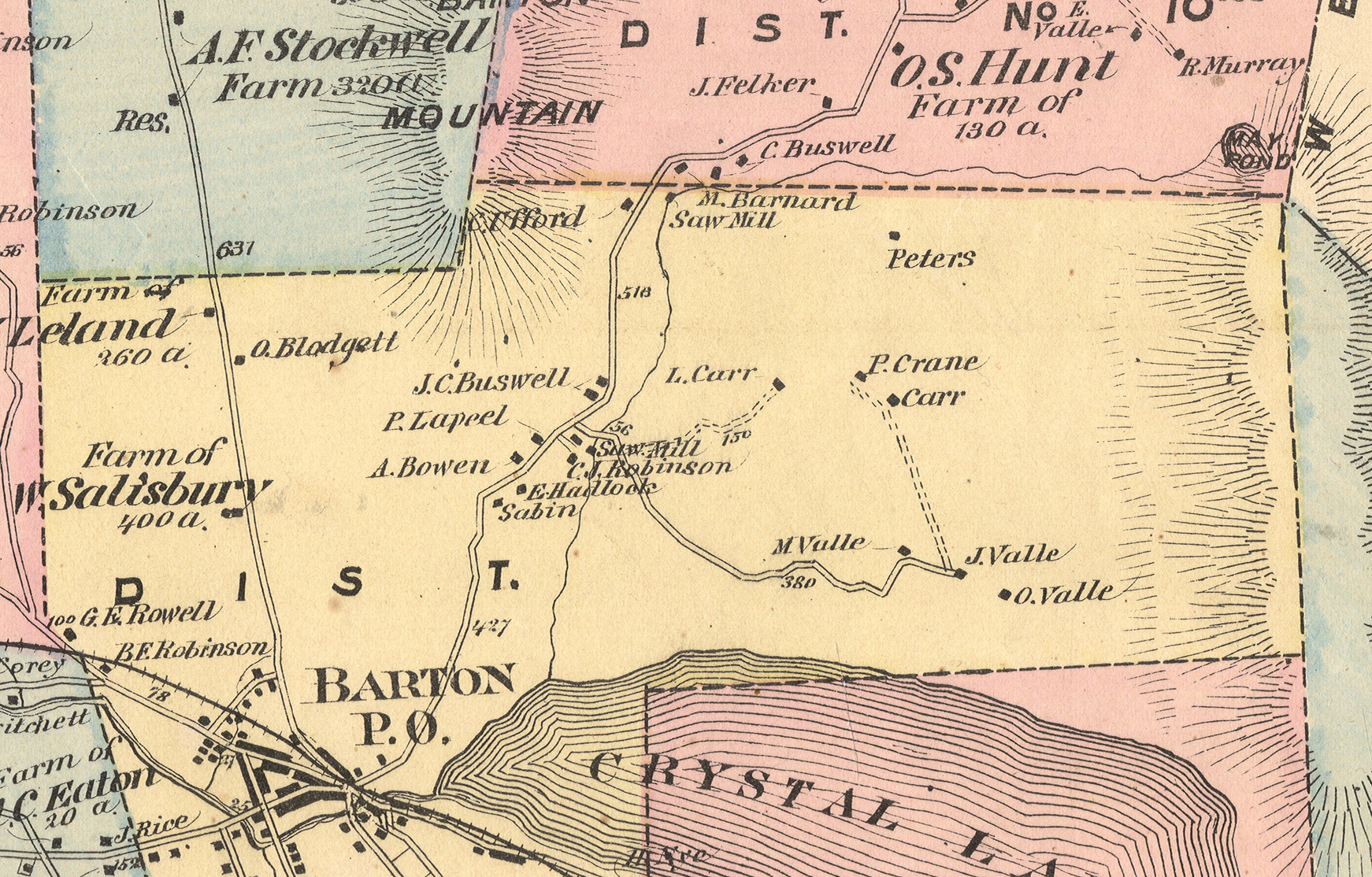 "The tour so far has been delightful, filled as the picture is with earth's finest views among the rock-ribbed rest of the sheltering hills, over the green quiet valleys along the still waters," she wrote in a letter to Calvin Frye, who had taken a class on Christian Science with her in Lynn the year before.15
Mrs. Eddy especially loved how Miss Sibley, whom she described as "like a flower of light," was "almost wild" over the scenery.16
Part of Mrs. Eddy's time was spent in solitude, wrestling with her loss at night behind closed doors—yet she emerged each morning "with a radiant face and luminous eyes," Mr. Buswell later recalled.17
On July 19, she wrote a poignant letter to Julia Bartlett, whom she had charged with overseeing the Massachusetts Metaphysical College in her absence:18
"I thank you very much for the good care you take of your college. . . . I shall try and eventually succeed in rising from the gloom of my irreparable loss. . . . I think of you at the fort and always as little, or rather great heroes and pray that my coming shall be a joy and not a sorrow to you. . . .  I shall never forget dear, dear Gilbert his memory is dearer every day but not so sad I think as when I left home. It is beautiful here the hills vales and lakes are lovely but this was his native state and he is not here."19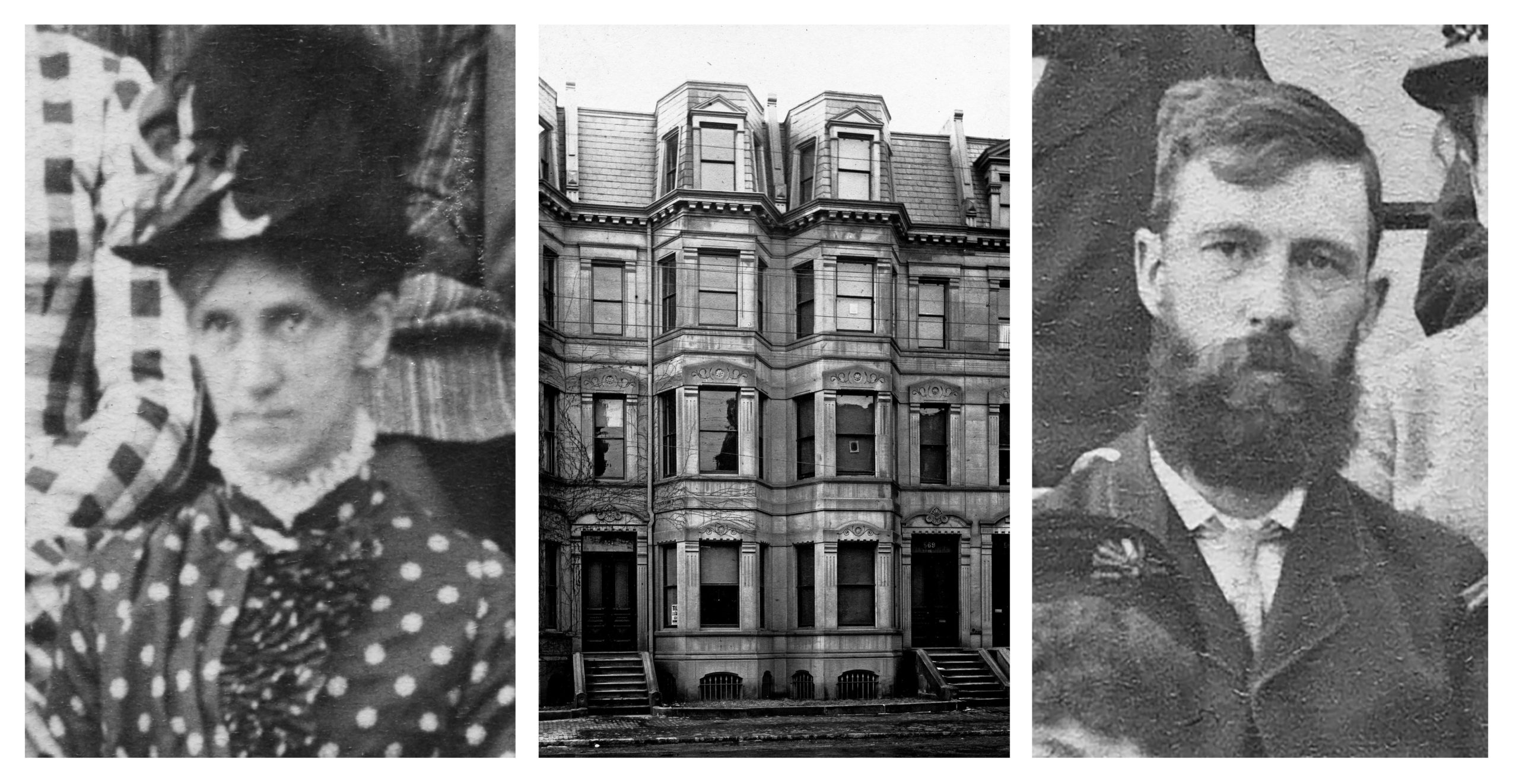 Yet her struggles did not prevent her from sending strong encouragement to her students. She asked Mr. Frye, for instance, to share this message with others in nearby Lawrence:
"Jesus said, 'My yoke is easy and my burden is light.' If 'the man of sorrows' so construed his life-work, let us never murmur, but gather fresh courage and consolation in the struggle with the world the flesh and demonology. I find there is a sure way of triumph over it all and those who follow me will certainly find it also. Our master bade us come unto him when weary and heavy laden. O how sweet the thought that we can come and find peace in the fullness of Love and find it
Where no arrow wounds the dove
Where no partings are for love
Where are no rough seas of foam
Where joy dwells and is at home."20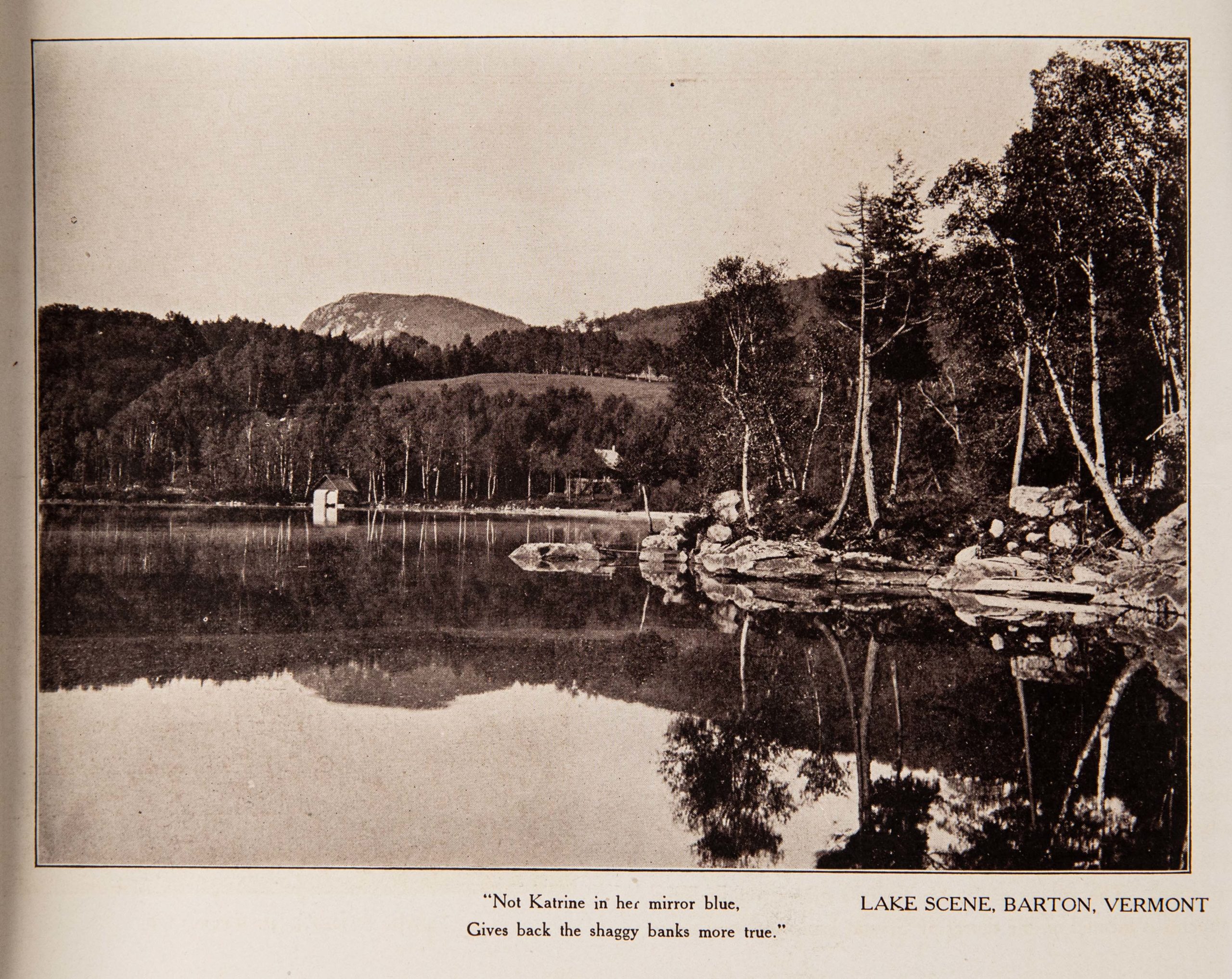 Turning her thought to an eternal sense of home, Mrs. Eddy revisited that poem, whose lines are from The Songs of La Colonna, which was quoted in some American periodicals in the early to mid-19th century. Modifying a few of the stanza's words, she wrote in a letter to her student Ellen Clarke on July 27:
". . . this earth is no longer my home.
Where no arrow wounds the dove
Where no partings are for love
Where are no rough seas of foam
Where peace reigneth, there is home."21
The next day, Mrs. Eddy noted her progress in another letter: ". . . I am changed. I see it in the mirror and my heart tells me it every hour." Yet the need to keep striving remained: "We shall return soon to the stately halls of my Boston home but the walls whisper a secret they tell me home is not there since Gilbert has gone."22
Barton hears about Christian healing
Midway through her stay in Barton, Mrs. Eddy gave a public talk. The announcement appeared in the July 24 issue of the Orleans County Monitor: "Rev. Mary B. G. Eddy, pastor of the church of Christ, Boston, and author of 'Science and Health,' will deliver a free address on the subject of Christian Healing at the Methodist church, on Wednesday evening at 7 ½ o'clock. All are invited to be present."23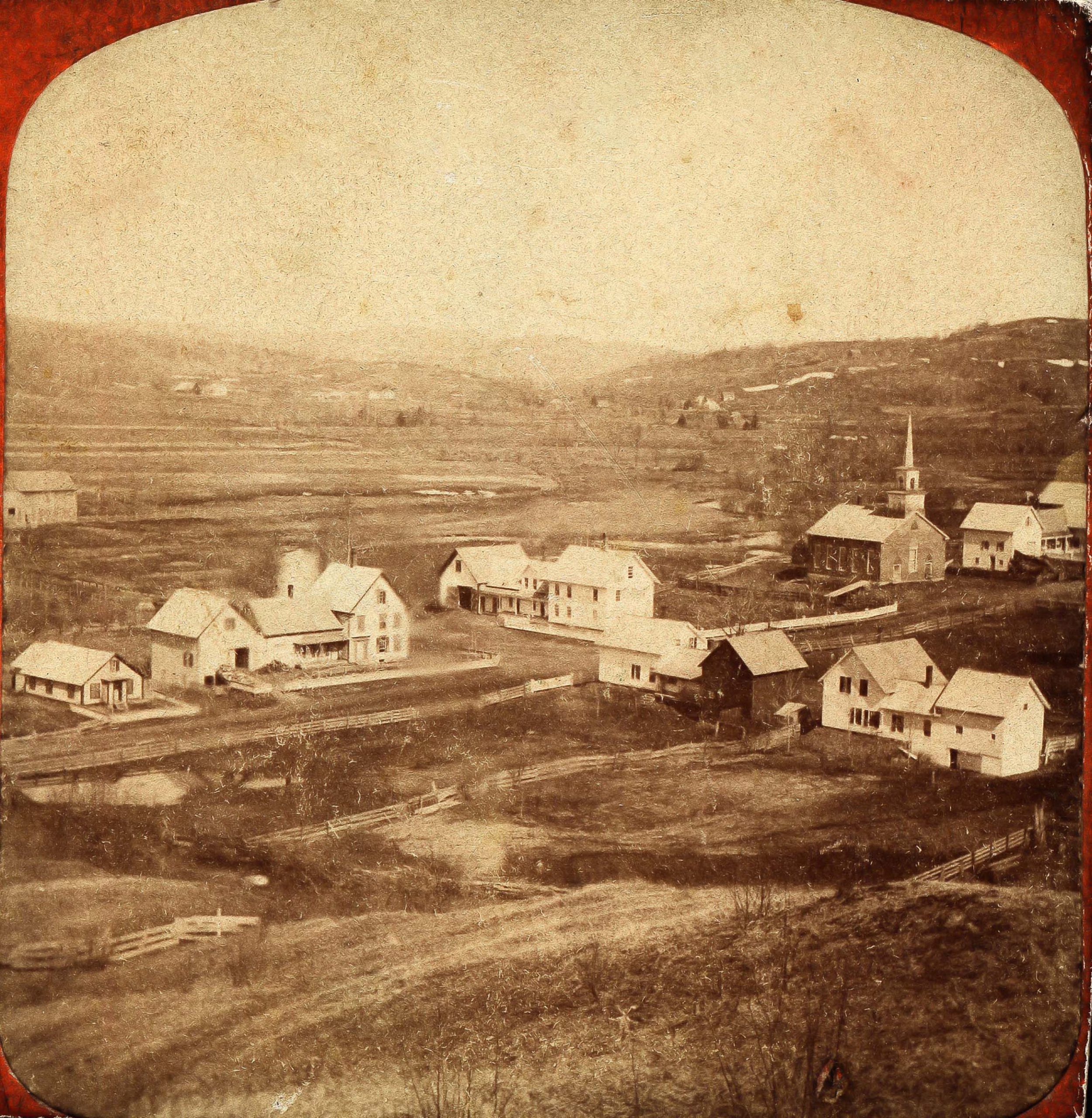 Arthur Buswell's father was among the "pew owners" at Barton's Methodist church.24 The 1833 brick building was in the central part of town on Church Street.25 The Methodists had the first church bell in Barton, fashioned by the foundry started by Paul Revere in Boston.26
Mrs. Eddy gave her talk there on July 26. She mentioned it in a letter to Clara Choate, one of her students back in Boston.
"Hold the Fort for I am coming. Be wise as a serpent and harmless as the doves that are cooing over my window. . . . My lecture made a big stir, a Rev. Methodist called on me the next day and talked pretty much all the A. M. and an M. D. talks of studying."27
Clearly the "stir" pleased Mrs. Eddy, never mind that one newspaper writer cast doubts—despite not being among her audience. "We did not hear the lecture on 'Christian healing,' by Rev. Mary Eddy," he wrote, "but understand she claims to have the power to heal the sick in as miraculous a manner as was done by Christ and the twelve disciples. We think she will get but few converts to her faith, here."28
No record has been found detailing the content of Mrs. Eddy's address in Barton, but that critic was proved wrong. In fact, Christian Science spread quickly throughout Vermont, as it did elsewhere.29
The oak on the summit
One of the views in Barton that inspired Mrs. Eddy was that of an oak tree atop a mountain. On Aug. 1, she wrote a poem that included these lines: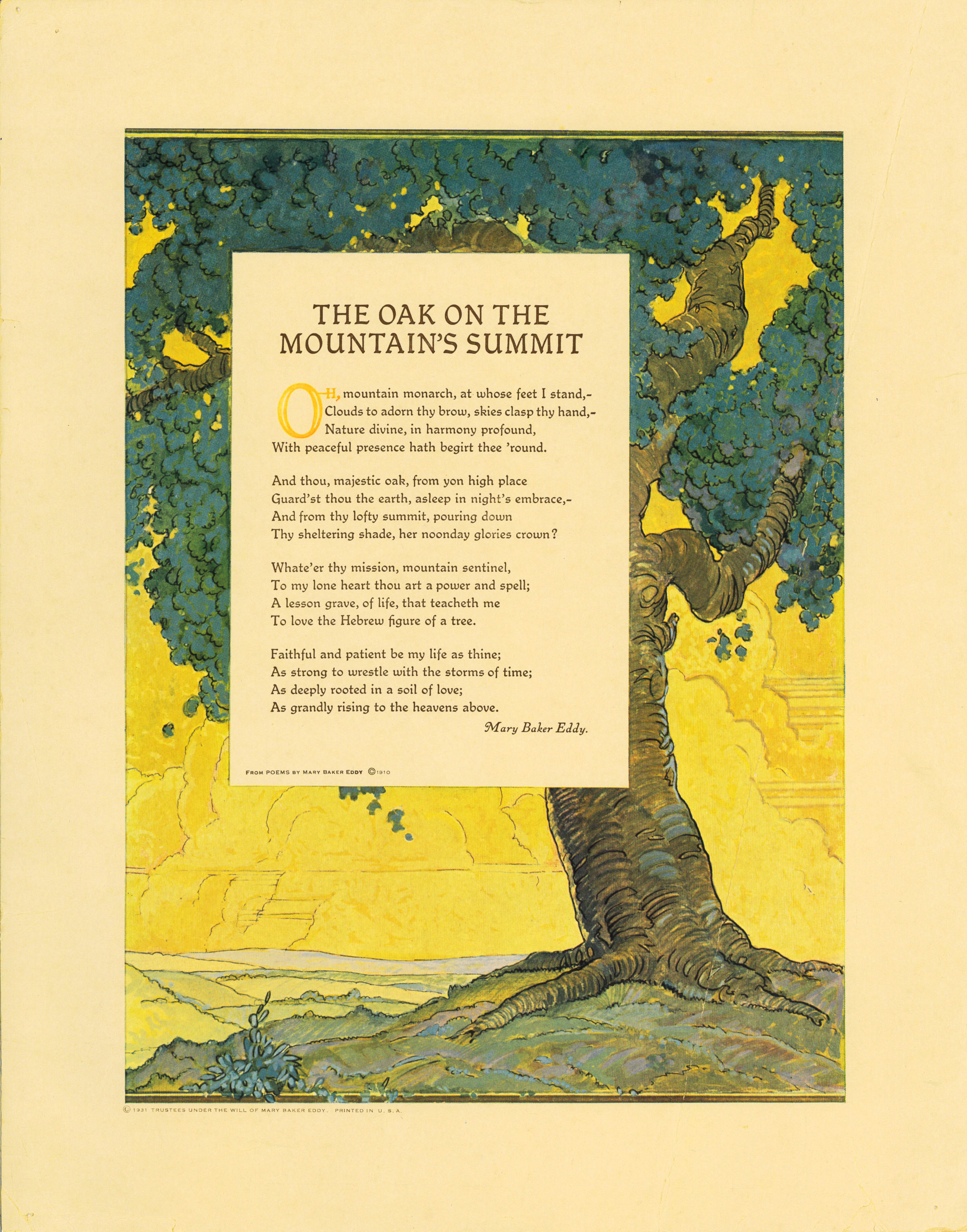 A lesson grave, of life, thou teachest me—
I love the Hebrew figure of a tree.
Faithful and patient be my years as thine;
As strong to wrestle with the storms of time;
As deeply rooted in a soil of love;
As grandly rising to the heavens above.
The following spring, in April 1883, she would publish "The Oak on the Summit" in the inaugural issue of the Journal of Christian Science.30 But first, she had to turn her attention to founding that periodical, which would later become The Christian Science Journal. It was during her time in Vermont that Mrs. Eddy decided that Arthur Buswell should form a publishing company for this purpose.31
With her determination to move forward even more deeply rooted than the iconic oak tree, she committed to teaching a class later in August in Boston. Among the students in attendance would be Clara Choate and her husband, George, as well as Alice Sibley.32 (The faithfulness of these friends, though so helpful to her that summer, would prove to be not so deeply rooted. Within a few years, neither the Choates nor Miss Sibley nor Mr. Buswell would still be practicing Christian Science.)
Another matter that held Mrs. Eddy's attention in Barton was the need to appoint someone to help organize the operations of her household, which served both as church headquarters and as the Massachusetts Metaphysical College. Julia Bartlett and Arthur Buswell were among the church workers living there at the time.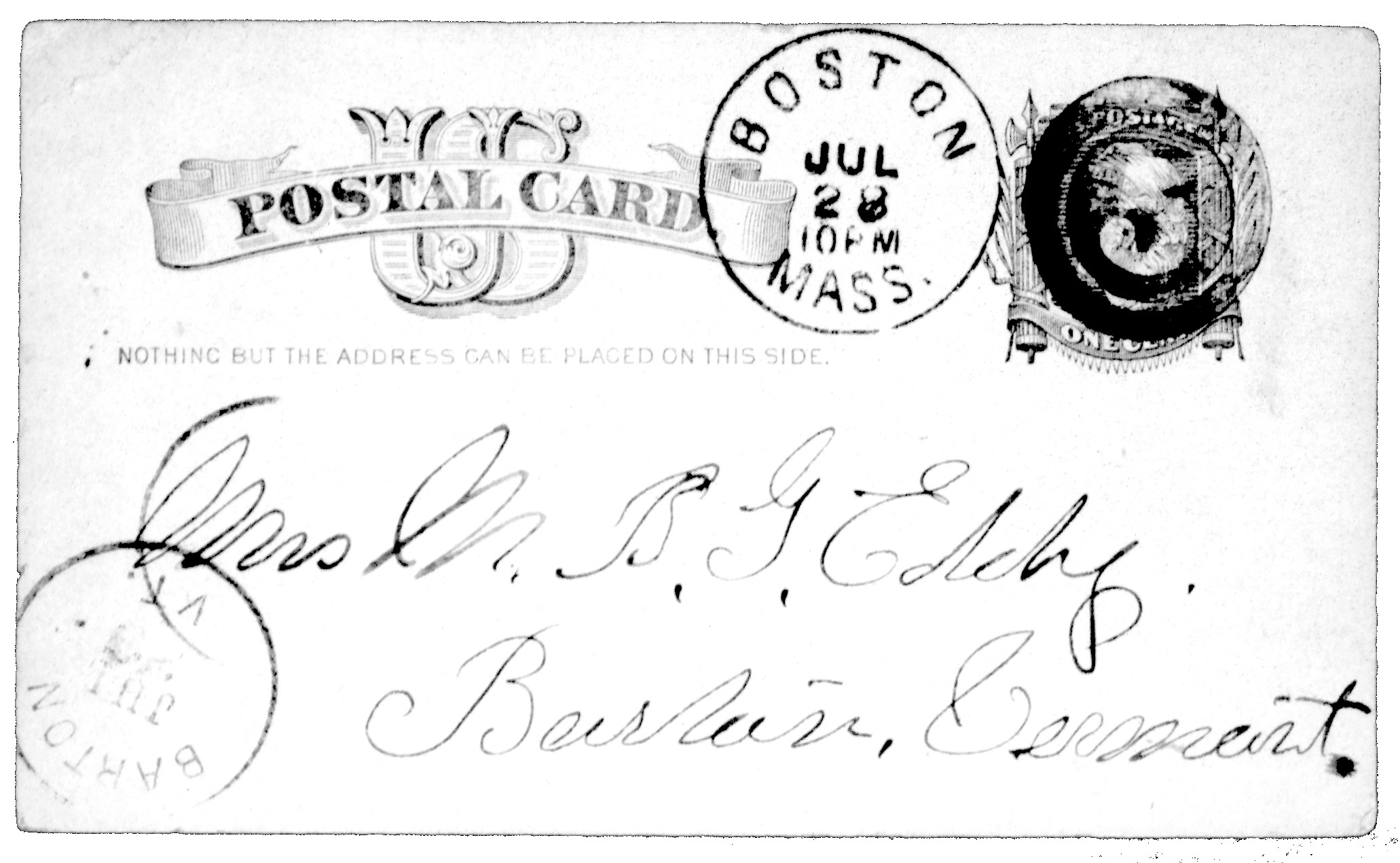 Her decision to act on this coincided with her readiness to return to Boston. At her request, on Aug. 4, Mr. Buswell telegraphed Calvin Frye, who met the returning party in Plymouth, New Hampshire, the next day so he could join them for the final leg of the train trip home. During that journey, Mrs. Eddy probed Mr. Frye's willingness to serve the Cause of Christian Science above all else.
Satisfied with his response, she followed through on her late husband's recommendation to hire him for bookkeeping, secretarial, and other assistance. Gilbert had spoken to Mr. Frye's former Congregational pastor about him and had concluded that Mrs. Eddy could trust him. This proved true, as Mr. Frye went on to serve the Leader of Christian Science for the next 28 years.33
Upon her return to Boston, Mrs. Eddy noted in her Bible that she opened to Isaiah 54, which includes among its many tender assurances to "the servants of the Lord": "Thy Maker is thine husband."34
That fall, the Church Mrs. Eddy had founded in 1879 began holding Sunday services at her residence and the home of the Massachusetts Metaphysical College at 569 Columbus Avenue. She taught classes in August, October, and January.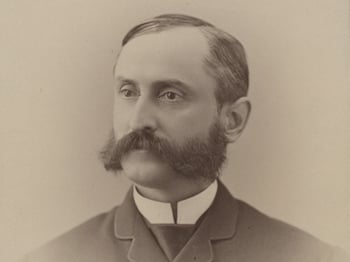 Near the end of October, she reflected on the preceding months in a letter to future student Emily Meader: "I thought when my dear husband departed I needed more than ever friends, but when I learned that adversity proves our friends I was enabled to turn more utterly to the one source, and bear the proof of desertion by many who had claimed to be true to me, with patient pardon, and more consecration to Christ."35
There would be more trials to come, but that fall Mrs. Eddy was buoyed by her work. Her letter continued: "We had a pleasant little number in last evening to sing and play the piano, and the hours passed swiftly. I have on hand the largest class I ever had, and our Sunday services fill all our rooms with interested hearers. I think in the spring we shall graduate about fifty. The ship of science is again walking the wave, rising above the billows, biding defiance to the flood-gates of error, for God is at the helm."36