In December 1883, Minnie Hall's mother, Mary, lost her eyesight and four months later became lame in one leg. After fourteen months of medical treatment in Denver, she and her two daughters decided to leave Colorado and travel 1,700 miles to obtain medical attention in New York City. Stopping in Chicago on their way, the Hall family was introduced to a Christian Science practitioner, Roger Sherman. Intrigued by what she was hearing, Mrs. Hall decided to seek Christian Science treatment from Sherman rather than continuing to New York. After four months, she was entirely healed of both blindness and lameness. Still in Chicago after the healing, Mrs. Hall and her twenty-two-year-old daughter Minnie attended a Primary class of Christian Science taught by Bradford Sherman, Roger Sherman's father.1
Soon after returning to Denver, people were coming to Minnie and her mother for Christian Science treatment, and they were helping over 100 people a day in their impromptu Christian Science practice. They also began holding informal church services in their home at 3 La Veta Place, Denver. Their practice and church meetings became so popular that they invited their teacher, Bradford Sherman, to teach two Christian Science Primary classes in Denver.2
During her Primary class with Bradford Sherman earlier in the year, Miss Hall started a correspondence with Mary Baker Eddy, the Discoverer and Founder of Christian Science and author of Science and Health with Key to the Scriptures. That correspondence would last twenty years and include news and concerns from Miss Hall, as well as advice and salutations from Mrs. Eddy. In response to Miss Hall's first letter, Mrs. Eddy asked her to keep her informed of her future work.3 Back in Denver, Miss Hall did exactly that, writing Mrs. Eddy about the success of Bradford Sherman's classes in Denver. Mrs. Eddy's response may have come as a surprise, for she told Miss Hall that she should start teaching those whom she healed, and invited her to study in a Normal class at the Massachusetts Metaphysical College.4 The class began May 3, 1886 — coincidentally one day after Miss Hall's twenty-third birthday. She must have shined during the class; afterward Mrs. Eddy described her in a letter to practitioner Edward H. Hammond as "one of the prettiest and most promising young ladies in our Association."5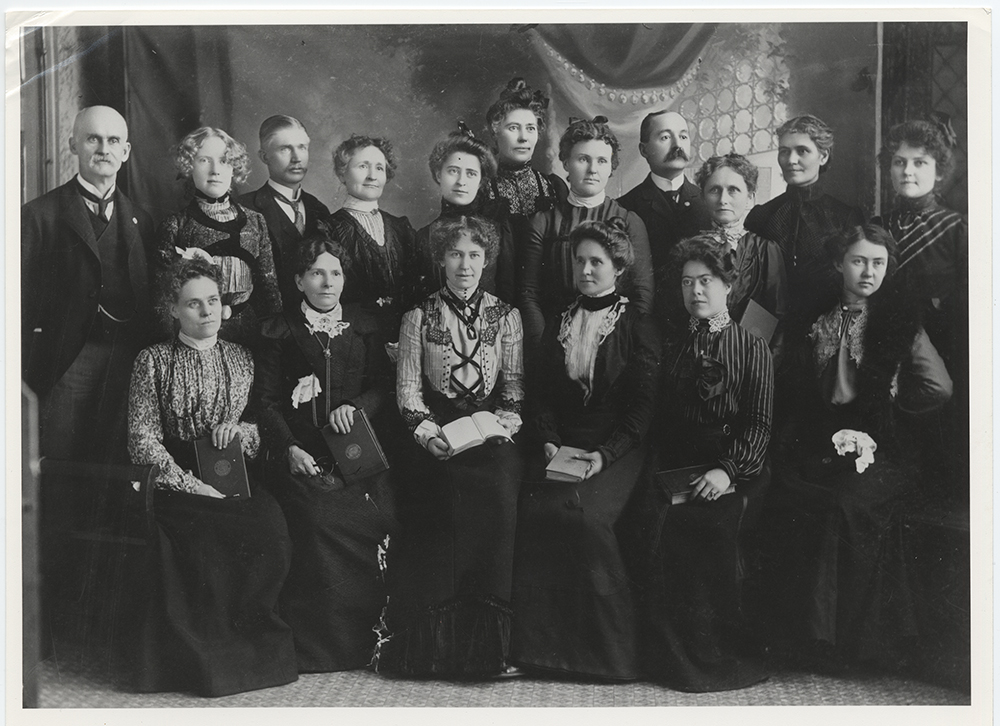 While Miss Hall was attending Normal class, former students of Mrs. Eddy who had left Christian Science were active around the country establishing schools to promulgate their own views of mental healing. Robert Peel illustrates the metaphysical divide between Mrs. Eddy and her erstwhile students by describing a school where, "students were told that the one section of Science and Health they could safely skip was the chapter called 'Prayer and Atonement.'"6 Mrs. Eddy's concern with the problem of false teaching is evident in her work No and Yes, published in 1887: "Taking advantage of the present ignorance in relation to Christian Science Mind-healing, many are flooding our land with conflicting theories and practice. We should not spread abroad patchwork ideas that in some vital points lack Science."7
To shore up this flooding tide of "patchwork ideas," Mrs. Eddy appealed to her students to open institutes of their own. She sent an identical letter to many students on May 26, 1886, requesting that they found institutes to teach Christian Science in major cities.8 The twenty-three-year-old Miss Hall, fresh from Normal class, was one of the students Mrs. Eddy called on to establish an institute.9 In youthful eagerness, Minnie Hall started without delay and formed an association of her students, calling it the Colorado Christian Science Institute. Her organization obtained a charter from Colorado on August 23, 1886, becoming the first Christian Science institute in Colorado, and only the second institute west of Chicago. Miss Hall was the principal of the school and made her student Thomas H. Donehue the secretary. Miss Hall's sister, Nettie Hall, began teaching classes at the institute in 1887 with permission from Mrs. Eddy.10
During one of Miss Hall's visits to Boston, Mrs. Eddy put her hand on Miss Hall's head, telling her, "My child go forth and teach and never stop teaching until I tell you to do so, open your mouth and it shall be filled."11 Miss Hall took that advice to heart and had a long career in Colorado practicing and teaching Christian Science. She must have felt she could be doing more for Mrs. Eddy, however, because she wrote several letters to Mrs. Eddy asking whether she would not be more helpful in Boston.12 Mrs. Eddy declined each offer gently and encouraged her by replying that she was helping the Cause by teaching, and was thus also helping Mrs. Eddy.13 A year earlier, Mrs. Eddy also told Miss Hall that she was needed in the West.14 Miss Hall was obedient to her teacher and continued teaching in Denver. According to her 1918 reminiscence, she taught continuously from 1886 to 1918, and never had fewer than five patients a day.15 She was listed in The Christian Science Journal from 1886 until her passing in 1952, aside from an eight-year break between 1888 and 1896.
Minnie may have removed herself from the Journal during this period because of the cares and responsibilities of motherhood. In 1888, Miss Hall and her husband William R. Perry had their only child, named Mary after Mrs. Eddy.16
By organizing the first church services in Colorado, establishing the second Christian Science institute west of Chicago, and being a Christian Science teacher in Denver for over fifty years, Minnie B. Hall De Soto was an important contributor in bringing Mrs. Eddy's teachings to the West. Although she did not hold an important position in the Church, her many years listed as a teacher and practitioner in the Journal signify her devotion and contribution to the Cause she loved.