In 1900, Joseph Mann received a special token of appreciation from Mary Baker Eddy for his work as superintendent of her Pleasant View estate in Concord, New Hampshire. A Christian Science practitioner, he had attended her last class in 1898 before taking on that role at her home.
The gift, a gold pocket watch, had been engraved, "With love, Mary Baker Eddy," on the inner plate, and with his initials, JGM, on the back.
"In thanking her I said quite earnestly, 'It will remind me always to be on time,'" he later wrote. "Mrs. Eddy smiled appreciatively and said, 'Yes, dear, it will remind you that time is precious and belongs to God; and throughout time, it will say to you, "Watch!"'"1
Punctuality and keeping watch were essential for those who served the Discoverer, Founder, and Leader of Christian Science.
One way Mrs. Eddy set the example for timely work was her consistent routine. For many years, she was accustomed to rising at 6 a.m. in the summer and 7 a.m. in the winter and ringing for her maid.2 "One could almost set his watch by the regularity with which this bell was rung," wrote Adam Dickey, one of her secretaries at her home in Chestnut Hill, Massachusetts.3
Clara Shannon, a Christian Science teacher who served on and off at Pleasant View for nearly a decade, remembered taking turns with Calvin Frye for months "watching and praying" continuously, including through the night, in shifts. These watches were intended as periods of systematic prayer about specified problems, and Mrs. Eddy would often dictate instructions for the watchers to direct their work.
"I bought a new alarm clock," she said, "and held it under my face, and would lie down on the outside of the bed fully dressed…. When the alarm bell rang a little before the time to commence my watch, I used to get up and walk about the room to be thoroughly aroused; then I would begin my turn at watching."4
Although wristwatches would soon come into vogue, pocket watches in the 19th century served not only as a way for people to keep in sync with an increasingly time-based society, but also to mark special occasions with personalized gifts that could last for generations.5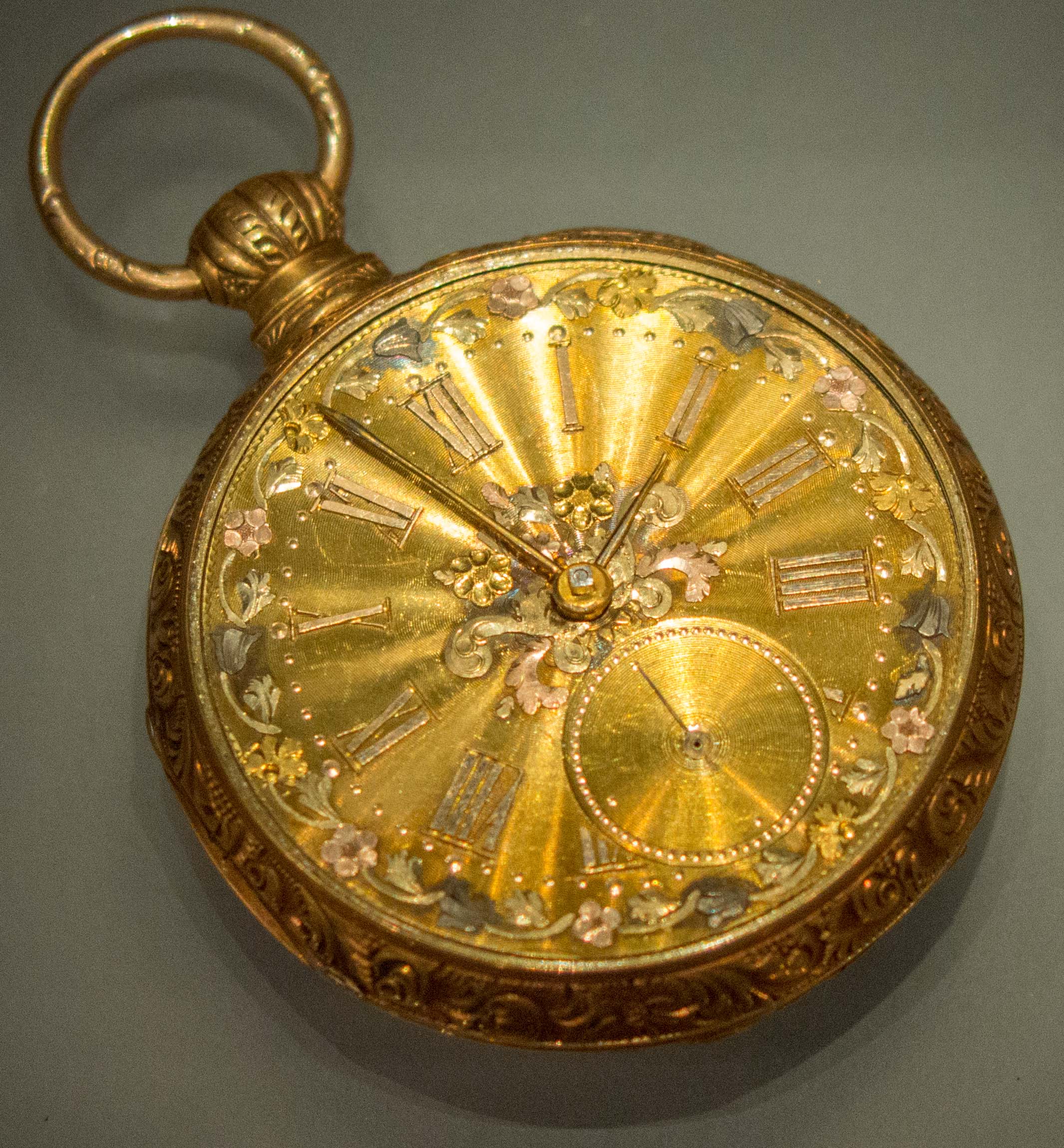 As far back as the early 1830s, a gold pocket watch had come to young Mary Baker's attention. Mrs. Eddy recalled how her future husband, George Washington Glover, showed his gleaming watch to her when they first met at her brother's wedding. She married him in 1843, and when he died before their son was born, she kept this treasured watch. In 1890, Mrs. Eddy passed it along to her one-year-old grandson, George Washington Glover III.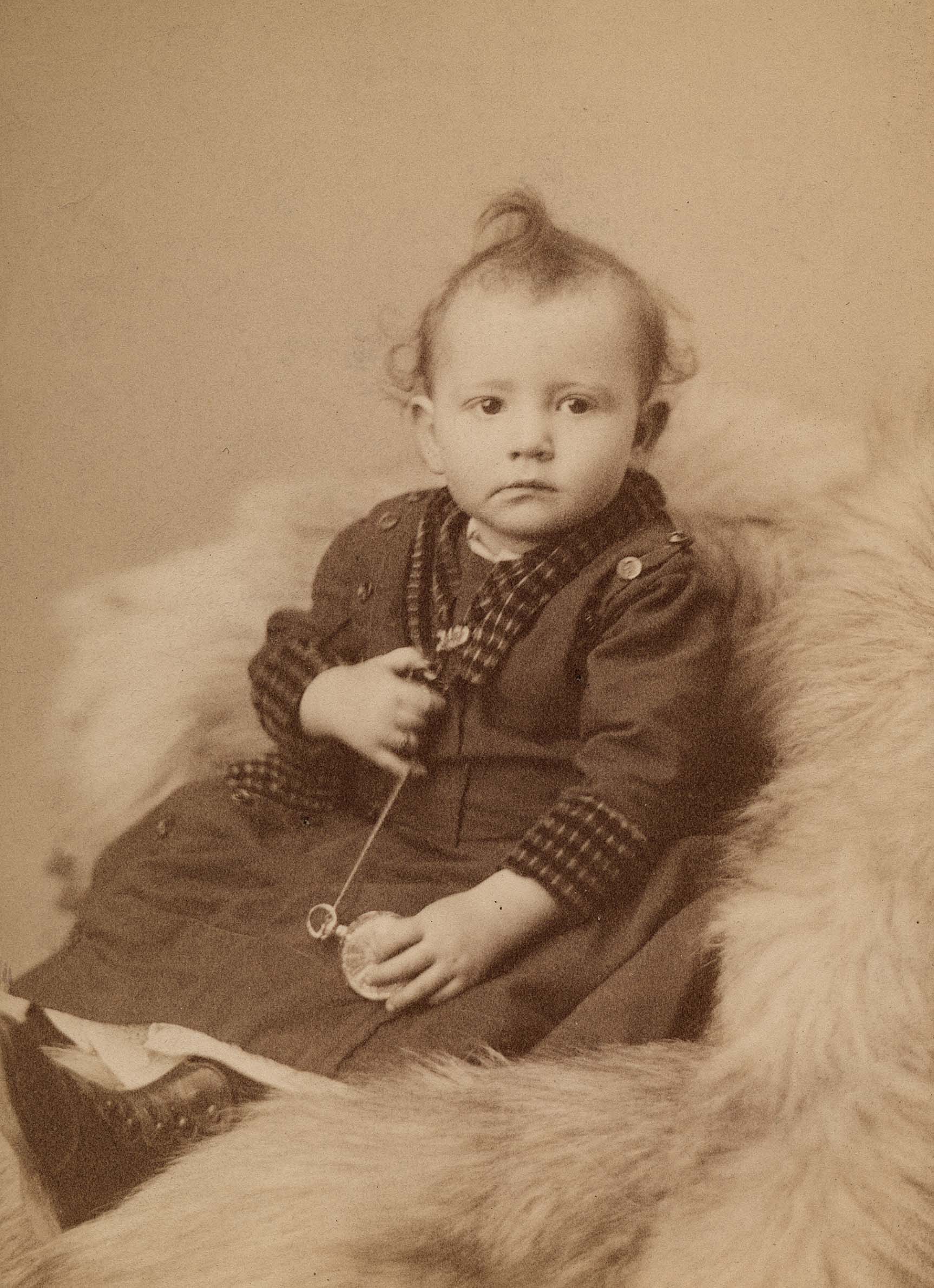 A photograph shows the baby clasping the watch, decorated with pink- and green-gold flowers and scrolls. "Give the dear little fellow who holds his Grandmother's watch in his little hand a sweet kiss from his grandma," Mrs. Eddy wrote to her son on Dec. 8, 1890.6
Nine years later, Mrs. Eddy asked her student Charles Howe to oversee the building of a house for her son and his family in Lead, South Dakota. To thank him, she sent Mr. Howe a gold watch with a chain and a locket containing a picture of herself.
Mrs. Eddy also designed a watch chain made with gold from her son's mine and gave it to Edward Bates after he oversaw the publication of her book, Miscellaneous Writings 1883-1896. The seven-link chain was "a flat web of gold with a slab of quartz on either side, the gold turned over the edge, holding the slab secure. These slabs were full of beautiful stones and gold ore," Mr. Bates wrote.7
He sacrificed many hours of sleep while he helped publish the book, which included this reminder from Mrs. Eddy's article, "IMPROVE YOUR TIME": "All successful individuals have become such by hard work; by improving moments before they pass into hours, and hours that other people may occupy in the pursuit of pleasure."8