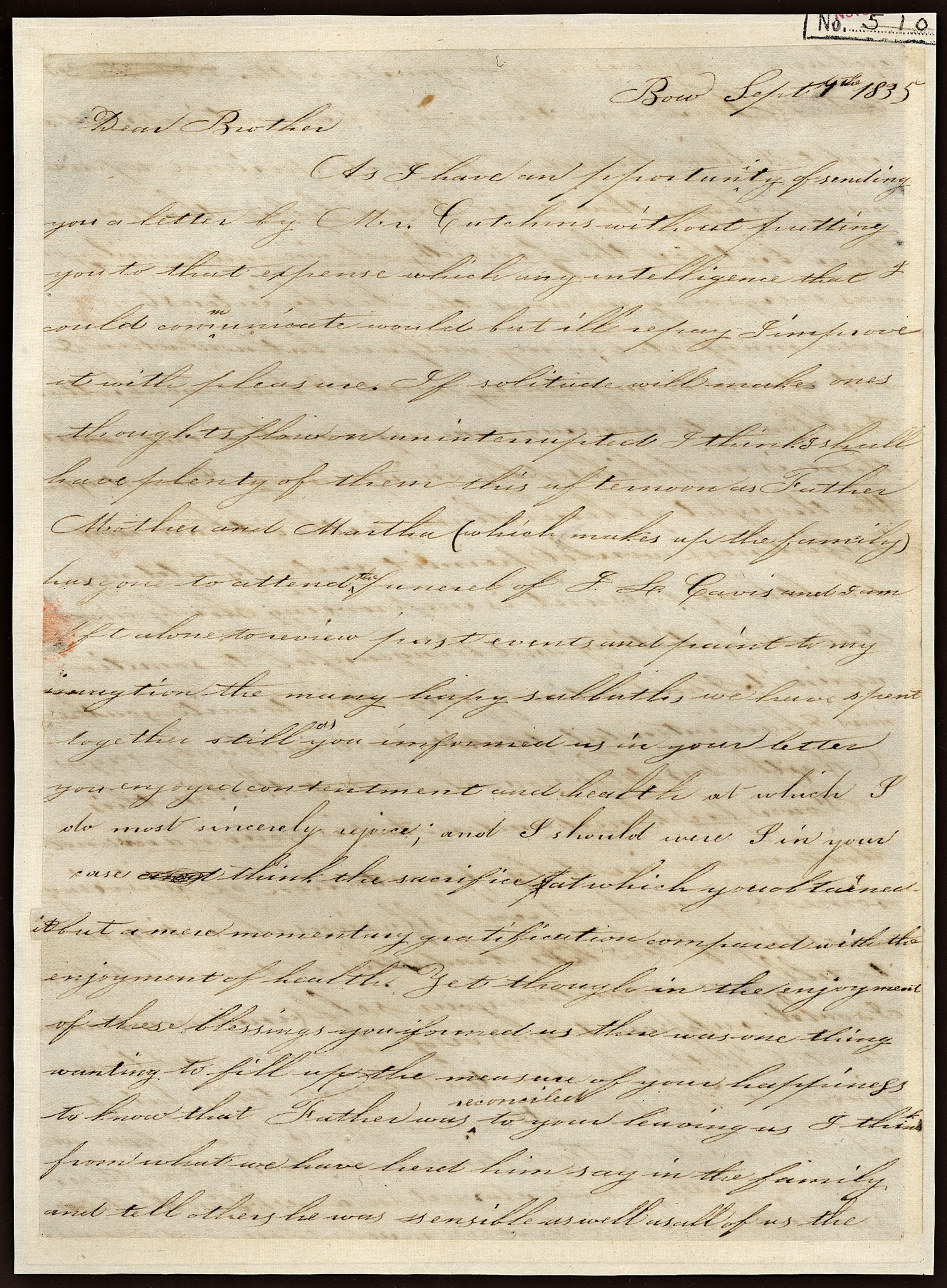 Below are audio recordings that narrate two letters from Longyear Museum's Baker Family Collection. This collection is a unique component of the museum's historical holdings and is comprised of artifacts belonging to the family in which the young Mary Baker grew up. Books, everyday objects, and important papers — including personal letters — present evidence of the qualities and relationships of the family that Mrs. Eddy knew and deeply loved.

Letter from Mary to her brother
In this letter from 1835, a 14-year-old Mary Baker writes to her older brother George, who was referred to by his middle name, Sullivan. According to Mary, this is only the second letter she had ever written, and she takes the opportunity to update her brother on family news, as well as tease him about recent romantic endeavors. Sullivan had moved away in July to Connecticut, which was good for him but difficult for his family, especially his father, Mark, who relied on him for help around the farm.  Mary also misses Sullivan, who had a brotherly knack for cheering her up amidst her struggles with chronic illness. See what Mary says and more by listening to the full letter below:
Letter from Albert to his sisters
In this 1840 letter, the lines Albert writes to his three sisters effuse a heartfelt, brotherly love. He makes a special note to wish the now 19-year-old Mary well. Albert, who would sadly pass away nearly two years later, has had his own struggles with poor health, but manages to make light of his situation. Despite this, his career at the moment is on the brink of greatness — the result of an intellect and work ethic that very much made an impression upon his youngest sister. Find out what else he has to say in the letter below:
For more about the Baker family history and collection, please see the Spring/Summer 2011 Report to Members and visit the Patzlaff Gallery at Longyear Museum.