Tucked away in the historical collection of Longyear Museum's vault is an unassuming, red leather pocket journal. Found among plenty of other interesting items, this slim and fragile book lacks a visible title and does little to warrant any unnecessary removal from its protective casing. And yet, the book's plain appearance belies its fascinating content: one hundred seventy-three meticulously handwritten quotations. These quotes, which are from numerous sources, all point to the early metaphysical study of the journal's owner, William R. Rathvon, C.S.B.
Rathvon is known today for his distinguished career of service to the Cause of Christian Science, which notably included several years as a corresponding secretary for Mary Baker Eddy at her home in Chestnut Hill, Massachusetts. Later, he went on to hold positions at The Mother Church, eventually serving as a member of The Christian Science Board of Directors from 1918 to 1939.
Like most early Christian Scientists, Rathvon's start in the religion came when he was an adult. He had been a businessman in Denver, Colorado, but his silver mines were hard hit by the economic Panic of 1893; during this difficult year, he and his wife Ella were introduced to Christian Science, which greatly helped them in their time of need. Their lives quickly gravitated towards the religion, and they became instrumental in establishing Christian Science in Colorado.1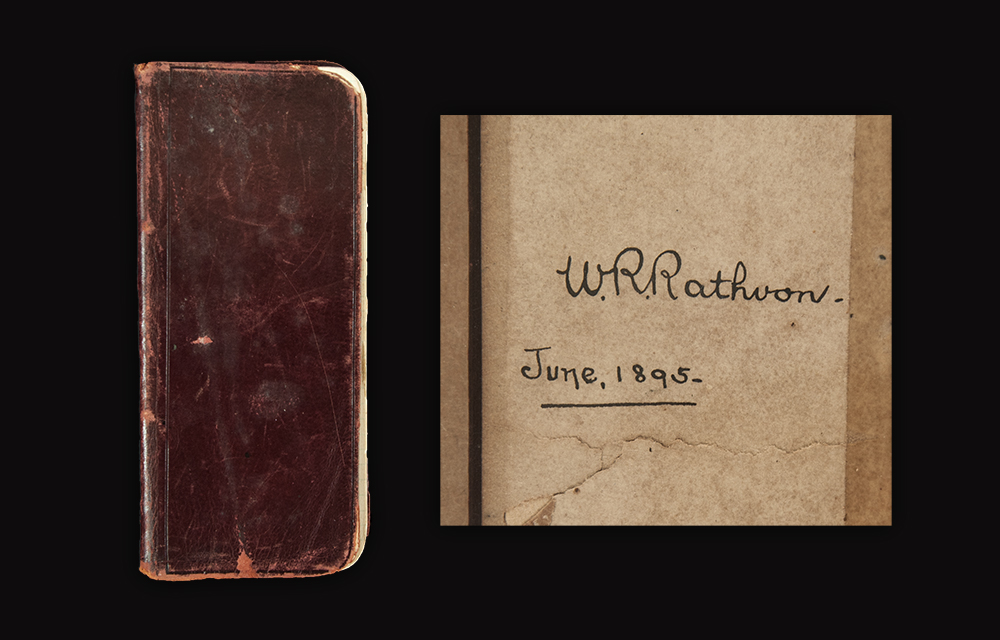 It was in these early years that William Rathvon started copying inspiring quotes into this red leather pocket journal. Signed and dated June 1895, this journal is an early representation of a man who would become a prominent figure in the Church, and also is an interesting glimpse into his nascent study of Christian Science.
The most unique feature of the journal is that its one hundred seventy-three quotes are handwritten in a variety of scripts — this not only suggests Rathvon's apparent talent for penmanship (so rare today), but also the care with which he created the journal. A quick content assessment indicates quotes with a general metaphysical focus but from a remarkable variety of sources — the Bible and The Christian Science Journal, which are to be expected, but also nearly fifty different authors, theologians, and philosophers, such as Shakespeare, Emerson, Thoreau, and Henry Drummond.
This diversity of sources would seem to indicate that Rathvon was quite well-read — which would be a fascinating detail to add to what is already known of him — but this conclusion is actually based on misleading data. Closer examination shows that of this group of miscellaneous sources, more than two-thirds were actually also quoted in recent issues of The Christian Science Journal, and Rathvon was almost certainly pulling these quotes from there.2 The assumption, then, that Rathvon was well-read in the traditional sense cannot be made.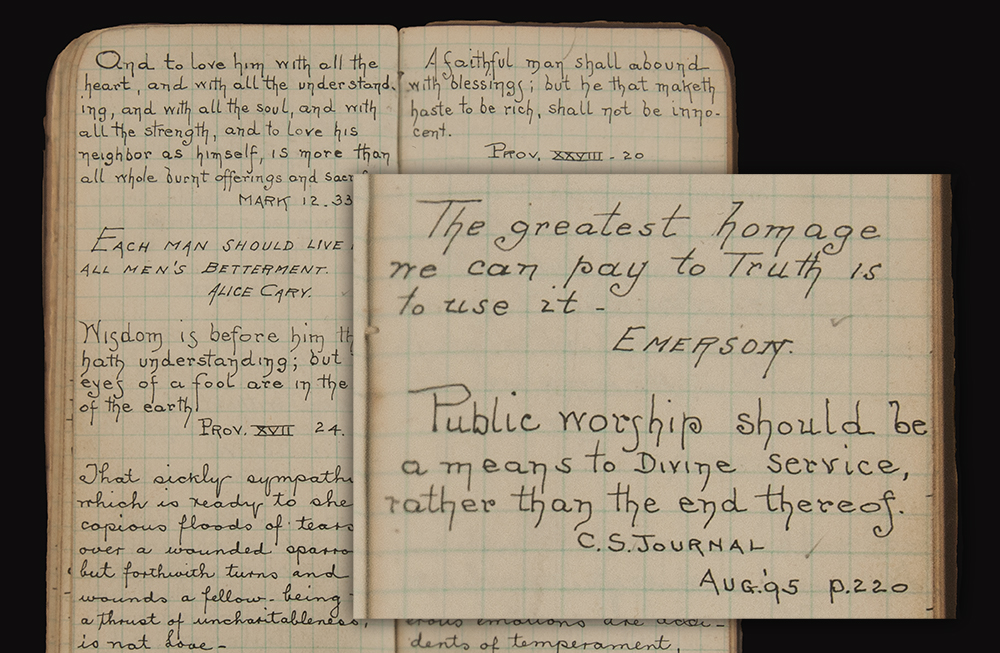 But on the other hand, this shows that he was quite familiar with the Journal — and not just with issues from 1895, because he was pulling quotes from issues as far back as 1886. This may indicate that after his introduction to the religion in 1893, he was reaching several years back into church publications for more metaphysical food for thought. If anything, this is a mark of Rathvon's dedication to studying his new religion.
In the end, this observation that a Christian Scientist was reading his Journal should not be so surprising. But the material tells us more: more than half of the copied quotes are Bible verses, and nearly all from the New Testament. This, too, points towards Rathvon's work with the Bible, and even somewhat indicates the chapters he was exploring at this period. The Book of John figures most prominently, but verses were also drawn from the other three gospels, 1 and 2 Corinthians, and Romans; occasionally, he correlates a verse to a passage from Science and Health with Key to the Scriptures by Mary Baker Eddy. A follow-up examination could investigate whether these Bible verses, like many of the other quotes, were from contemporary Journals or from the weekly Bible Lessons at that time.
All in all, this unassuming pocket journal has within it a treasure trove of content that reveals details of William Rathvon's early Christian Science study. In a small but useful way, they help illustrate some qualities of the man who would become a well-known worker for the Church and the Cause — some of those qualities being dedication, contemplation, and a clear affinity for the things of the Spirit.